Help us capture the faces of our diverse alumni community by submitting a short video clip, proudly saying 'Once Reading, always Reading'.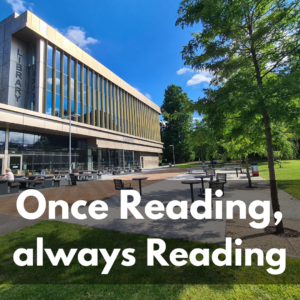 Over the years we have heard numerous stories from our alumni whose experience at Reading has changed their life. Some have found love, for some it's shaped their careers, some have travelled across the world to study with us, and some joined Reading and never left – going on to build a life in the Reading area or choosing to have a career at the University itself.
Whatever your journey was, we believe that once you're part of the University of Reading community, you're part of our community forever.
To showcase this we are looking to our alumni to help us illustrate this incredible lifelong community.
What we need from you
A video clip of you saying "Once Reading, always Reading." This can be filmed on your mobile phone device, but it is important that our videos have a unified format so videos must be captured in landscape mode please.
We love that so many of our alumni keep in touch and so many generations walk through our campuses. So if you're still in touch with other Reading graduates and you think you have what it takes to say it in unison – then buddy up and send us a group video!
We want a video that encompasses our entire community, where everybody is represented, and we'd love to see & hear the phrase "Once Reading, always Reading" in lots of different spaces, time-zones, countries, languages and translations too – so don't be shy, be yourself.
The perfect video would include
A clearly spoken "Once Reading, always Reading" – you don't need a microphone but we do need to hear you.
A short pause before you start speaking and after you have finished speaking before ending the recording.
We need to be able to see you clearly in the clip.
The video needs to be recorded in landscape mode.
We'd love it if your background represented you – that could be your workspace, a monument or building in your local area or maybe even Reading memorabilia. 
Your clip will be used in a montage video, alongside other alumni members, to be used in our digital communications.
Please email your video clip to us by Thursday 16 November at alumni@reading.ac.uk  or contact us to find out more information.