For Reading graduate, Jamie Gane, having a below-knee amputation changed his life and enabled him to walk again. Find out more about Jamie's story, and discover the University of Reading's Disability History Month programme of events.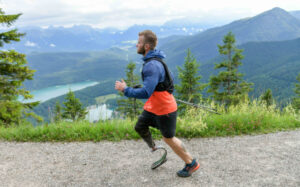 When he was nine Jamie was diagnosed with a chronic pain condition which left him in a wheelchair. Jamie set his sights on a below-knee amputation to free himself of the daily pain in his leg. Since having his amputation, Jamie asserts that he has no regrets.
He said: "It has improved my life so much. Within three weeks of having my leg fitted, I was up and walking. I hadn't walked for 14 years by this point so this was monumental for me. The amputation lifted a massive weight off my shoulders. It was amazing."
Jamie's ambition is to be a role model to other young people who are in similar situations – to inspire them to believe they can overcome challenges and see the opportunities open to them in the world of work and sport. He said: "I want to open people's eyes to see that being disabled doesn't mean being stuck at home – it's about being able to do something you love irrespective of your disability."
Read more about Jamie's story, and follow us on Instagram at @uoralumni to watch Jamie's Alumni Social Media Takeover during Disability History Month.
Disability History Month Events – Lived Experiences Comedy Night
Thursday 16 November, 17:30-19:30
G01 Lecture Theatre, Building L22, London Road Campus or Join Online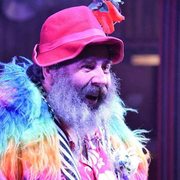 17:40 Martyn Eek Cooper – Clown doctor and stand-up comedian.
Through music and images Martyn's short show 'Still Breathing' shares how cancer, death and incontinence can impact on your feelings of self-worth and the struggle of remaining gorgeous.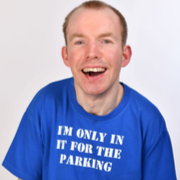 19:00 Lee Ridley, 'Lost Voice Guy'
Lee, the 2018 winner of Britain's Got Talent, is the first stand-up comedian to use a communication aid in the UK. His show sharply deals with misconceptions about his disability. Lee will join us online.
The show will include a BSL interpretative performance. The link for online access will be shared with participants the day before the event.
Find out more and register to attend.
Disability History Month Events – Disability, Children and Youth: Overcoming Challenges and Embracing Opportunities
Wednesday 29 November, 18:00-19:00
Room G06, Chancellor's Building, Whiteknights Campus or Join Online
Join us for a panel discussion exploring this year's theme for UK Disability History Month: Disability, Children and Youth. The event will be hosted by Professor Elizabeth McCrum, Pro-Vice-Chancellor for Education and Student Experience and UEB Diversity Champion for Disability at the University of Reading.
The panellists are:
Dani Czernuszka-Watts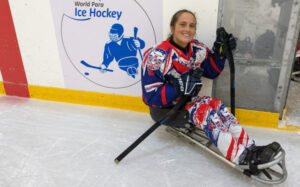 Dani is a current member of the Great Britain's women's para ice hockey team. Dani's achievements include being selected to represent the men's team at the World Para Ice Hockey Championships C-Pool, in 2022, where she was the first woman recorded to score a goal at a World Championship.
Ruth Pearse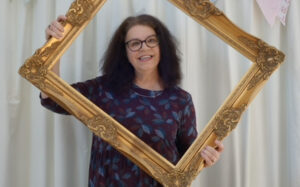 Ruth is founder and CEO of Berkshire based charity, Parenting Special Children which supports families of children/young people and young adults who are neurodiverse, have special educational needs or disabilities and children/young people who have experienced early life trauma.
Anna Tsakalaki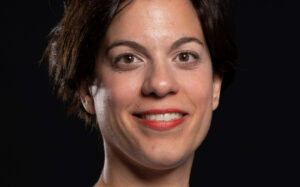 Anna is a lecturer in Education at the University of Reading's Institute of Education, who has researched areas including literacy development and literacy difficulties in different languages, homeschooling and wellbeing of young learners with special educational needs or disabilities during the first two years of the pandemic, and inclusion of learners with special educational needs.
Sophie Flecknell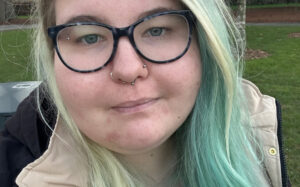 Sophie is the Disabled Students' Officer for Reading Students' Union, who represents and advocates for disabled students here at the University and aims to ensure that disabled students have the best university experience possible.
Open to all – booking essential. A BSL interpreter will be present during this event.
Find out more and register to attend.
You can view the full programme of Disability History Month events here.