Entrepreneurs Katie Falcon-Uff and Andrew Ingle met through mutual friends towards the end of their first year at Reading. Now partners in a successful local escape room business, CONNECTED finds out how they are making an impact in the Reading community.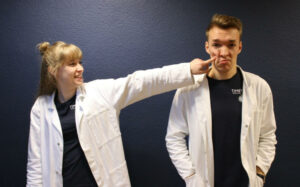 When Andrew, who hails from South Wales, and Katie, from Kent, moved to Reading it was because they liked the University campus and their courses sounded interesting – Business and Management at the Henley Business School for Andrew, and English Language for Katie. But, as it turns out, this was the start of a whole new chapter of their lives.
After graduating Andrew and Katie were keen to go into business together with the aim of making money out of something they both loved.
Katie said: "Escape Rooms were something I had gotten into about a year or so beforehand. I have always been a bit of a dork making quizzes and puzzles for families and friends, and I thought I would enjoy having a go at it.
"At the time, there weren't many companies offering escape room experiences in this area, so Andrew suggested we start our own. We thought about it for a couple of months, then we just decided to go for it."
TimeTrap Escape Rooms was born at the Reading Fringe Festival in July 2016 with a pop-up game, and following its huge success Andrew and Katie have now moved into permanent premises in Reading town centre. As well as a flourishing business together, love has blossomed too. Andrew shared:
"We have the University of Reading to thank for us meeting – not only are we business partners, but we are also a couple and got married earlier this year!"
A local business
Andrew shared with CONNECTED why staying local after graduating, and making an impact on Reading's community, was important to himself and Katie when starting their business.
He said: "The reason we started TimeTrap was first and foremost to give the people of Reading something that was new, exciting, fun and tangible.
"Reading had always been seen as a place where there wasn't really much to do. You could go out for some drinks and food, but there wasn't much in the way of activities. That has changed a lot over the last few years and we have gone from having zero escape rooms when we started out in 2016, to over 20 within a couple of miles of each other in 2023.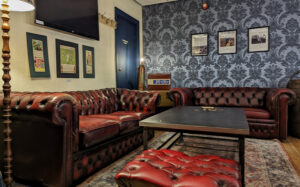 "The escape room scene in Reading is filled with brilliant creatives and we are now seen as one of the 'go-to' destinations for escape rooms in the UK."
Andrew added that Reading was also a great location to start a business because it is a really well-connected place, with lots of big and small businesses and good transport links. And crucially Andrew and Katie both felt comfortable in Reading.
He said: "Reading quite often gets labelled as a bit of a chain-town, but if you search around, there are some really great small businesses, some offering truly exceptional products and service.
"Small businesses are often the ones that care the most and I think it generally shows in the quality they offer too."
Being socially-conscious
As well as helping their local community by offering an exciting new activity, the pair wanted to go one step further and give something back.
Andrew said: "'The Divide' was a game we built in 2018 and it was very different to your traditional escape room.
"It was run initially as a three month pop-up escape room, with the aim of raising money for local homelessness prevention charity, Launchpad. Just as importantly though, it also raised awareness of an important social issue – the social divide."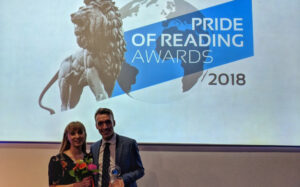 The socially-conscious escape room raised over £2,500 for Launchpad and won the TimeTrap team a Pride of Reading Award in the Small Business in Action category for their charity work. But the impact of this game went beyond Reading.
Andrew explained: "Escape rooms had more-or-less never been used in this way before and as a result it got a lot of coverage, both in local and national press. After its three month run with us, it was taken on by an escape room venue in Brighton, and then by a company in Portsmouth. We also exported it to Germany and it was operated over there as 'Das System', again by someone who had heard about it and loved the social message behind it.
"So, not only did it make an impact in Reading, but also internationally."
Staying connected
Looking back on their time at the University, both Andrew and Katie agree that they learned valuable skills which have helped them on their career path – from business modules, to the honing of creative skills, to time management. Today, the pair still maintain strong links with the University where so much of it began for them.
Andrew said: "We do still come back to the University from time-to-time. We've given a few talks there, mainly on entrepreneurship, as part of Henley Business School events, and we've run a mobile escape room event and workshop on campus, which was great fun.
"We also employ people from the University community – more than half of the current TimeTrap team are either students or alumni of the University of Reading. We've found that we get consistently high quality applicants and team members from the University, in particular from the Department of Film, Theatre and Television.
"Both myself and Katie have fond memories of our time at Reading and I think since we've left the University has been investing in the right areas. For example, the Shinfield Studios – that's a massive deal for the creative and arts scene in Reading, as it's going to draw in a lot of investment and a lot of skills that will not only be beneficial for the studios and the University students to learn from, but also for businesses like ourselves.
"All the work the University is doing around climate is brilliant as well, from researching to creating awareness of the issue. As past students it makes us proud."
Find out more about TimeTrap Escape Rooms.