Dr Michelle Reid, Study Advice michelle.reid@reading.ac.uk
Dr Paddy Woodman, Director of Student Services p.e.woodman@reading.ac.uk
Paddy and Michelle ran a workshop showcasing our online transitions course, Study Smart, at the AMOSSHE Student Services conference recently. The workshop, attended by over 50 delegates, highlighted the ways we'd used Study Smart to increase student confidence and create a sense of university community before arrival. The audience from university Student Services teams across the country were keen to share experiences and learn from our leading example of an online, pre-arrival course. They were interested in how we'd used the FutureLearn platform to create a safe and honest space for students to share their excitement and anxiety about starting university study.
After attending many purely T&L events, going to the national Student Services conference gave a much wider picture of the social and wellbeing issues that we, as university staff, help students negotiate during their time with us. Common themes raised in our workshop were the desire to create communities that included different student groups (mature students, commuter students, care-leavers); how to maintain community beyond Welcome Week; and the difficult task of evaluating the impact of these social events.
Our session ended with a 'draw your university community' activity which participants really enjoyed. Each person's drawing revealed different features of their university that stood out as important. The act of drawing tapped into more intuitive and emotional responses, and provided a fun activity that also prompted much deeper reflections on ideas of social cohesion.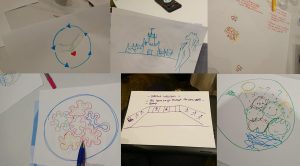 We are all, in our different roles, aiming to help students feel a sense of belonging to our universities. The workshop showed that we are all aware of the importance of enabling students to form meaningful connections with many different groups – personal, local, and wider – during their time at university. Study Smart helps students find a common start point and shared experiences before they arrive, but it is only the beginning…
For more staff information about Study Smart – see our Tutors' Guide: https://libguides.reading.ac.uk/studysmart