Amanda Millmore, School of Law,  a.millmore@reading.ac.uk
Overview
This is a practical case study focusing upon the process of carrying out a collaborative partnership project with students to embed employability attributes into a new module.  Not only do we now have a module with employability attributes built-in, but the student partners have gained a range of employability skills themselves by virtue of their involvement in the process. PLanT project funding was awarded, and used to provide refreshments for focus groups and to enable students to travel to conferences to disseminate the project.
Objectives
I identified 3 key challenges that the project aimed to address:
Employability – how to equip students with the skills and attributes to succeed in employment.
Curriculum Design – how to embed those graduate employability attributes into a module.
Student Engagement and Collaboration – how to work effectively with students in partnership.
Context
In Law the professional pathways to careers are changing, with new routes opening up for vocational post-graduate and non-graduate training. These changes are raising questions for University law schools as to how much they should be focusing upon more practical and vocational skills.
My colleague Dr. Annika Newnham and I wanted to develop a new final year module, covering a discrete area of family law, closely allied to the kind of work that students may encounter in their early years of legal practice, with assessments mapped to legal employability skills.
Implementation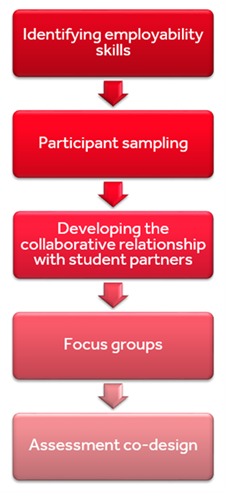 Identifying Employability Skills – I built upon previous work within the Law School which had identified (through consultation with multiple stakeholders) 11 graduate attributes. The focus was then upon how to embed them within a module.
Participant Sampling – student volunteers were sought via requests in lectures and email, and 5 joined our core partnership group.
Developing the Collaborative Relationship – brainstorming with student partners led to the idea of using student focus groups to find out what they thought of assessments and employability.
Focus Groups – the student partners were empowered to facilitate 2 focus groups, whereas I dealt with the administrative logistics (room booking, catering, preparing supporting materials to stimulate discussion). The focus groups considered their preferences in relation to a range of assessment types, then developed a plan for assessment of the new module, focusing upon the type, weight and timing of assessments. Finally they mapped the employability attributes to the proposed assessments.
Assessment Co-Design – student partners then used the information gained from the focus groups to create the final assessment plan for the new module, with more diverse timing and type of assessments than are typical for the Law School.
Impact
Employability: The student partners have all developed employability skills from their involvement, in particular improved confidence, communication skills and leadership skills. The wider student body has increased awareness of employability attributes.
Curriculum Design: The new module LW3CFS Children, Families and the State has student-designed assessments with employability attributes clearly mapped to them. Students involved have gained a greater understanding of the process of module design. The module is oversubscribed in 2019/20 and is operating a waiting list.
Student Engagement & Collaboration: Students feel that they have been listened to, and been treated as true equitable partners in the process. This has created greater feelings of community and power-sharing within the School of Law. Students are interested in extending this trailblazing process to other modules, and colleagues and I are looking at expanding it to programme level.
Reflections
When I presented this project at the Advance HE conference in July 2019 I emphasised my 4 step plan for successful staff-student partnerships: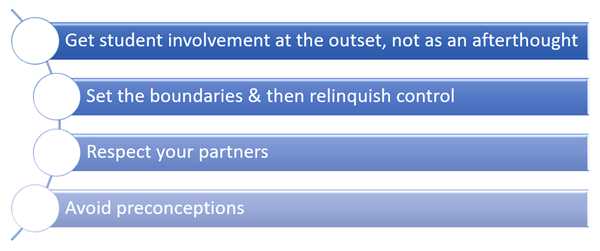 By keeping the student-staff partnership limited to a discrete area of module design (assessments) the boundaries were clear, and students could be given greater control. The key message is that equality of arms is vital, all viewpoints need to be welcomed and considered with no obvious staff-student hierarchy.
The limitations of the project were that it was focusing upon the modular level, rather than anything broader, so its impact is limited to that module, although the goodwill that it has generated amongst our students extends far beyond this single module.
Follow up
The module is due to run for the first time in 2019/20 for Final Year students in the School of Law.
My current plans for follow-up relate to the following areas:
Further evaluation of the effectiveness of embedding employability attributes into a module (see evaluation section above).
Consideration of better ways to highlight the employability attributes, for example by badging them (opening up possibilities for inter-disciplinary collaborations with creative colleagues and students.
Looking to scale up the process to programme level within the School of Law.  One of the challenges will be how we can widen and diversify the range of students in future curriculum design partnerships.
Links and references
Useful pedagogic literature:
ADVANCE HE 2016. Framework for embedding employability in higher education. Available from: https://www.heacademy.ac.uk/knowledge-hub/framework-embedding-employability-higher-education.
ADVANCE HE 2016. Framework for student engagement through partnership. Available from: https://www.heacademy.ac.uk/sites/default/files/downloads/student-enagagement-through-partnership-new.pdf.
BOVILL, C. 2017. A Framework to Explore Roles Within Student-Staff Partnerships in Higher Education: Which Students Are Partners, When, and in What Ways?  International Journal for Students As Partners,  1 (1). https://doi.org/10.15173/ijsap.v1i1.3062, 1.
HEALEY, M., FLINT, A & HARRINGTON, K. 2014. Students as Partners in Learning & Teaching in Higher Education [Online]. York: Higher Education Academy. [Viewed on 1 July 2019] Available from: https://www.heacademy.ac.uk/knowledge-hub/engagement-through-partnership-students-partners-learning-and-teaching-higher.
Photos
Focus Groups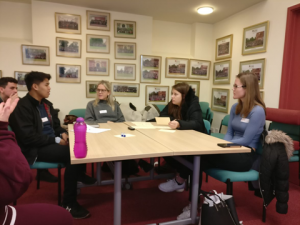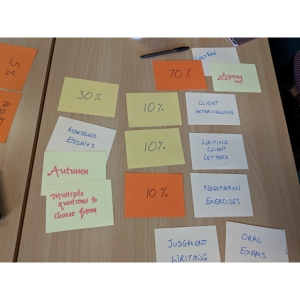 Mapping Employability Skills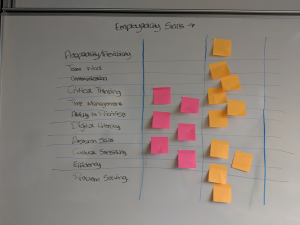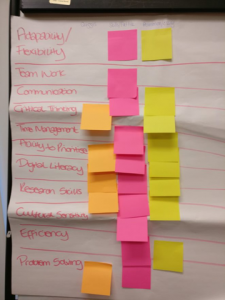 Assessment Co-Design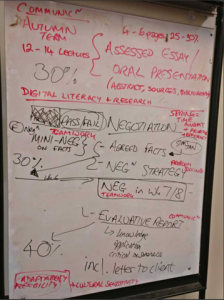 Student Dissemination at Conferences