In most cases, the integration creates only a Grade Centre column. However for certain Modes of Submission, the integration creates not only a Grade Centre column, but the submission point itself. This applies to
These will always be created in the 'Assessment' area of the relevant Blackboard course, and should not be moved to any other course area.
What if my course doesn't have an Assessment area?
If your course does not currently have an 'Assessment' area, one will be created automatically. This new area will be created at the bottom of your course menu, but can be repositioned in a more appropriate place on the menu.
Please note, if an existing 'Assessment' area has been renamed or deleted, the new 'Assessment' area would be only recreated if there is at least one assessment in RISIS with a mode of submission which is provisioned to create an IC Column and a Submission point in Blackboard. If the mode of submission in RISIS for assignment is not provisioned to create a submission point, integration would only create IC Column in Grade Centre (assessment area would not be recreated automatically).
What if I prefer to use a different name for that area?
Our standard Blackboard course menu includes an area labelled 'Assessment', so on many courses this is where students already go to submit their work. However this is not universally the case – on some courses other titles are used, such as 'Assignments' or 'Coursework submission'.
To avoid student confusion we recommend that all submission points are in one clearly-defined course area. We would therefore recommend that if you currently place submission points in an area other than 'Assessment' you rename this area before January.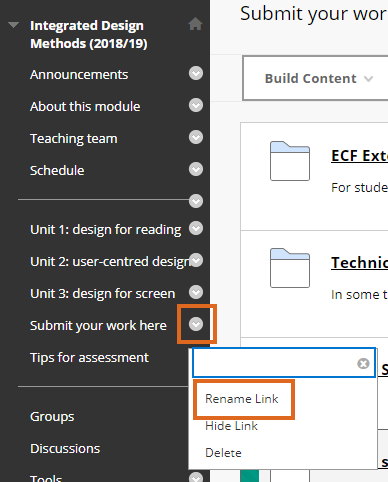 This applies if
your course has summative assessments due on or after 1st February 2019
these assessments include a Blackboard assignment, or a summatively assessed Blackboard Blog, Journal or Wiki.
N.B. if there is a mixture of assessment types, including Blackboard assignments, we recommend that these are all housed together, and that you rename any existing area to 'Assessment'.
There is no need for action now if
your course has none of the above assessment types e.g. if all summative assessment is delivered via Turnitin assignments or Blackboard Tests
or all summative assessment for the module will have been submitted on or before 31st January 2019.
Course Links
Please note that you can make use of Course Links to direct students from one area within a Blackboard course to another. For example, if you place assessment briefs in one content area, you can easily link from that area to the 'Assessment' area where students need to submit their work.
'Assessment' subheadings on course menus
In preparation for the integration go-live on 3rd January, an additional piece of housekeeping is being carried out by Blackboard Support.
This applies to the relatively small number of course menus which include a sub-heading labelled 'Assessment'. These menu items would cause a conflict with the 'Assessment' menu areas being created by integration, so are being renamed to 'Assessments'.
---
Page last updated on January 27, 2023 by Asif Muhammad
---