I have been at Reading since 2014, and I have learned in the last five years that this is an institution that is built around the relationships between people, in an inspiring environment that encourages the discovery of new things.
As the new Vice-Chancellor, I have set out to renew our strategic direction. Our ambitions and aspirations can only be delivered by the people who deeply care about the place, which is why we recently asked our alumni: what does the University of Reading mean to you? You have all spent time studying with us, and you may even still live nearby, so your perspective will help us shape what we do as a university and how we do it.
You could be forgiven for thinking "Why should I care? My university days are behind me." However, while you may no longer be studying with us, your University of Reading degree is a lifelong membership card to this community. Reading is the name on your degree certificate and your CV. Our values, principles and reputation will be part of you, for the rest of your life.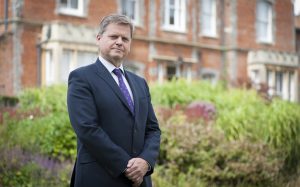 When I speak to Reading alumni, many tell me how fondly they remember their time in halls, or stories of favourite courses or tutors. They tell me of the clubs they joined or formed, and of the lasting friendships and networks they built.
I am glad that not so much has changed. We still pride ourselves on being a people-focused university, and I am committed to put our community of students, colleagues, town and alumni groups around the world at the heart of everything we do.
A university is its people
That's the most important principle for the University of Reading's new direction. A university is not a campus or a collection of buildings. A university is its people, and that includes our community of former students. So the principle of community is fundamental to our strategy consultation. But I also want to prioritise excellence, sustainability and I want the University to be more engaged with our local communities, businesses and governments.
While I do not wish to pre-empt the results of our recent consultation, I think it is clear that we will wish to strengthen our links with, and between, our global alumni network. Our former students are our best ambassadors and they can use their links with Reading to help them in their own careers and communities, wherever they live. 
Thank you
Reading alumni are already doing a huge amount for the University, and I would like to thank all those who are actively supporting our activities and values. Thousands of you are providing employment and placement opportunities for students; offering mentoring opportunities through the THRIVE mentoring scheme; playing an active role in international alumni groups; and generously giving time or donations to support our current students to fulfil their potential and research that is changing lives.
I hope that this new digital CONNECTED magazine will bring to life some of these stories for you, helping to share news of our world-leading research, contemporary student life and ways that you can stay involved.
Thank you if you have already told us what Reading means to you – and how you want us to develop. Your involvement will go a long way to help us to share a successful future.