Military meteorologist-turned BBC forecaster Simon King shares his climate change concerns with CONNECTED.
Ironically it was the forecast for the Great Storm of 1987 – when Michael Fish assured BBC viewers that rumours of an inbound hurricane were misjudged – that set Simon King on a path to becoming a prominent member of the broadcaster's television and radio weather team. The University of Reading alumnus was seven years old then, and Southern England was of course battered by the greatest storm witnessed in nearly three centuries.
Gales reaching 115mph caused chaos, destroyed homes, flattened 15 million trees, left 18 people dead and awoke the meteorologist within Simon.
"My family was living in Hertfordshire at the time and I just remember the howling in the garden and the constant banging of the garden gate," the well-known weather presenter told CONNECTED. "That was the first time I really thought about what was going on outside. The Great Storm planted the seed for an interest in the weather."
That seed quickly sprouted and by the time Simon reached his early teenage years, he had warmed to meteorology so much that he had his ideal career charted.
"The only window I had to anyone in the profession was through Bill Giles and Michael Fish," he said.

"They were weathermen so I wanted to be a weatherman and, having written to the BBC Weather Centre for advice, I knew what I needed to do to become a forecaster. By the age of 13 I had more or less plotted out my whole educational path to become a meteorologist."
With no fog of uncertainty clouding his career choice, Simon conceded there was an inevitability about where he went on to spend his time in further education.
Leading the way
Reflecting on a four-year stay in Berkshire, which saw him graduate with a BSc in Environmental Science of the Earth and Atmosphere and an MSc in Applied Meteorology, he said: "I always knew that Reading was the leading university, not only in the UK, but around the world, when it came to meteorology; it is a top-class department.
"As soon as I visited Reading and took in the campus, the atmosphere and the department, it just felt right and there was nowhere else I wanted to be.
"[Reading] absolutely lived up to expectations," he added.

"The lecturers and staff within the meteorology department are involved in world meteorological organisations and report to the Intergovernmental Panel on Climate Change. The University itself is amazing; I loved my time there, they were the best years of my life."
While the air-conditioned environment of a television studio remained his preferred working environment post graduation, the skills Simon honed in Berkshire were first deployed in warmer climes than he had originally foreseen.
A chance to marry meteorology with his other childhood passions for aviation and the military proved too good to turn down and Simon found himself in the ranks of the Met Office's mobile forecasting unit – a role which required him to become a reserve officer in the Royal Air Force.
Multiple tours of Iraq and Afghanistan – and campaign medals – followed before the opportunity to swap briefing commanders in conflicts for being beamed into British living rooms finally presented itself in 2008.
At the forefront of forecasting
"I remember the first broadcast I did live on the BBC and getting pretty emotional afterwards as I had just done what I'd dreamt of doing since I was a young lad," Simon said.

"I am still doing my dream job and know that I am very lucky because not many people can say that."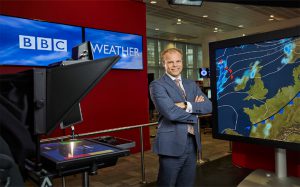 After more than a decade of delivering bulletins to satisfy the public's obsession for forecasts, Simon is grateful not to have had his own Great Storm moment. His fascination with meteorological phenomena such as the violent extratropical cyclone that piqued his interest in 1987 has nevertheless endured and he admits that "weird weather" and the power of nature – be it shelf clouds or hurricanes – still excites him.
However, given the broader knowledge of climate issues instilled in him by Reading and his ongoing career at the forefront of forecasting, Simon concedes being thrilled by typhoons is now something of a "guilty pleasure".
"This year's Easter weekend was really quite warm and last year's early May Bank Holiday was the hottest on record. As a weather forecaster I get excited about the fact there is interesting weather to talk about," he explained. "But there does become a tipping point when you start to think 'actually, it shouldn't be this warm'. How far does that go? When do we get to the point that you don't want it to be so hot and sunny?"
Thanks to the endeavours of – among others – his BBC colleague Sir David Attenborough, there is increasing concern over climate change and Simon acknowledged that the weather can provide a valuable indicator as to the health of the planet.
The weather and wellbeing of the world
"Every time there is a big storm, hurricane, typhoon or a record is broken, people automatically say that it is because of climate change," he continued. "For years we've said that you can't attribute one event to climate change, but over the last four or five years there has been a growing trend for scientists to say we are expecting to see a greater frequency of these events."
For the experienced broadcaster, the link between the weather and wellbeing of the world may be relatively old news, but he welcomes its emergence as an international hot topic.
"When I was at Reading I was taught by some of the very best scientists and meteorologists and we did a lot on climate change," he concluded. "So two decades ago I was well aware of what climate change was and that the observed increase in carbon dioxide was matched by an increase in the Earth's temperature.
"There were sceptics who denied it and said it had nothing to do with man-made emissions, but as computing has advanced and our knowledge of climate has improved, there has been a shift to where we are now and there is a greater understanding and discussion about climate change.
"I am very conscious about it because I have kids and wonder what the climate might be like for them growing up and my grandchildren beyond that. People mustn't think we can't do anything. We still have time but we need to act now."