Reading alumnus, Filipe Lúcio, is promoting better decision-making in agriculture and food security around the globe.
Ever since learning about the works of Galileo Galilei during his school days in Mozambique, Filipe Lúcio has had his eyes, and mind, fixed firmly on the heavens.
Fascinated by the secrets harboured by celestial objects and the veritable black hole in our understanding of their origin and evolution, he looked destined to gravitate towards the study of space until his own position in the universe dictated a realignment of his academic orbit.
With no astronomy faculty to be found in his country of birth, Filipe switched his focus to physical geography and quickly discovered a passion for meteorology which led him to the University of Reading in 1992. While the field of Filipe's studies consequently narrowed from the cosmos to the confines of the Earth's atmosphere, the 51-year-old's continued search for solutions is now helping to tackle planet-sized problems.
Studying weather patterns at Reading
As the Director of the Global Framework for Climate Services at the World Meteorological Organization, the Reading alumnus is playing an active role in promoting better decision-making in agriculture, food security, disaster risk reduction, energy, health and water resource management around the globe.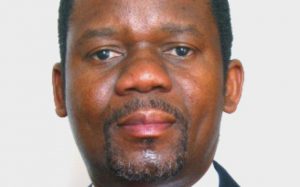 Doing so demands a nuanced understanding of weather patterns, the climate they generate and the handling and interpretation of masses of data – an acquisition of knowledge that characterised the meteorologist's two-year tenure in Berkshire.
Filipe, who graduated with an MSc in Applied Sciences from Reading, says: "I came to Reading from a country where resources were limited and access to the latest publications, references and libraries was not readily available.
"For me, the University was a mind-blowing experience; I suddenly had access to the latest materials and I basically lived in the library. I was avid about learning and trying to consume as much information and knowledge as I could." 
However, it was in the meteorology department's laboratories, rather than the library, that Filipe's future career was forged: "The lab is a very practical way of putting theoretical knowledge into practice and that was very valuable to me.
"We had laboratories in Mozambique but nothing as sophisticated as those at the University of Reading and the ability to link concepts with applications was a great opportunity."
With Reading's resources helping to highlight how science could be brought to bear for the benefit of others, Filipe believes Berkshire proved an ideal launchpad to all that has followed. He hoped to "bring knowledge to the most practical of uses", such as "advising a community on the best planting date for their crops or helping them to choose which crops to plant because of the quality of the rainy season." 
Predicting the rainy season in Mozambique and beyond
The impact of accurate forecasting was further underlined for Filipe by events surrounding his own family. Having returned to Mozambique and been appointed as head of the nation's Met service, he witnessed first-hand how much stock people held in his staff's seasonal predictions.
"When my sister had her first child, my mother travelled from her village to the capital to help her," he explained. "This happened in August – a month when people usually start to prepare their fields for paddy rice production. 
"Given my position, a rumour quickly spread that my mother had not bothered to work her fields because she had been told by me that the weather was not going to be favourable. It was a rumour that had no basis, but several people believed it and therefore didn't work their own fields.
"When I learned of this, it touched me a lot – it made me realise how desperate people were to know when the rainy season would begin and how crucial being able to anticipate the quality of the rains was to their planning.
"If there is a dry spell immediately after the first rainfall it can stop seeds from germinating and many only have one chance of a crop. If their seeds do not germinate, they will not have the resources to live and this shows how climate change can push people into a cycle of poverty."
Now based within the World Meteorological Organization's headquarters in Geneva, Filipe spearheads a global initiative to prevent populations from enduring such hardships through the provision of tailored climate services. 
Reflecting on the success of current projects in Malawi and Tanzania, where broad, seasonal forecasts have been honed to district levels and farmers can receive frequent advisory information using an app on their phones, Filipe added:
"In the field of climate services, if you do your job right it can change the lives and livelihoods of many people. 
"There is immense satisfaction when you provide a forecast or advisory that positively changes the outcome of a particular decision a person takes."
Such satisfying results have been made possible by dramatic advances in meteorology over the past three decades, according to Filipe:
"We have seen major developments to the point that a seven 7-day forecast today is as good as a 48-hour forecast of 20 years ago," he says. "There has been a tremendous improvement in the quality of predictions and that is due to a better understanding of science and an increase in computer power that has allowed us to run models at a faster rate and assimilate more data."
However, he adds: "We still need to advance our knowledge of how different components of the Earth's system interact as that will allow us to further improve the quality of forecasts and predictions."
The impact of climate change on weather forecasting
Filipe cautions that this fine-tuning process would be made even more challenging by climate change: "We know that one of the implications of climate change is that it exacerbates climate variability, which adds uncertainty to our predictions."
As the dangerous, and sometimes unknown implications of climate change loom over us, Filipe warns: "Extreme weather and climate events are increasing in magnitude and frequency and that is a major problem. It is important that countries increase their ambitions in terms of implementing the Paris Agreement. The impact of not doing so will be bigger than what we are seeing today."
Filipe concludes by asking people to consider the question:
"Can we really adapt to a climate which is warming at a such a fast rate? We should all be concerned."