Degree ceremonies for almost 4,000 graduates took place in July at the University of Reading's historic London Road campus. 
Vice-Chancellor, Robert Van de Noort, praised their achievements saying, "alongside your academic accomplishments, we recognise and honour your hard work, your contribution to our community and all that you have done as an ambassador for the University of Reading."
Graduates will now become part of a global community of more than 280,000 alumni from across 150 countries.
Politics student overcomes liver disease to graduate
This year's graduates included a student whose university studies were interrupted by a life-saving liver transplant. Madeleine Murphy, from Barnet in north London, received her degree from the University of Reading on Wednesday 17 July, five years after she first began her studies as she was battling a rare, untreatable liver disease that she was diagnosed with at aged seven.
The 23-year-old's time at university included a year out to have a split liver transplant two years ago, with the right lobe of her liver being replaced after a donor was found.
After achieving a 2:1 in Politics and International Relations, Madeleine reflected on the operation that saved her life and overcoming adversity to earn her degree.
"I'm shocked that I'm here to be honest," said Madeleine. "The liver transplant saved my life, and I didn't even think I would ever end up passing my degree. It's the biggest achievement of my short life, so I'm very happy."
Graduation awards
 A Reading graduate who has helped the careers of thousands of people from diverse backgrounds was among those handed honorary awards this summer.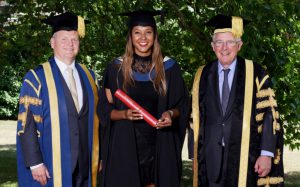 Joanna Abeyie, 32, an award-winning entrepreneur and champion of diversity, inclusion and equality, was named Distinguished Graduate of the Year in recognition of her work helping organisations diversify their workforce and leadership so that they better represent society.
Ms Abeyie graduated from Reading in 2008 with a BA in English and Sociology. She is about to launch Blue Moon, the latest of a series of consultancy and recruitment enterprises she has founded to help organisations source talent from BAME and working class backgrounds.
Her work has included advising the likes of BBC, ITV, Sky, Facebook and Barclays, and has seen her recognised by former Prime Minister, Theresa May, and the Mayor of London.
Ms Abeyie said: "I'm driven by real and lasting change. My mission is to lead the diversity agenda and enable businesses to create an inclusive working environment, secure and retain the best and most diverse talent through bespoke recruitment processes, workshops and training from entry level to boardroom."
The University of Reading also awarded honorary degrees this summer to Professor Thia Hennessy, who received a Doctor of Business Administration, and Dr Deborah Goodwin OBE, who received a Doctor of Letters.
College of Benefactors
Two new members, The Elizabeth Creak Charitable Trust and The Titcomb Foundation, were inducted into the College of Benefactors during Graduation last month. As the highest honour that the University can bestow upon a donor, the College recognises and celebrates the generosity of supporters who have made exceptional gifts to the University of Reading. 
The Elizabeth Creak Charitable Trust has generously supported the University's School of Agriculture, Policy and Development, and The Titcomb Foundation has been instrumental in helping clinical psychologists at Reading develop a ground-breaking project to improve access to treatment for young people suffering from anxiety and depression.  
First class honours degree for student who gained place through clearing
Jenna Coles, 21, from Cambridge, achieved a first class honours degree in politics at Reading after being accepted on her course through clearing after narrowly missing her grades at A-Level. She was also presented with a special award by the Politics Department for best all-round contribution to her course.
Jenna said she was 'devastated' when she received her results back in 2016 and missed out on her first-choice university, but went on to receive an offer of a place from Reading through clearing.
Jenna said:  "My research into both the course…and into the University itself, brought me to the conclusion that Reading University was somewhere I could spread my wings academically and socially.
"It was well-located, offered a languages course I was keen on, the department offered modules that were of interest to me, the social life both in the town and in the university looked excellent, and there were countless extracurricular opportunities in societies and clubs."
Jenna plans to take a year out and then return to academia to study for a master's.
She said: "Going to university, and being in the environment Reading offered, has caused me to really love academia and I want to go on to further study those subjects which I developed a true passion for at Reading."
Find out more about Reading's Summer Graduation ceremonies here.