Reading alumna, Dr Rosalynd Roberts, shares what has motivated her to pursue a career in international criminal law.
When a young Dr Rosalynd Roberts was deciding which A level subjects to study, her youthful desire to make a difference made law a particularly appealing proposition. Inspired by the field's relevance, constant development, and wide-ranging impact on society, Dr Roberts signed up for the course to "see where it would lead."
The answer – via an undergraduate and a master's degree from the University of the West of England and a PhD at the University of Reading – was to the heart of one of the most significant international criminal law trials ever held.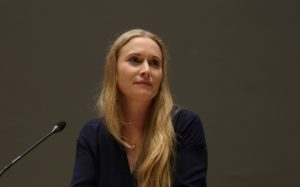 From 2011 to 2017, Dr Roberts worked as a Legal Officer at the International Criminal Tribunal for the former Yugoslavia (ICTY), supporting the judges assigned to the trial of Ratko Mladić. Dr Roberts, who was named Reading's 2018 Alumna of the Year, was equipped to contribute to the drafting of the judgment, speaking volumes about the quality of her training.
The trial of Ratko Mladić
In her role as Legal Officer, Dr Roberts was part of the team analysing evidence from the prosecution and the defence in relation to allegations of genocide, crimes against humanity, and war crimes committed during the conflict in Bosnia and Herzegovina in the early 1990s.
"It was a profound experience and such a learning curve," Dr Roberts said of her time in The Hague, which began shortly after she had completed her doctorate on, 'The Relationship between the International Criminal Court and the United Nations Security Council'.
"It was very rewarding in terms of personal growth and it was inspiring to work in a team with such fantastic and experienced professionals.
"I learnt a lot from the judges and the other members of the legal drafting team who came from different cultural and legal backgrounds, each offering a unique perspective."
Dr Roberts' transition from academia to the sharp end of international criminal law could barely have come in a more complex case. The trial of Ratko Mladić began on 16 May 2012 and the Chamber heard evidence for more than four years, sitting for a total of 530 trial days and covering some of the most horrendous crimes imaginable.
As well as dealing with 9,914 exhibits admitted into evidence and hearing testimony from 591 witnesses, 377 of whom appeared in Court, the judges, supported by the legal team, had the complex task of judging Mladić's guilt through his participation in, and contribution to, several Joint Criminal Enterprises (JCE).
These included a JCE relating to the planned elimination of the Bosnian Muslim population of Srebrenica through genocide, persecution, extermination, murder, deportation, and inhumane acts of forcible transfer.The judgement against Mladić was delivered on 22 November 2017, whereby he was found guilty of several counts, including genocide and crimes against humanity, being sentenced to life imprisonment. His case is currently in the pre-appeal phase before the United Nations International Residual Mechanism for International Tribunals.
A lifelong connection with Reading
Choosing to undertake her PhD at Reading thanks to a scholarship and an awareness of the Law School's "excellent reputation", Dr Roberts excelled under the guidance of lead supervisor Professor James Green.
Investigating the position of the International Criminal Court in relation to the United Nations, and in particular the Security Council's responsibility to maintain international peace and security, Dr Roberts relied upon the expertise of Professor Green – a relationship that she is proud to have seen go from strength-to-strength.
She said: "You can't really ask for more from a supervisor than to be attentive and willing to provide feedback as quickly as possible, and he was always ready to do that.
"I am very grateful to him for guiding me through the process and for investing so much of his time into helping me achieve my goal.
"Since I completed my PhD, he's continued to factor into my career, whether with the willingness to provide a reference, guidance on an issue or just touching base and discussing substantive law."
Effecting change
Following Mladić's conviction in 2017 and the closure of the ICTY following the completion of its mandate, Dr Roberts accepted a new position as Legal Adviser on War Crimes and Rule of Law for the Organisation for Security and Co-operation in Europe's (OSCE) Mission to Bosnia and Herzegovina (BiH).
Now based in Sarajevo, the Reading alumna is exploring how the BiH judiciary is tackling the national adjudication of war crimes, which includes analysing cases to identify trends, both in terms of good practice and areas for improvement.
Describing her "deep respect" for the role being played by the OSCE Mission to BiH, Dr Roberts said: "This Mission accomplishes a lot and it effects change, as opposed to just talking about it.
"I'm particularly impressed by the colleagues that I've met here, including those who were here during the war, or whose lives were affected by the war and who are still so motivated to make a difference, even now that 24 years have passed since the conflict ended. It's very humbling and inspiring.
"For me, it's full circle coming to Bosnia and Herzegovina after having examined what took place here during the conflict from the international perspective.
"Being here now, seeing how the judiciary are processing these cases, and being part of an organisation which aims to strengthen the judiciary is a very fulfilling experience."
Alumna of the Year, 2018
While Dr Roberts may have moved away from Berkshire, she was delighted to return to Reading last year for her Alumna of the Year ceremony – which aptly included a speech from former supervisor Professor Green, who acknowledged the "huge significance" of her work.
Admitting that the recognition came "out of the blue", Dr Roberts felt that it also reflected a recognition of the importance of holding accountable those accused of war crimes and ensuring justice for victims.
"It was a surprise to me because often the work that's done, especially in international criminal trials, is very much behind closed doors," she concluded.
"[The award] was also a recognition of the subject matter itself and its importance in today's world where we witness so much intolerance.
"We see and hear it everywhere across Europe – in fact across the world – this divisive rhetoric. Such rhetoric can lead to serious conflict. International criminal trials aim to have a deterrent effect by ensuring that those responsible are held accountable.
"Only through such trials can victims see justice, and this is also an important factor in helping post-conflict societies move forward. It was significant and motivating to see our strive for justice for the victims being acknowledged in this way.
"It was a great honour for me personally and it's very important to me that this field of work is recognised as well."
Find out more about postgraduate study opportunities in Law.