The University of Reading launches, Enabling Students, a new fundraising campaign designed to support today's brilliant young minds.
At Reading, there is nothing more important to us than the wellbeing of our talented and inspiring students. They are at the very core of our community and it is our goal to continually empower them so that they can reach their fullest potential, regardless of their circumstance.   
As an institution, we already provide a wide variety of support to our students, but we are committed to doing more. With the help of our donors, we can make it possible for capable students to start their journey at Reading and get the very most from their university experience, and in doing so, optimise their future success. With the generous gifts of donors, whether they be from alumni or broader supporters of the University, Reading can make a real impact on students' lives and futures.
Starting a student's academic journey
One of the major questions asked by students as they embark on their academic career is "how I will afford university?" Financial worries should never be a barrier to education and should not deter talented individuals from beginning their academic journey. Here at Reading, we support the most disadvantaged students through our Pioneer Bursary. The scheme provides a cash bursary to full-time students in any subject, helping to support their education by covering their day-to-day living costs. Having the money to buy a laptop or important textbooks can make all the difference to a student's personal performance at university, and this is something donors can support.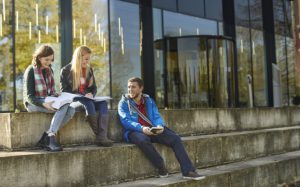 However, our goal of empowering Reading students goes beyond just undergraduate study in the UK. We also want our postgraduate and international students to reach their fullest potential without fears of living costs, visa restrictions or a lack of access to UK government loans. Having already achieved great things at an undergraduate level, it is important to inspire young people to progress even further in their academic career, regardless of their personal background. This is something that our Empowering Change Scholarship aims to do.
The Scholarship supports international master's students studying on specialist postgraduate programmes in the School of Agriculture, Policy and Development. These courses ask students to tackle major global issues of poverty, food security, climate change and equality, therefore enabling them to benefit communities around the world. By donating to the Enabling Students campaign, we can continue to support not only these students, but the important research they undertake.
Sporting and society success
A student's experience at university shouldn't always be about academia. The University of Reading also encourages students to make the most out of the sporting and society opportunities offered to them during their time here, fuelling friendship and ambition.
Our Sporting Excellence Scholarship provides funding to students who compete in sport at national level, or who are on the national pathway. Donors help to nurture talent and further success by providing funding for coaching, specialist equipment and even nutritional advice. Reading is already home to a wealth of sporting talent, and we count Olympic gold medallists and world champions amongst our alumni. This scholarship is vital in helping our elite student athletes to aim higher and achieve both sporting and academic success.
Not only this, but donations from the Enabling Students campaign also helps our Students' Union to have a greater impact on the sporting, volunteering and socialising aspects of students' lives. RUSU is at the heart of campus social life here at Reading. They direct the activities of over 150 sports clubs and societies, allowing students to have fun, learn new skills, build a sense of community and make friendships for life. It is from these societies and clubs that our alumni have such fond memories of their time at University. By supporting the Enabling Students campaign, donors are giving students vital access to equipment and activities that will enhance their enjoyment of university life.
Making a difference
Reading not only provides support to students starting their university experience, but also provides help to those already on their academic journey. Sometimes circumstances can change, and students can find themselves abruptly in a moment of unexpected crisis. Take for example, Lauren, who was diagnosed with a serious illness whilst at university and could therefore no longer manage her part-time job. Or Ben, Ben's father's business went into administration, leaving him unable to support his son financially. It is in situations like these, that Reading is able to step in and help.
The Student Support Fund provides emergency grants to students in crisis, when they have run out of other options and dropping out of university is a very real possibility. The University can be there for these students, even if they never expected to need the help. With the generous donations of our alumni and supporters, the Student Support Fund has already helped 132 students with grants totalling over £130,000. Imagine how many more students we could help with donors' continued support.
Gaining skills and experiences for life
Here at Reading, we offer students the opportunity to gain broader life experiences and to push themselves beyond their comfort zones, making them even more employable in the future. This is something we enable through our Study Abroad Bursaries and Life Tools workshops.
Reading is proud to have study partnerships with more than 60 global institutions. So whether it's taking a field trip to Iceland, attending a summer school in China, or studying for a term or two in Australia, donors make it all possible by providing travel bursaries. By grasping the opportunity to study abroad, our students are challenging themselves to do, and be, even better.
Back on campus, we also help students to manage their academic demands, achieve their potential and improve their resilience when life becomes challenging through our series of Life Tools talks and workshops. The programme develops students by covering a range of aspects to improve wellbeing from tips on getting a better's night sleep, to coping with exam pressure. With gifts from the Enabling Students campaign, we can extend this programme even further, giving students the skills to thrive at university and beyond.
Find out more about these invaluable schemes and scholarships.