Since 2014, THRIVE has helped hundreds of students to transition into graduate life through vital career mentoring partnerships. 
THRIVE is a career mentoring scheme open to students in their penultimate year of undergraduate study and to postgraduate taught master's students in certain departments. The scheme aims to create a collaborative partnership between a student and a successful professional, giving students the opportunity to test out their career aspirations for life post-university.
The mentors who have volunteered their time for the scheme have made a significant difference to their mentee's lives and goals through this one-year partnership. Whether providing CV guidance, helping with interview techniques, offering networking opportunities or shadowing opportunities, mentors can help to boost their mentees confidence, resilience and motivation. Many of our alumni volunteer for THRIVE as a chance to give something back to Reading. From taking part in the scheme, mentors themselves can learn more about the University, attract students to their profession or organisation and gain a sense of satisfaction from seeing their mentees develop and grow.
The volunteering hours that these mentors undertake for THRIVE also contribute to the overall volunteering target for our current fundraising and volunteering campaign, IMAGINE. The campaign aims to connect supporters to projects which are creating solutions to real-world problems, and by supporting THRIVE, mentors can make an impact on students' lives.
THRIVE has already been a great a success, with both mentors and mentees attesting to the impact of the scheme on their own lives and career aspirations.
Meet Matt and Sam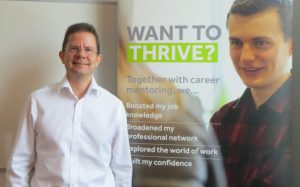 Through THRIVE, Sam, a biomedical sciences student, was partnered up with Matt, a University of Reading alumnus and health sector professional, who is currently working as a director of safety and quality improvement at Bupa.
Matt helped Sam to understand herself better, honing in on her career goals as well as providing practical help in the form of CV guidance and interview preparation. Through Matt's guidance, Sam was able to secure a six-week summer placement working at the Royal Berkshire Hospital which may not have been possible without his support: "I have enjoyed the past year with Matt as a mentor and gained more out of the scheme than I ever thought I would. I think the best thing about it is knowing that you have someone there who knows how the world outside of university works and can give you advice on your job applications and what employers are looking for."
Over their year-long partnership, Matt helped to build Sam's confidence and her belief in her own capabilities. He supported Sam in finding the best career path, showing her how to achieve her goals.
"Being a mentee allowed me to think about my career prospects in a way I hadn't before. I've learnt to focus on my positive qualities that I can bring to a career and moved out of a negative mindset of feeling unqualified.
"I believe in my ability to sell myself at interviews more than I ever did before, and how to use my skills and experiences to help me succeed."
Matt was motivated to join the THRIVE Mentoring Scheme as he wished to give something back to the University, understanding the benefits of the scheme for current students as they transitioned into graduate life. Matt was inspired to see how his mentees have faced challenges and overcome them with confidence, and he found great satisfaction in seeing Sam grow:
"I was delighted when she was successful in securing a placement that matched her aspirations. I have enjoyed seeing Sam's self-belief and confidence grow over the past year."
The collaboration not only improved Sam's confidence, but also inspired Matt to take a risk and make a career change himself: "I have learned to be bolder when it comes to thinking about what I want to do in terms of my career. I have been inspired to think about my own future career aspirations and gained insights from how my mentees go about overcoming their dilemmas and challenges. I am mid-way through a complete career change moving into the field of occupation safety and health."
As Sam highlights, THRIVE exemplifies the sense of community created here at Reading, with long-term personal and professional relationships being built between students, alumni and supporters.
"I like the community here and the amount of support that is available for any situation you may be in. I feel like there is always someone to turn to if you need advice, whether it be university-related or an issue outside."
After her THRIVE experience, Sam became an ambassador for the scheme, encouraging other students to get involved and experience its benefits.
"I wanted to become a THRIVE Ambassador to reach out to more students who may be in the same position that I was in last year, and make them aware of the scheme and its benefits. Many of my peers were on the scheme, but many were also not, and I think that it is a brilliant resource provided by the University that everyone should get involved with."
The extent to which a mentor can guide a mentee and improve their prospects is enormous. As a two-way partnership, there are numerous benefits for mentors too. THRIVE is always looking for more alumni and supporters to join the scheme to help make a difference to students' lives and excel them towards their long-term career goals.
Find out more about the THRIVE mentoring scheme.