Reading alumna, Lesley Franklin, was recently appointed as the first ever female principal of one of Scotland's oldest and most distinguished independent schools, George Heriot's.
Last month, CONNECTED caught up with Lesley about her illustrious career in education and the importance she places on moving forward with the times, while remaining true to traditional values of kindness and respect.
Lesley's commitment to teaching has always extended beyond the classroom. After departing her first job at Courthouse Junior School in Maidenhead to go on a year's sabbatical, she received a steady stream of enthusiastic letters from her former pupils, posted to the many far flung destinations she was visiting around the world. She was so moved by their desire to stay in touch that she visited the school upon her return to regale the class with tales of her travels.
Her latest appointment as principal of George Heriot's School in Edinburgh is well deserved recognition for a career dedicated passionately to education. The fact that she is the first ever female principal in the school's 388 year history also serves as a fantastic inspiration to other women aspiring to senior leadership roles.
Teacher training at Reading
Lesley's path into teaching began at the University of Reading in 1991 when she started her PGCE. Having chosen Reading for its great reputation and leafy campus, she was delighted to discover that Cliff Moon, an expert in children's reading that she had long admired, turned out to be her course tutor.
"I thoroughly enjoyed my time at Reading. As well as stimulating lectures and seminars, the course had a very practical element with a wide variety of school placements. These were well supported by tutors who would visit students during their placements."
Lesley's year at Reading was a busy one, full of happy memories. She and her husband got married during her PGCE year with several friends from her course in attendance. After travelling, the couple returned to Lesley's hometown, Scotland, where she worked in state junior schools in Edinburgh before eventually settling at George Heriot's, where she has remained for the past 24 years. Her purely primary background is another first for a principal of the school. Prior to her latest role, Lesley worked her way up from a class teacher in the junior school, before becoming deputy head of juniors and then head of juniors.
A dynamic head for a distinguished school
With so many years under her belt, it's fair to say that Lesley knows George Heriot's and its values inside out, and although she now focuses a lot more on the business side of things, she also remains very hands on too. She continues to flex her teaching muscles by conducting assemblies, coaching hockey and teaching cookery classes to final year students to show them how to embark on life away from home.
As well as her experience at the school, Lesley believes that it was her focus on the big picture, her belief in the school's values and her resiliency that made her stand out as the best candidate for the role of principal.
"My main responsibility is to ensure everything is in place to enable everyone in the school to do their jobs brilliantly. To keep the best interests of the school at heart, I need to be tough when it is required, but I try not to take myself too seriously and always maintain a sense of humour."
Kindness is at the heart of everything Lesley does and she believes that if people feel looked after, they will thrive in their jobs, in their studies and in their relationships with those around them. She has a clear vision for the future of the school which involves maintaining its strong ethos but also moving forward with the times.
George Heriot's itself is quite unique being a fee-paying independent school, but it also has a long history of helping Edinburgh's disadvantaged families, having originally been a school for orphaned children. In fact, the school still funds several places for the sons and daughters of widows and widowers today, and has also offered bursaries to a small number of Syrian refugees.
"It's so rewarding, you can genuinely make a huge difference to people's lives through teaching. I love to give pupils the opportunity to find talents and skills they didn't know they had. That has a profound effect on their confidence"
Twenty-first century skills for today's pupils
One of Lesley's biggest areas of focus as principal is to enhance the employability skills of her pupils by encouraging them to embrace creativity and philanthropy, as well as traditional STEM subjects.
She admits that as long as universities use grades for their admissions requirements, pupils will need to have a high-level of subject knowledge, but that cultivating workplace skills is also vital. For example, at George Heriot's, philosophy is taught from a very early age, starting with a simple questioning of why the children made a particular choice which slowly evolves into group discussions. Pupils learn life skills such as how to disagree politely and how to extend somebody's thinking.
They also have the chance to try many different creative practices including filmmaking, the production side of drama and graphic design. This, along with a regular programme of guest speakers, highlights the variety of career paths available to them.
Lesley wants to instil confidence in pupils but not overconfidence.
"It's important to fail and to learn from that. It breeds resiliency and problem-solving. We overtly teach pupils how to cope with set-backs and disappointments and emerge stronger".
The school's ethos is to try your best and to get on with people and Lesley champions traditional values like punctuality, manners and good personal presentation, as well as training pupils in practical skills such as interview technique and public speaking.
Pupils regularly volunteer all over the city, giving back to the local community by working with disadvantaged children and at soup kitchens.
"These experiences show them how lucky they are to have the opportunities afforded to them and reinforces the importance of helping others and giving back."
Teenage mental health
Like many schools today, mental health is a key focus for George Heriot's School and Lesley is working hard to promote wellbeing among her pupils. The school has a strict ban on mobile phones and champions the value of face-to-face interaction in its learning and teaching environments.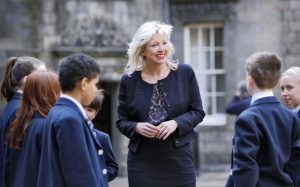 "We have focused on creating nice social spaces for pupils to interact in – soft seating in the refectory, for example, to encourage communication and conversation. We also do a lot of outdoor activities to encourage a connection with nature."
Lesley is proud of a recent project they have done on "speaking up" where pupils identified people in their lives that they would want to open up to if they had a problem in order to foster a feeling of confidence in the support networks around them. The school regularly brings in speakers to talk about mental health and teach practical skills, such as the importance of getting enough sleep and how to put problems into perspective and avoid catastrophising.
Embracing challenges
Never one to become complacent, Lesley sees her next challenge as promoting the school to a wider audience and ensuring that it remains financially sustainable. She says: "The biggest challenges faced by the independent schools sector are financial and political, particularly when there is uncertainty about what Scotland's future will look like.
"My role is to raise awareness about the school and the sector, and to show the world its value – that George Heriot's is not just an elite organisation and that it provides a vital service."
To order to achieve this, Lesley is reaching out to different communities and working on cross-overs between the school and industry. Recently, she spoke at the Edinburgh Chamber of Commerce about innovative ways that George Heriot's develop their staff that other businesses might benefit from. These are exciting partnerships that are crucial to the future success of the school.
Flying the flag for female leaders
A role model for female leaders, Lesley believes the education sector is actually easier for women than other sectors as it is generally a female dominated industry.
But she concedes that there is definitely still progress to be made. She can remember a memorable incident at a George Heriot's alumni event last year where she was appearing as a guest speaker.
"As I was hanging up my coat in the cloakroom, a male alumnus handed me his coat, assuming I was manning the cloakroom. Later on, as I began my speech on stage, I could see him in the audience sliding down in his chair in embarrassment as the penny dropped. To his credit, he approached me directly afterwards to offer his apologies and to thank me for not taking him to task publically in my speech!"
Determined to take these moments in her stride, Lesley says:
"I would advise other women in business to prove themselves through hard work. Don't try to be someone you're not, impersonate others or put on an act. Have the confidence to do it your own way."
Advice for new teachers
Finally when it comes to advice for newly qualified teachers starting out in their careers, Lesley believes that the best teachers are those who build good relationships with the pupils.
"Share yourself, have fun. Pupils like to feel valued and know that their teachers really care about them. Yes, you need to know your subject and the course, that's a given, but focus on the people and throw yourself into the life of the school."
The more you put in, the more you will get out – as Lesley knows, when it comes to teaching, the old adage couldn't be more fitting.
Find out more about the teacher training courses offered at Reading.