Students and alumni reflect on the history of the Library over the years and share their experiences and memories of the building since its opening in 1923.
The history of the University's Library stretches back well over 100 years, beginning with just a few books on a single bookcase. Over the years, the Library has changed, adapted and moved several times, but students have always relied on it as an important study environment.
Going back in time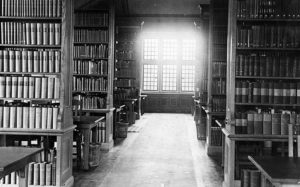 Starting out in a small room in The Acacias, located on our London Road campus, the Library met the needs of just under 500 students and was described as "quite magnificent in its inherent architecture, in its siting, and most importantly, in its content" by alumnus, Tony Lawrence.
As the building became increasingly important to the student experience at the University, it was decided that a new Library should be built on the Whiteknights campus to match the increasing demand. This building work started in 1960, with an official opening ceremony taking place in May 1964, led by Chancellor, Lord Bridges, and the Library's architect, Frederick Preston. Alumnus, Jim Burrows, said: "We certainly learnt to think in the recently opened new University Library. At first overawed and a little fearful of such a vast cornucopia of books, we soon learnt our way around.
"As our only source of information, it became a wonderful friend contributing massively to our academic development and success."
Since 1964, the Library has continued to expand, including an extension on the north side of the building in 1985 and the conversion of locker spaces into a small refreshment area in 1997.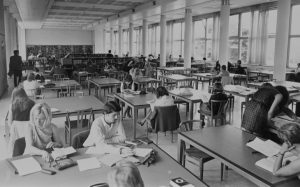 Into the early 2000s, Reading's Library paved the way for cutting-edge learning by opening the largest computer lab on campus to encourage modern study, and relocated the University's special collections to make room for some much-needed student study space. As alumna, Professor Carol Fuller, highlights, her experiences in this modern Library often left fond memories: "The Library at the University of Reading was the place I discovered how much I loved learning. I have happy memories leaving it, laden down with piles of books, feeling happy and like a 'proper scholar'.
"The books I accessed during this time fundamentally changed my life, leading me on a journey from undergraduate student to academic researcher, now writing books of my own."
In 2007, the ground floor of the Library was completely refurbished to create new areas for student group work – an increasingly important aspect of study – and Café Libro was opened. By 2009, contemporary students needed the Library to provide power at each desk for laptops and mobile devices, as well as even more group study areas. With this in mind, a major £4.4 million refurbishment project began until 2014, focusing on rewiring and the installation of modern furniture on the upper floors.
This takes us to 2016, when the Library's biggest ever refurbishment project began – a huge £40 million investment – to make the building into an innovative environment for learning and an integral part of the student experience. Completed at the end of 2019, the Library has been transformed and looks like a brand-new building with its glass window exterior and surrounding greenery.
50 years at Whiteknights
In 2014, Reading alumna, Dr Hiral Patel, created a 50 Years at Whiteknights exhibition as part of her PhD in Construction Management and Engineering to celebrate the Library's history over the years, and its then most recent refurbishment project. Starting out with the idea of just a poster to complement the Library's reopening in 2014, Dr Patel, with the support from Library staff soon escalated the project and decided to embark on the creation of a fully-fledged exhibition to be displayed in the Library. Using Reading's archives and building relationships with staff and students, Dr Patel sought to explore how the building has been conceived over the years and displayed her findings for all to see.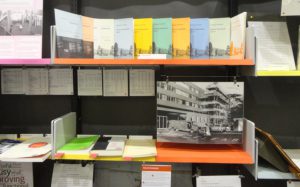 Built on shelves from the Library itself, the exhibition showcased a variety of materials and objects from the past few decades including photographs, models, records and even a speech from the Whiteknights architect, to understand how the meaning of Reading's Library has changed over time. Dr Patel found that even though technology has evolved since 1964 – from pens to computers – the Library has always remained a pivotal point in student's lives, acting as a secure house of books, a place for individual and collaborative study and an area of innovative learning through objects and exhibitions. For almost 100 years, the Library has been a hub of knowledge as Dr Patel highlights:
"The Library is a place for different academic disciplines to come together, to collaborate on a topic or to contest each other's arguments. Students are able to take an object and share their varying views to generate an interesting dialogue. This is what makes the Library so important to those who use it."
During her own master's studies at Reading, Dr Patel didn't realise the extent of services offered by the Library until she embarked on her PhD research and exhibition creation. Reflecting on her experiences, she wishes she had made the most of the building and its staff, such as using their expertise in locating and searching resources using bibliographic databases. Dr Patel believes the Library is important to the University in so many ways. It is an area not only to store books or to study, but an environment of shared knowledge and conversation.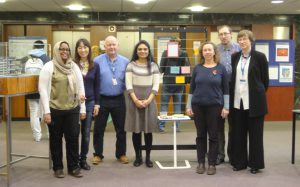 The aim of Dr Patel's 50 Years at Whiteknights exhibition, was to revive a tradition of exhibitions and allow students, staff and the local community to learn from objects as well as words. With new exhibition spaces now installed on the ground floor of the newly refurbished building, Dr Patel hopes that the Library will further invigorate exhibitions and hands-on learning: "With a tradition of support from donors for the University Library over the last half a century and a continual revival of the Library's books, resources and spaces, there is an opportunity for the Library to become a knowledge hub for the local community beyond just staff and students.
"It can be used to encourage interactive learning for the benefit of the general public."
It was therefore fitting that as part of the Library's Open House Event this week, a Samuel Beckett exhibition was displayed to get visitors interacting with Reading's vast array of archives and special collections.
Student experience
With the new and improved Library now back open for business, current Reading students are making use of the new facilities, spaces and resources. Annie, a final year student, told CONNECTED that the Library is where she spends most of her time and is making full use of the new building:
"The University Library is where I probably spend the majority of my time. I'm in my final year, so having a place to study is invaluable to me and my peers.
"The space we have now is leaps and bounds ahead of what was available to us previously, and the renovation work has meant that we can comfortably stay there for hours at a time."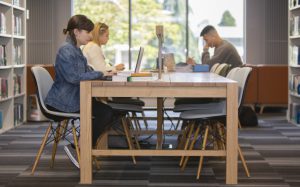 With current students already seeing the benefits of the refurbished Library, the University is now looking to build its resources, from printed books and journals to e-books. With almost 100 years of history, the Library will continue to support sustainability, student learning and innovation for years to come.
Find out more about our current fundraising appeal, and how you can support the Library and its resources here.