Reading students reflect on why the Library is so important to them and why your support is essential to their experience.

Four years ago, Reading embarked on a huge project to refurbish the University's Library. To ensure that the new vision would cater to student's needs, the University prioritised three key elements: extra study space, a sustainable future and the provision of useful learning resources, whether they be printed books or digital content.
To deliver this vision, the project focused on enhancing major components of the existing structure of the Library by creating a multi-functional, sustainable building with both present and future students in mind. Alongside these renovation efforts, in 2017, a fundraising appeal was launched to help the University purchase the necessary books and online resources to support student learning.
Speaking to students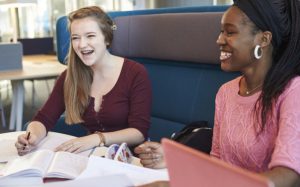 CONNECTED spoke to a number of current students at Reading who use the Library on a daily basis to study, collaborate and learn, and shared with us how the new and improved Library space is helping to enhance their University experience. Annie, who is in her final year of her archaeology degree, told us that she spends most of her time tucked into one of the Library's very popular study pods alongside her course mates: "The University Library is where I probably spend the majority of my time. I'm in my final year, so having a place to study is invaluable to me and my peers.
"The space we have now is leaps and bounds ahead of what was available to us previously, and the renovation work has meant that we can comfortably stay there for hours at a time."
Eleanor, a third year biology student, also felt that the new Library was important to her studies from a financial perspective. She said:  
"The Library is really important to me. I can't afford to buy the textbooks for my course individually, so without the Library I wouldn't be able to complete my work."
A home away from home  
For some students, like Connor, the Library is not only a place of resources, but an environment away from home to focus on his studies.
"I live with six other housemates. It used to be just the four of us but two of them have basically moved their girlfriends in and now the house is always full. Everyone tries to be considerate, but there's always something going on at home so I can never focus properly. I find it easier to get stuff done in the Library."
An estimated 47% of students live in privately rented accommodation with three or more other students – a rate that is set to soar in Reading, along with rental prices. Student homes are often so full that they make for a less than encouraging learning environment, making the Library – and wider campus – an important space for students to be productive.  
By refurbishing existing space to be more functional for students, and increasing access to resources, the newly transformed Library is now fully prepared to meet the demands of student needs for years to come, whilst also shaping the local community and championing environmental sustainability.
Find out more about how you can support our new Library here.