Reading's Professor Ed Hawkins tells CONNECTED about his Rainfall Rescue project, and how volunteers have helped climate scientists solve the mystery of British rain whilst staying at home.  
Volunteers were recently asked to join a mission – to salvage British rainfall records dating back 200 years in the biggest ever project of its type. The Rainfall Rescue project, run by Professor Hawkins, aimed to fill the huge gap in UK digital weather records between the 1820s and 1950s by inviting members of the public to transcribe observations made long before the age of computers.
About the project
Already well-known for his infamous climate stripes graphic that went viral around the world for its illustration of the impact of climate change on the planet since 1850, and his recent MBE award, Professor Hawkins and his fellow colleagues have recently run another climate focused project. The project looked at past rainfall variations to better understand why certain parts of the UK are wetter or dryer than others at different times, and what the long-term trends and historical patterns were.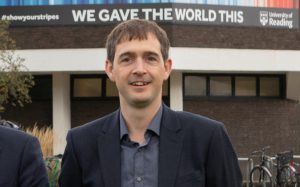 By digitising these historical rainfall records, climate scientists will be able to help water companies plan for dry and wet weather in the future, testing their current systems against real extreme historic conditions.
With lockdown measures in force, the Rainfall Rescue project has been a great opportunity for members of the public to get involved in Reading's research. There were several thousand rain gauges in the UK in the 1950s, but digital data was only available for a few hundred, with the rest still stored on paper in the National Meteorological Archives. The project asked volunteers to help extend this digital record of monthly rainfall measurements and information on locations available since 1961, back to the 1820s.
Public response
Professor Hawkins and his fellow climate scientists have been amazed by the public's response, and the project was completed in a matter of weeks. Nearly 16,000 volunteers blitzed their way through decades of rain data, with records from the 1930s, 40s and 50s being covered in just four days. Volunteers also had many stories to share with Professor Hawkins about the records, including stories of data being interrupted by trampling animals and of children throwing stones at gauges. He said:
"The volunteers have got really involved with it and picked out interesting things themselves; they've started discussing months which are either really wet or really dry."
Thanks to the hard work of volunteers, there is at least four digital rain transcriptions for every year, meaning that Professor Hawkins and his team can now use this data to help water companies plan against extreme weather conditions. Of course, as always, there has been some disagreements amongst volunteers for the readings of certain rainfall records. These records remain open for other volunteers to fill in their transcriptions to resolve disagreements, and ensure the team get the most accurate data results.
Find out more about the Rainfall Rescue project or join the discussion with other citizen scientists by following #WeatherRescue.