Ellie Chaston's passion for history led her to study a Master's of Research in Medieval Studies at Reading. Ellie tells CONNECTED why a postgraduate course was an obvious choice for her and how it opened the door to her career.
A natural progression
Following the completion of her history undergraduate degree, Ellie felt that her journey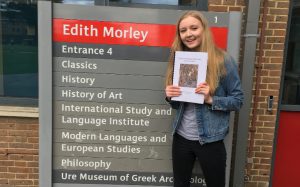 with medieval history and with Reading was not yet at its end, leading her to embark on an MRes in Medieval Studies.
Ellie said: "I've always loved medieval history and originally chose to study at Reading because the course offered such a vast range of medieval history compared to other universities, alongside its beautiful campus.
"It was a no-brainer for me to continue my studies at Reading; I knew that Reading already had a great medieval department and I loved living in the town.
"I was quite intrigued by the fact that the medieval studies postgraduate course was an MRes, as it's not a very common type of postgraduate degree, but was perfect for me as I wanted to further my research skills. I already knew most of the medieval studies department and knew I'd be welcomed into a friendly environment that would help settle any new course nerves."
A stepping stone to my career
Ellie believes that the skills, knowledge and experience she gained on her postgraduate course were key to successfully beginning her career after graduation.
Ellie said:
"I wasn't sure what I wanted to do after I finished my master's, but just having a postgraduate course on my CV really boosted my chances of securing a job. I knew I wanted to do something research-related and having an MRes demonstrated that I was more than capable.
"I now work in a research-based job as an Unexploded Ordnance [UXO] Risk Assessor, and the research skills I learnt at Reading have played a big part in being able to adapt quickly to my new role. There were also specific skills and knowledge I learnt at Reading that helped me get the job, including knowledge of archives and the ability to write clearly and concisely, both of which are large parts of what I do now. My time at Reading, in particular writing my master's dissertation, also taught me how to work hard and achieve a full day of productive work, which eased my transition into a full-time job.
"I thoroughly recommend Reading's Careers service. They are there to support you for 18 months after graduating. I spent a while working in retail while I worked out what career I wanted to embark upon, taking the time to evaluate what I did and didn't like doing and how this would transfer to a work environment. The Careers service then helped me to find jobs I had never even considered, or never knew existed. In fact, I found my current job on the University's job listing site."
Looking back
Ellie is grateful for the memories she has of her time at Reading and for the opportunities that her postgraduate studies gave her.
Ellie said: "I have always been extremely fond of Reading's campus and remember lots of lovely walks to and from seminars. Just walking through the campus used to put me in a positive mood at the start and end of each day, and I miss those walks.
"My postgraduate course had a smaller number of people on it compared to my undergraduate course, which meant that I was in a really close group where we could all bounce ideas off each other. This led to many exciting intellectual discussions and I always look back fondly on my postgraduate studies. Even though a master's is a lot of work, I felt really proud of what I had achieved at the end of it, even more so than when I completed my undergraduate degree.
"To anyone who is considering doing a postgraduate course at Reading, you won't regret it. My MRes taught me so many skills; I made new friends, and it opened up job opportunities.
"I would recommend that you take full advantage of the resources available if you do embark on postgraduate study – I used to speak with my supervisors regularly, I was always in our course dedicated study room and I made excellent use of the library's 20-book limit."
Alumni discounts
If you are considering returning to Reading for further study, and have already completed a course at the University of Reading, you may be entitled to a discount on the cost of your tuition fees.
Our alumni discount is worth £1,500 and is applied to the first year of tuition fees for full-time students, or split over two years (£750 per year) for part-time students. There is no need to apply for the discount as it is applied automatically for eligible students.
Full details of the eligibility criteria, as well as terms and conditions are available here. You can also contact our Postgraduate Admissions team with any questions.
Discover more about postgraduate study at Reading.