Reading graduate, Chloe Read, had only just begun on the NHS graduate scheme when the pandemic broke out. She tells CONNECTED how it felt to be facing such a crisis in her new role, and how she embraced the opportunity to help.
Chloe studied German in Reading's Department of Languages and Cultures, enjoying the wide cultural education that was offered alongside becoming an expert in her chosen language. She says that her time at Reading gave her excellent communication skills, the ability to switch quickly between topics and confidence through a year abroad. All of this, she believes, helped her gain her place on the NHS graduate scheme.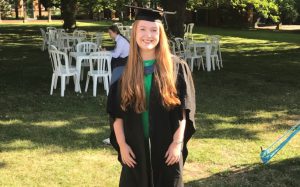 As part of the scheme, trainees must complete three placements over two years. Chloe started the scheme in March 2020 and is on her first placement as Assistant Director Manager within the Women and Neonatal Services at New Cross Hospital in Wolverhampton. Before the pandemic, Chloe's role was to support the department with the delivery of services, ensuring compliance with national and local standards, and performance targets, alongside completing a Postgraduate Diploma in Healthcare Leadership.
However, during the crisis, Chloe's role has adapted to helping the NHS where its need is greatest and she tells CONNECTED how she was part of an inspiring initiative to make Personal Protective Equipment (PPE), and is now looking to the future to see how the NHS can learn from the pandemic.
Tackling the PPE shortage
As Chloe's training was halted by the pandemic, she was redeployed to projects that really needed her help, including an incredible initiative making PPE to protect frontline medical staff.
Chloe said: "I was helping to manage a project within New Cross Hospital where redeployed staff members have been making PPE. The project began because the Royal Wolverhampton NHS Trust – which runs three hospitals – were struggling to source visors externally that met the required specifications. The Trust employs around 10,000 people, and although not all of these are clinical staff, each clinician has to discard their visor and don a new one between patients – that's a huge quantity of visors needed.
"The Trust decided to make their own visors to tackle the shortage, asking a laboratory manager at New Cross who specialises in designing facial reconstructive surgery to design the visor which he won an award for from the trust.
"I joined the project in its early days when only a handful of redeployed staff were involved, to provide more management to help and supervise the initiative. The project brought together staff from all different areas of the Trust: nurses, administrators, porters, medical students and scientists. Many of these people got involved because of health problems preventing them from working on the frontline during the pandemic.
"At the start, the group was making around 1,000 visors a day, but by the end this increased to around 5,000 a day, and the Trust accumulated a stockpile of 100,000. This was a fantastic result and a wonderful initiative to be a part of."
#NoGoingBack
Now that the initial peak of the pandemic has passed, Chloe says that the Trust is beginning to reintroduce more of their usual activity, while also looking to see what can be learned from initiatives introduced to tackle the virus.
Chloe said: "I am now involved in arranging the consultants' timetables and clinics, which is very challenging as a lot of the usual work the consultants would be undertaking is still not allowed to go ahead. But slowly, alongside government guidelines, the trust is reintroducing activity, in particular elective activity. Despite the pandemic, we are still expected to follow and meet targets, which is proving difficult with our limited capacity at the moment.
"Despite the Trust easing back to some level of normality, I believe that the pandemic will result in permanent change within the NHS and the wider healthcare system.
"The Trust has introduced #NoGoingBack, which encourages departments to think about ways of doing things that were introduced during COVID-19 which could be beneficial post-pandemic. During the outbreak, a lot of activity took place virtually to reduce the risks for patients and staff; for example, I was involved in setting up virtual clinics enabling consultants to speak to patients on the telephone. I am now doing a review analysing the outcomes of all virtual activity to see whether it should be included in our processes going forwards.
"I think COVID-19 has been a huge learning curve for everyone and I do believe things will never go back to the way they were. Trusts nationwide will have to look at which new processes they want to adopt, abandon and adapt."
A rewarding career
While Chloe's first steps into the world of NHS management weren't quite as she imagined, she says that being part of the NHS during its greatest challenge is an honour.
"A virus outbreak occurring imminently after embarking on my new career in the NHS was very daunting, however, despite the challenges, I am finding my role very gratifying.
"I genuinely had the best few years while I was at Reading; I gained so many valuable skills and made life-long friends. I knew when I graduated that I wanted a career in the public sector, where I would feel rewarded with seeing results, such as excellent patient care, and I have definitely achieved that.
"When I was involved in the project to make PPE, I had a great sense of fulfilment and could not help but feel that I was making an important contribution to the overall effort of the NHS in its time of need. I am proud that I had a role to play in helping to protect our clinical staff."
Discover more about how our inspirational alumni are helping others during the COVID-19 pandemic.