Reading graduate and co-founder of Little Moons, Vivien Wong, tells CONNECTED how despite the pandemic bringing challenges to her business, it's always important to put people first.
Vivien is a firm believer in 'treat other people how you want to be treated', and despite the challenges COVID-19 has thrown at Little Moons, Vivien has allowed this mantra to lead her through an uncertain period for the business.
Traditional with a twist
Vivien studied business economics at Reading intending to pursue a career in finance. However, inspired by her parents and her travels, she swapped her city career to start her own business with her brother making mochi.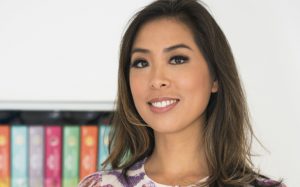 Vivien said: "My parents owned a small Chinese bakery and I used to help them make cakes and biscuits. We're quite a foody family and my parents made the traditional mochi, using a beautiful recipe my father had crafted over many years. Mochi is a rice flour dough that has been steamed and pounded and is traditionally wrapped around red bean.
"When my brother and I went travelling we tried mochi wrapped around ice cream and it was just brilliant. Traditional, but with a delicious, modern twist. We knew the potential these little balls had to deliver a moment of total happiness to whoever ate them. When my father got cancer it made me realise how short life can be, and we went for it. I'm very happy to have achieved the top two items on my bucket list – running my own business and getting a dog.
"In hindsight, a food science degree might have been more relevant to my career, however, I loved my time at Reading.
"I really enjoyed my business economics course which taught me to be analytical, to question things, and to look at the world in a different way. I also met my dearest friends at Reading."
Shutting down the factory
As Little Moons celebrated its tenth anniversary year, March 2020 brought their best month of trading so far – then lockdown hit. Vivien explains the impact COVID-19 has had on Little Moons:
"March 2020 was proving to be the best month ever in our history. But the pandemic brought uncertainty and we decided to shut down the factory for the safety of our staff.
"I believe in everyone being treated equally and if our office workers were at home then our factory staff should be too.
"We didn't get any orders at all in April as everyone was still reeling from the shock of lockdown and we spent this time planning for different scenarios. But by mid-May, orders started arriving again as Europe began opening up. Business is now higher than back in March and I think the increase in sales is because people want comfort food and are becoming more adventurous in trying new foods during lockdown."
With orders picking back up again, Vivien and her team had to work hard ensure they could get the factory up and running again safely.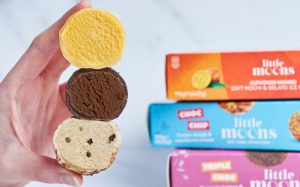 Vivien explains: "We started sourcing Personal Protective Equipment [PPE] as soon as possible. Despite the fact we were already using masks in our factory before the pandemic, we now struggled to procure them due to stock issues and the cost had increased from 50p per mask to over £4.
"We hired more cleaners to conduct deep-cleans, fogging and clean-downs, where they constantly wipe communal touch-points such as door handles. We've also implemented social distancing which has affected our ability to produce efficiently as we now have less people on the production line at one time, meaning we've had to adjust working patterns."
Prioritising our staff
Vivien has always put staff first, and she didn't let that change as the pandemic put the brakes on her business:
"Throughout the time the factory was shut we made sure to remain aware of people's mental health.
"Everyone in the company was signed up to Headspace and we kept in touch through a weekly newsletter to share what colleagues had been up to and to provide updates.
"When people started coming back into the workplace, we were considerate of those juggling childcare as restrictions were still in place on childcare providers. We also allowed for a slow start-up as people understandably found it tricky getting back into a routine and getting used to the new protocols.
"Right from the beginning of Little Moons, I saw this as my chance to make a difference in a little way," Vivien adds.
"Running my own company put me in the privileged position to do small, responsible things and implement policies that will add value to my employee's lives, such as enabling flexible working.
"I believe that it's important for people to work hard, but also to have a life and see their children. People should work to live, not the other way around, and lockdown has emphasised this.
"I'm not only hoping to make a difference to people's lives with a taste of mochi, but also by being a responsible boss."
Finding positives
Despite the unexpected circumstances Little Moon was thrust into as a result of the pandemic, Vivien has found positives in the situation.
"I think we will definitely work from home more going forwards," Vivien reflects. "I personally enjoyed having some time to think outside of the office and I now have a better work-life balance. For example, I now do online exercise classes and walk my dog instead of commuting and I feel much more productive."
However, Vivien admits that there is still uncertainty ahead for her business and the sectors they rely on:
"Before the pandemic our business was split 50/50 between restaurants and retail, but we aren't currently getting orders from restaurants. I hold the restaurant sector dear to my heart as that is where we started, and I hope that people will support restaurants and champion small businesses to help them survive.
"I love seeing people discover mochi and bringing our big flavours to people for the first time," Vivien concludes.
"My team are motivated by the opportunity to spread Little Moons and I hope we can continue to do so for a long time."
Discover what our other inspirational alumni have been doing during the COVID-19 pandemic.