Vice-Chancellor of the University of Reading, Professor Robert Van de Noort, recently became a new patron for Reading's leading homelessness prevention charity, Launchpad. This week, CONNECTED speaks to Reading graduate and founder member, Mark Goldup, about what motivated him to get involved in setting up the charity in 1979. 
Mark came to Reading in 1977 to study Sociology and during his time here, he was elected as an executive member of the Students' Union as their education and welfare officer, and a member of the student society, the Reading Cyrenians, where – in his own words – his passion for "making a difference and helping others to do things better" first began.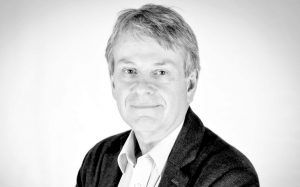 Mark said: "As education and welfare officer, I was responsible for managing funds that we received to support students. It was at the time of the Islamic Revolution and there were a number of Iranian students at the University who were cut off from all support and weren't sure if they could return home or what had happened to their families – so we put some of the welfare funds towards grants for these students and also gave them access to the Student Union's facilities so they could call home.
"I felt quite passionately about helping these students – it was definitely student politics in the real world."
Tackling homelessness
Mark tells CONNECTED that his interest in homelessness was sparked by his involvement in the Cyrenians society. The national organisation provided services to the homeless and other disadvantaged groups in society, and they had several branches that operated locally to help tackle homelessness.
Mark said: "The idea of being without a home – literally without a roof over your head – was something that I wanted to try and do something about. And so a group of us at Reading came together to form a local branch of the Cyrenians."
When they set up the charity in 1979 they ran it using volunteers. He explained:
"We used to go out at night between one and three times a week looking for people who were sleeping rough on the streets or in derelict buildings offering them soup, blankets and clothes – or just simply having a chat with them.
"Initially, we used the University's Chaplaincy as the base for storing the basics like blankets, thermos flasks and other items that had been donated to us, but quite early on we linked up with St Giles-in-Reading Church. The church had a kitchen so we were able to make soup there – instead of in our student houses – and it had much more space for storage."
Mark reflects back on when the Reading Cyrenians was first set up: "Although the idea behind it was well-motivated, initially we didn't actually do anything to tackle homelessness – we had no training, resources or links to housing and couldn't provide homeless people with any advice."
Relatively quickly those involved in the charity realised it wasn't just about offering homeless people soup and blankets – what they needed to do was offer housing to people.
Mark said:
"What's the answer to homelessness? Provide someone with a home. We got into negotiations with a housing association based in Oxford called Cherwell, who helped us get some government funding to buy our first property. In 1982, we bought 59A Caversham Road which as far as I know Launchpad still own now.
"After buying the property, we then appointed three community service volunteers to run it who looked after about six residents at any one time. Over time, these volunteers became the driving force behind why we needed to develop the organisation – we needed full-time staff to run it as a professional charity – and eventually we got some money to appoint a full-time manager. After that I took a step back and became less involved in the charity, but I remained as a Trustee for a quite a while."
Mark explained that over time the charity bought more properties and harnessed links with the local community. Its successor charity, Launchpad, now helps vulnerable people in the town tackle their housing-related problems, obtain and sustain a long-term home and lead full and independent lives.
Making a difference
Mark's motivation to make a difference and help other people do things better inspired him to work in housing and help tackle homelessness for the rest of his career. He embarked on his career at Oxford Probation Service, first as an ancillary and then as a housing development officer, before moving to one of the largest housing association providers at the time, Stonham, where he stayed for eleven years.
In 1997, Mark decided to become a consultant and set up his own successful business, HGO Consultancy Ltd based in Reading, which he has been running for the past 23 years. He now works with local authorities advising them on their homeless strategy, performance frameworks and budget spending.
He also still occasionally works for Launchpad and finds it rewarding to still have some involvement in the charity after all these years.
Mark said: "I think it's refreshing to work with an organisation that is innovative and is always looking at improving the impact of what they do. It's really rewarding from that point of view.
"To be able to see the growth, change and development that the organisation has gone through, and to know that I helped set that up, is an incredible feeling."
A university for Reading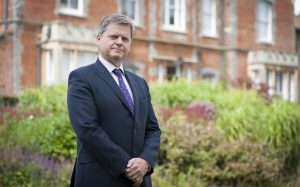 With the origins of Launchpad starting out on campus back in 1979, the link between the University and the wider community continues to remain strong. Professor Van de Noort, a longstanding supporter of Launchpad, will join the charity's roster of patrons – which includes Matt Allwright, Danyl Johnson, the Earl and Countess of Canarvon and Sir John Madejski – to increase the charity's profile and spread positive news of Launchpad's work to prevent homelessness in Reading.
Professor Van De Noort said:
"The University of Reading has played an important role in the formation of Launchpad, and so I'm delighted to continue the close links between our organisations as patron.
"The role of universities in civic life is more crucial than ever through our research, our partnership with local communities and businesses, and through the many ways that our staff and students contribute to Reading. My role at Launchpad is just a small part of a greater connection between the University and the town, making the University not just of Reading, but for Reading too."
Professor Van de Noort's first event as patron will be an adaptation of the charity's much-loved annual fundraising event, the 'Big Sleep Out' – which is being hosted virtually this year on World Homeless Day. The 'Big Sleep Out at home' will see participants swapping a comfortable bed for a sleeping bag in their garden – all to help raise £25,000 so that the charity can continue its vital work ensuring vulnerable people don't lose their homes. 
Kirsti Wilson, Head of Marketing and Fundraising at Launchpad, said: "We are thrilled to welcome the University's Vice-Chancellor as a patron.
"Professor Van de Noort has supported the charity for a number of years with regular donations and by taking part in our fundraising events, and his great passion for the community of Reading and our cause is truly inspirational.
"It will be a real honour to work closely with him to prevent homelessness in Reading – and we are delighted he has already pledged to brave the outdoors in his garden for the 'Big Sleep Out' in October!"
Find out more about the 'Big Sleep Out at home'.