Launchpad – which started as a soup kitchen run by Reading students – is now Reading's leading homelessness prevention charity. Ian Caren, the Chief Executive Officer at Launchpad, tells CONNECTED what inspired him to join the charity, how it has changed and how they have been helping the homeless during COVID-19.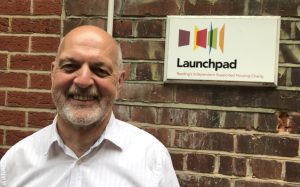 Protecting the community and helping people to grow, develop and achieve has always been the primary motivation throughout Ian's career.
Ian initially trained as a teacher, but soon after decided to become a social worker where he worked with vulnerable young adults – mainly from black and Afro-Caribbean backgrounds – who were living in East London. He said:
"Giving these people the opportunity to grow and develop was truly wonderful – I experienced some of the best and worst moments of my life".
In 1990, Ian went on to work as a probation officer with Hampshire Probation Service where he continued to work with vulnerable young adults. Ian explained: "The people I worked with were full of life, bright and intelligent, and who, if they had had a decent education – which most of them didn't have – would have been very successful.
"I helped set up programmes such as the 'Sex Offender Treatment Programme' and the 'Domestic Violence Perpetrators Programme'. It was really challenging and difficult, but worthwhile, because what you're doing is protecting the community and helping people."
Ian became the Chief Executive Officer (CEO) at Launchpad in 2006, and it was his commitment to social justice and helping to give everyone an equal opportunity to achieve, that inspired him to take on the role.
Transforming the charity
When Ian first joined Launchpad, there were 15 staff members and 20 volunteers. Since 2006, the charity has grown considerably – they now have 50 staff members and over 100 volunteers – and focus on offering three key services to vulnerable people in Reading: preventing homelessness, providing homes and rebuilding lives.
Ian explained: "What we've managed to do over the years is to find accommodation, buy houses and build houses – which I never imagined we'd be able to do. A big part of our future strategy will be investing in property so that we can provide more accommodation".
To help vulnerable people rebuild their lives, this autumn the charity will be opening Reading's first work and life skills centre which will offer the following facilities:
A training kitchen for cooking and barista courses
A DIY workshop and laundry area to learn how to maintain a home and practice self-care
An IT suite for job searching and online learning
A counselling service for talking therapies
A space for creative writing, art, photography and wellbeing activities such as yoga and meditation.
Ian said:
"I hope that the new centre will help to educate people, get them back into work and enlighten them".
Although the charity has completely transformed over time – from a soup kitchen to Reading's leading homelessness prevention charity – Ian said he has no plans to expand the charity further afield than Reading.
He told CONNECTED: "I would rather we were successful in providing accommodation and services to the people of Reading.
"Our unique selling point is that we are Reading and Reading only. I think it's about doing the best you can for the local community, which is what I think we do".
The importance of education
Education and giving people the opportunity to achieve has always been important to Ian, which makes Launchpad's link with the University of Reading – through Vice-Chancellor Professor Robert Van de Noort being appointed a new patron – even more special.
He said: "One of the things I hate is when you are judged because you come from a certain background or a certain place. When I was at school, I remember being told that I wasn't intelligent enough to get a degree. Now I have three degrees – a BA, an MA and MBA – and with a bit of luck, I'll go on to get a PhD. Give people the opportunity and they will grab it, and that's why I'm so determined to help people achieve.
"When I was a kid, we used to talk about education and how important it was – education should not be a privilege, it should be a right – and I'm really pleased that Robert has become a new patron for Launchpad.
"It makes me feel very proud to have a link with the University where Launchpad started. The closer links we can develop with the University, the greater the opportunities. I would really like the relationship to grow – maybe one day the University could help us identify people who could study at Reading and go on to achieve what they are capable of."
Helping the homeless through COVID-19
Ian told CONNECTED why Launchpad continued providing its vital services as the country went into lockdown.
He said: "Our clients were more vulnerable than ever during the outbreak of COVID-19 – as many of them battle poor mental health, debt and addiction, and have underlying conditions that put them at risk of serious illness.
"Launchpad is a lifeline to so many people under normal circumstances – let alone during a pandemic – so there was no question as to whether we'd remain open.
"I couldn't bear the thought of letting people down, so as soon as we knew the pandemic was coming we stocked up on as much PPE [Personal Protection Equipment] as we could and adapted how we delivered our services.
"Instead of face-to-face meetings, staff provided emotional and practical support over the phone and safely delivered food and toiletries to those who couldn't access what they needed, and we placed rough sleepers in Launchpad's accommodation so they had a clean, safe and stable place to live.
"Now, as we see the devastating effects of the last few months, and potentially face more restrictions, our teams are seeing a huge increase in people who need our help – from rough sleepers who were put in an emergency B&B and now have nowhere to go, to those at risk of homelessness because of things like unemployment or threat of eviction.
"For me, the pandemic is the biggest challenge this country has faced since the Second World War. None of us knew if there was going to be 20,000 or 2,000 deaths.
"I feel a huge responsibility as CEO and sometimes you have to take a stand and say 'this is what we're going to do'.
"While a few clients have sadly died in the last few months, they weren't related to COVID-19. Everything we've done since March has certainly been a team effort and my staff are continuing to go over and above for people in need. I'm very proud of them all."
Ian attests that it is the people who he works with that he enjoys most about his job:
"I'm really fortunate to have worked with some fantastic people. I don't do the job for the money – I do the job because I can change people's lives".
Discover more about Launchpad, or find out how you can get involved.