Vice-Chancellor, Professor Robert Van de Noort, shares with CONNECTED why our students need help now more than ever before, as some face unprecedented financial hardship due to COVID-19.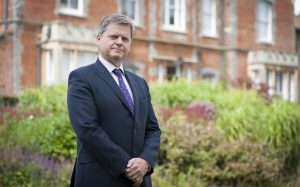 Every year we encourage a diverse range of students, from around the world, to come and study at Reading. It's only right that once they take up their place with us, we commit to supporting them, whatever their background or their circumstances.
The level of support that each student needs will differ – not everyone joins us at the same starting point in life – and the pandemic has exacerbated existing inequalities, making the most disadvantaged far more vulnerable. As a university community, we strive for equality by offering support to those who need it most, to enable every student to succeed with us.
Many part-time jobs that students rely on have disappeared during lockdown; some families' incomes have been drastically reduced; and students now find themselves facing financial challenges which they could never have prepared for, through no fault of their own. Many of our students are worried about how they will pay their rent or afford the essentials for this coming academic year. For some, dropping out of university has become a real possibility.
At Reading, we want to do everything possible to help those students to continue their studies with us. We already help students facing financial hardship, but the pandemic has meant that the number of students in desperate need is far higher than usual – we need your support to make sure that no student in desperate need is turned away. And that is why we are launching our Student Hardship Appeal.
I am extremely grateful to all our donors who have already generously supported our students, providing emergency grants for everything from helping to pay rent to buying essential IT equipment. But this crisis isn't over and we now face very uncertain times ahead. So, if you can, please join me in supporting this appeal.
Find out more about our Student Hardship Appeal, or how you can get involved through the IMAGINE campaign.