Director of Student Services at the University of Reading, Dr Paddy Woodman, explains why support for students at university is crucial – especially during this particularly challenging year – and thanks the donors who make this support possible.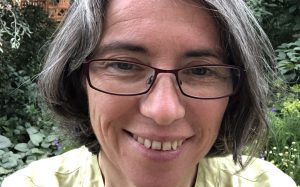 As Director of Student Services, Dr Woodman oversees the many teams that exist to respond to students' needs and questions, including the Student Welfare Team, the Careers Teams and the Student Financial Support Team to name just a few.
With resolving student problems being the main focus for Dr Woodman and her teams, she shares with CONNECTED how, in times of crisis, the support they offer becomes even more important, and the critical role donors play in this process.
Providing a safety net
Dr Woodman explains why student support is an essential everyday service for the University to provide, to help students transition to a completely new environment.
She said: "University is an environment where students are expected to live independently and to be responsible adults.
"But in reality, students are very young adults who are transitioning into a different phase of their life. It can be an extremely challenging time for them.
"Everything students know and are familiar with – such as a close network of family and friends to rely on, school, part-time jobs, geographical location – can suddenly come to an end and shift to a whole different environment. Many are eager for this change, some are worried about it, and some look forward to it but find it's not what they expected.
"It has become the role of a university to help young people grow into independent adults, providing a safety net while they do so, and then to help them move out of the university environment into the working world at the end of their studies. And this is all just during normal circumstances.
"The pandemic has exacerbated existing challenges for students and created new ones, and our students now need a whole new level of support."
Tipping point
Dr Woodman tells CONNECTED that the main recurring problem, resulting from the pandemic, that students come to Reading's support teams with is uncertainty – including financial uncertainty.
She said:
"Uncertainty is a big factor affecting students. Nobody really knows how events are going to pan out and dealing with that uncertainty is quite difficult, especially for the significant number of students who already suffer from anxiety.
"The pandemic is affecting all elements of student life at the University, from socialising; to the new blended teaching approach which combines online learning with face-to-face elements; through to how students will be examined at the end of the year.
"Now that many students are back on campus, they are starting to realise just how much the pandemic is impacting how they live their lives while they are here. We've been warning people over the summer that things are going to be different but that doesn't become real until you get here, and many students are currently trying to adjust to that and to the uncertainty it creates.
"Financial uncertainty is the biggest factor of all. A lot of people have lost their jobs both in this country and around the world. Reading students have potentially lost financial support from their families and their part-time jobs as a consequence of the pandemic."
Financial uncertainty results in direct issues such as how to pay the rent or how to feed yourself, but it also goes further than that. It can lead to other problems acting as a trigger for mental health issues or severe anxiety.
Dr Woodman said: "We've all got worries that we're balancing, but you only need one thing to come along and tip you over into that more difficult place.
"Often the thing that tips the balance is money worries because that is difficult to resolve yourself – particularly in the pandemic, as you can't just go out and get a job. So understandably students need extra financial support right now, and that leads to a need for other types of support as well."
Dr Woodman expresses how proud she is of the Student Financial Support Team at Reading who responded extremely quickly to help students who suddenly faced desperate financial situations due to COVID-19.
She said: "The Student Financial Support Team have been doing an amazing job at helping our students during the pandemic. They immediately came to me with the financial problems they predicted students would face as lockdown hit, and we put together packages and streamlined our processes so that we had something to offer students as soon as they needed it.
"This was only possible due to the reallocation of donor funds – that were originally planned for supporting Study Abroad students – to help those now struggling as a result of the pandemic.
"Supporting our students financially is extremely important – especially now – to ensure that no-one is forced to drop out of university because they can't afford to pay the rent. And this is where our generous donors are so important."
Make a difference
Dr Woodman is aware of how much of an impact donor support can have for current students; often that support can make the difference between a student continuing with their studies or dropping out of university.
She said:
"I want to say a sincere thank you to the donors who make it possible for us to support students who come to us asking for help.
"From donors who helped to purchase IT equipment enabling students to continue their studies remotely during the pandemic; to those who helped the Library increase their online book offering to ensure students could access their essential reading during lockdown; to those donating to the current Student Hardship Appeal. To all of you, thank you.
"But there is still so much more to be done – we still have students coming to us daily in urgent financial need as a result of the pandemic.
"When I interviewed for the role of Director of Student Services at Reading I was asked why I wanted the job. My answer was simple: to make a difference. I've never been interested in climbing the career ladder, I only apply for jobs that I feel passionate about and which enable me to enact positive change. The reward for doing my job is hearing snippets of how a project or a policy I worked on has improved a student's life, or made a staff member's job easier, thus helping them to help students.
"Please, if you can, help me to make a difference to our students."
Find out more about our Student Hardship Appeal, or how you can get involved, through the IMAGINE campaign.