To celebrate Black History Month, CONNECTED speaks to Reading graduate, Dr Joanna Abeyie MBE, about her success in championing diversity, inclusion and equality in the media and creative industries.
English and Sociology graduate, Dr Abeyie, found that her career as an award-winning journalist and broadcaster was not as an effective means of carving cultural change as she would have liked.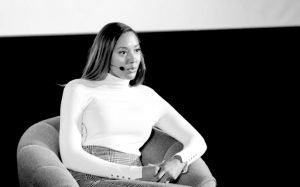 Which is why Dr Abeyie – frustrated by her own early experiences of being a minority in the media and unwilling to settle for the status quo – decided to call time on her broadcasting career, in favour of focusing full-time on championing diversity and inclusion in business.
Dr Abeyie explained the catalyst for putting down her dictaphone four years ago: "It just got to a point where, although meeting people like Tom Cruise and Janet Jackson was amazing, what I really wanted was to do something that would change the world in a positive way – rather than just do an interview and move on to the next thing.
"It wasn't that I fell out of love with journalism, I just thought where is my impact? How many people care about my article on Kim Kardashian and the make-up she wears? How many lives am I changing?"
Making an impact
Since leaving journalism, Dr Abeyie has founded a series of consultancy and recruitment enterprises, with the intent of helping organisations source talent from Black Asian and Minority Ethnic (BAME) and working-class backgrounds, setting up her first business – Shine Media UK – during her days as an undergraduate at Reading.
Dr Abeyie explained: "At Shine I was helping to train someone in journalism who I would then see – a year on – on a red carpet or getting someone a job somewhere.
"That was something else, a feeling I'd never felt before.
"There are people now reading the news who went on my training courses, people setting up their own magazines that were involved in Shine, and others who have travelled the world with their journalism. Interviewing a member of the Saturdays or P Diddy can't really beat the feeling of knowing that you have been part of that.
"One of our impact reports showed we had placed 3,000 people into work – that's when I realised what was really important and was going to make an impact."
Hiding who I was
The need for such a service first became apparent to Dr Abeyie when she sought her own chance to shine. Whether during stints of work experience while studying at Reading or as a paid employee, she discovered a distinct lack of diversity in newsrooms.
"I hate to use the word impossible, but it was incredibly difficult to get an opportunity and be noticed by the right people," added the former documentary maker who grew up on a council estate in south west London.
"I realised early on that if you weren't from a home that had enough money to enable you to work for next to nothing for long periods, then you were going to struggle to get into the sector.
"I had all these ideas, skills and talents but didn't really know how to speak to the individuals that worked around me. To progress I had to find common ground with people who were very different to me. I hadn't been to Oxford or Cambridge; my modest clothes weren't the same as the stylish outfits they wore; and I was the only brown person and the only one without straight hair.
"People would talk about going to Glastonbury or the lovely things they would be doing at the weekend and I wasn't doing those things. If I went to a club it was a very different club, and the things that my friends and I experienced at school because of where we lived and grew up was entirely different.
"I worked in an environment where I knew topics that were culturally relevant to me weren't being explored in articles, but I didn't say anything because I didn't feel included.
"Coming from a mixed race family I'm not sure I realised how much it impacted me at the time. It's something I've learnt now at 33 and it makes me sad that I would go into work every day and hide who I was."
Finding my voice
As the first black woman to be made a trustee and director of The Media Society, whose guidance has been sought by big employers such as the BBC, ITV, Sky and Facebook and seen her recognised by the Prime Minister and Mayor of London, Dr Abeyie has made dramatic headway in ensuring the future is not reflective of her past.
Blue Moon – a flagship inclusive executive search business, and diversity and inclusion consultancy practice – is the latest vehicle for her lobbying voice, which Dr Abeyie credits a University of Reading English lecturer with helping her to find.
Dr Abeyie recalled: "One of my tutors at Reading, Tom Woodman, asked me to wait behind after a seminar to ask me if there was any reason why I was so quiet.
"I told him it was because I felt different and nervous – a lot of people on my course were using words I'd never heard of before. We had all met the same entry requirements but I still felt different from them in terms of their academic attainment – their grammar school As seemed a world away from my As from a local comprehensive.
"Tom gave me a load of books to help me feel more confident about what I knew; he saw my inequity and filled the gap.
"I wouldn't say it was all down to Tom, but he played a large part in making my early days at university bearable. It just goes to show how important paying attention to someone's needs and building relationships with them are to engagement."
Dr Abeyie has come a long way from the quiet girl who felt out of place at the start of university. In 2019 she was awarded the University of Reading's Distinguished Graduate of the Year, and an MBE in the 2020 New Year's Honours list, in recognition of her efforts to help organisations diversify their workforce and leadership so that they better represent society.
Unfinished business
While bidding goodbye to a world of bylines has helped Dr Abeyie to shift attitudes and give greater consideration to previously overlooked or untapped pools of talent, she believes the diversity story is far from complete.
She concluded:
"There is going to be a day when organisations like Blue Moon are not needed and I will feel really happy about that, but I am just concerned as to whether that will be in my lifetime."
"We are getting there and there is lots of work in this space, lots of enthusiasm and lots of passion from the right people, but there are so many moving parts. Diversity and intersectionality are complex and some of the challenges in inequity and inequality start so early in life that it requires a collective effort from families, schools, the justice system, the charity sector and social services to address.
 "Creating equality is not easy, and it has taken a lot of effort to get us where we are today."
In conversation with Dr Abeyie
As part of the exciting programme of events that the University has organised for Black History Month, students, staff and alumni are invited to join a virtual conversation with Dr Abeyie as she shares her experience as a leader and champion of diversity, inclusion and equality.
This joint online event from the University's BAME Network and Women@Reading will take place on Microsoft Teams on 29 October from 18:00–19:00 (GMT).