CONNECTED is pleased to share the news that a COVID-19 walk-through testing facility is now open at the University of Reading, to help the local community get easier access to testing.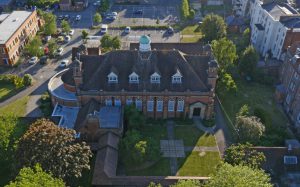 The new facility opened at the University of Reading's London Road campus, on Saturday 24 October.
Anyone with coronavirus symptoms, however mild, can get a free swab test that takes less than a minute. Tests should be booked or ordered as soon as symptoms begin at nhs.uk/coronavirus or by calling 119 and you can expect your result the next day.
The site is easily accessible without a car. Those being tested will be required to follow public health measures, including social distancing, not travelling by taxi or public transport, practising good personal hygiene and wearing a face covering throughout (including travelling to and from the testing centre).
Anyone attending an appointment at a walk-through testing facility will be provided with guidance on getting to and from the test site safely. Testing is available for everyone, with additional support for vulnerable groups and people with disabilities.
Professor Robert Van de Noort, Vice-Chancellor of the University of Reading, said:
"Throughout this pandemic the University of Reading has been helping the fight against COVID-19 in a variety of ways, including the loaning of laboratory equipment, supporting local hospitals, and investigating the science behind the disease. We are incredibly proud to once again be in a position to help our community."
Professor Parveen Yaqoob, Deputy Vice-Chancellor and co-chair of the University's COVID-19 Response Team said:
"The University has been working with our partners at Reading Borough Council and health authorities in recent weeks to secure the opening of a testing facility in Reading.
"The availability of a testing site at our London Road campus, close to the town centre and near to the Royal Berkshire Hospital, will provide greater access to testing for our students and for the wider Reading community."
The testing centre is being operated in partnership with Reading and Wokingham Borough Councils and will offer assisted and self-administered tests.
Councillor Graeme Hoskin, Reading Borough Council's Lead Councillor for Health, said:
"The Council's public health team have worked really hard, alongside our University partners, to get this much needed testing facility in place. It is a great example of organisations working closely together at a local level to help combat the pandemic.
"The new facility will give residents in Reading easier access to testing on their doorstep, with appointments open to everyone. Importantly, test results are expected the next day, which will be a key element of this new testing facility and provide a level of reassurance."
In addition to walk-through testing sites, tests are still available from 77 regional drive-through test sites, including at Newbury and Heathrow, and at mobile testing units which travel the UK to offer coronavirus testing, one of which has temporarily used the University's Whiteknights campus as a location during recent weeks.
The Government has also set up a home-testing service, supported by Amazon's logistics network and other commercial partners. Home test kits can be delivered to someone's door so they can test themselves and their family without leaving the house.
Anyone testing positive for the virus in England will be contacted by NHS Test and Trace to help them track their contacts. This will help people to identify who they may have been in close contact with, protecting others from further transmission.
Close contacts of those testing positive will also hear from NHS Test and Trace, advising them to stay at home for 14 days to prevent them from unknowingly spreading the virus. They will be advised to also book a test if they develop symptoms.
Find out how else the University has been helping the community during the pandemic.