Thanks to our generous donors, the Pioneer Bursary helps students from low-income households to overcome financial barriers and begin their academic journey.
At Reading, we believe that family income should not be a barrier to students benefitting from a university education. We award bursaries and scholarships to support students from the very lowest income households, but that has a cut-off threshold at a family income of £27,000.
However, there are families just above the low-income threshold who are struggling to provide for their children while they are at university. These students are the most likely to drop out due to financial pressures.
Our donors are helping to tackle this issue by funding the Pioneer Bursary – supporting students entering university for the first time who have a household income of £27,001-£28,000. The bursary provides these students with a guaranteed £1,100 support package, helping them to cover the costs of transitioning successfully to student life.
Removing the pressure
CONNECTED discovers the incredible impact our donors' generosity and support has on students' lives.
Without the help of the Pioneer Bursary, gifted students like Katie wouldn't be able to take their place here at Reading and make their own impact on the world.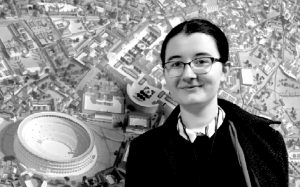 Katie is studying a BA in Ancient History, taking modules in Museum Studies and Latin. After the tragic passing of her father in 2018, Katie's mother became the sole provider for the family, while also taking on the foster care of a family friend.
Katie's decision to study at Reading meant that she would be leaving home, and – for the first time – securing accommodation away from the family she was so close to.
Katie's household income assessment identified that she was automatically eligible for the Pioneer Bursary, which was awarded to her after the beginning of her first term. This funding has allowed Katie to focus entirely on her studies and her future, without having to worry about what the next year might bring.
Katie has put some of the funding aside to pay for her private accommodation deposit in her second year, choosing to use the rest to supplement her income when her student loan runs out. This has enabled Katie to make the most of her studies and extracurricular activities without the pressure of financial worries.
Katie is using this spare time to volunteer at the Museum of English Rural Life (MERL) and hopes to volunteer at the Ure Museum of Greek Archaeology next year and learn Dutch – her mother's native language.
A shared vision
Support for this otherwise overlooked segment of the student population is only possible due to our donors sharing the vision that no student should have to forgo the opportunity for an education due to financial issues.
Reading alumnus, Graham Prisk, shares why he supports the Pioneer Bursary:
"I feel it's important to assist those whose background might otherwise mean that a university education would not be affordable. I want to help students equip themselves with the tools that they need to access the curriculum."
It is because of our donors that the Pioneer Bursary has been able to empower students like Katie to thrive at Reading, and thanks to their continued support, 23 students have been awarded the bursary for the 2020 academic year.
Supporting students
The Pioneer Bursary is a lifeline to students who come from low-income households. However, the pandemic has impacted students from all walks of life, including those who previously had part-time work and a family safety net to support them. Many students have found themselves in unexpected desperate financial situations as a result of the pandemic.
The University of Reading's Student Support Fund provides emergency grants to students in unexpected financial crisis; when they have run out of other options and dropping out of university is a very real possibility.
Find out more about our Student Hardship Appeal, or how you can get involved, through the IMAGINE campaign.