CONNECTED speaks to Reading graduate Dr Lawrence Haddad, ahead of his Alumni Lecture on 18 November, to discover more about his lifelong mission to reduce hunger and malnutrition.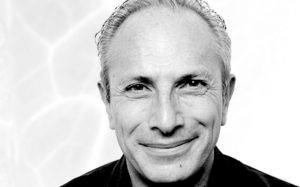 When Dr Haddad combined his passions of nutrition and economics for his undergraduate degree, he could never have foreseen the personal crusade that lay ahead.
Arriving at the University of Reading in the late 1970s to study Food Science and Food Economics, Dr Haddad was inspired by the possibilities his studies could open up as advances in food technology heralded a culinary revolution.
Dr Haddad said: "Back then food tech seemed really exciting, with innovations such as freeze dried instant coffee and instant mash! The possibilities on offer seemed great.
"When you look at the best courses for food science and agricultural economics, Reading was one of the best, and I am sure it still is, and that is what made it the right choice for me."
Studying at the University of Reading, however, was to fire far more than an interest in new convenience cuisine – it was to change perspectives and lead Dr Haddad on a lifelong mission to reduce hunger and malnutrition.
Fast-forward four decades from Dr Haddad's first steps in higher education, and his work is now improving the quality of lives around the world.
As Executive Director of the non-profit Global Alliance for Improved Nutrition (GAIN), he remains steadfast in the beliefs forged during his studies that food is a basic human right. His work sees him walking global corridors of power, trying to influence politicians, captains of industry and other decision makers to pay more attention to hunger and malnutrition reduction.
In 2018 Dr Haddad, who has held a string of senior posts in higher education, was presented with the World Food Prize for helping to bring maternal and child nutrition to the top of the global agenda. The equivalent of a Nobel award in the field, it recognises a lifetime of achievement.
Where it all began
Despite the passing of more than 40 years, the Dr Haddad is convinced that Reading gave him both the skills and vision for his future vocation. In particular, he flags the economics component of his course as being critical to his mission.
He said: "You soon come to realise that – if you want to change the way people eat – you have to understand whether they have enough income to buy food and how to change that if they don't.
"The course at Reading was important as it gave me two distinct perspectives – individually I was okay at food science and food economics but I was particularly good at connecting the two.
"The University helped me to discover this and went on to nurture this talent."
In parallel, perspectives from lecturers also played a role in determining his future. Dr Haddad said: "We learned, for example, that in India there were malnourished kids living in areas with the greatest food production.
"But the emotion really kicked in when I went to the Philippines and saw children who were skin and bones – yet their parents worked in fields full of food. This kind of paradox is a very powerful, emotional driver."
Game-changing solutions
Dr Haddad has, by all accounts, made a huge difference during his long career.
Having completed his degree at Reading he was encouraged to press on with his masters by his lecturers, and headed Stateside to study for two years in Massachusetts. Remaining in the US, he went on to work for a policy think-tank in Washington and received his doctorate from Stanford University, California.
He said: "I grew up on a council estate and I had never been overseas or dreamed of going to America. But when the opportunity arose my lecturers at Reading helped me make the move.
"Being in the US also made me realise how much I loved research – in Washington I also had the opportunity to connect it to real-world problems."
Dr Haddad's work has since had a significant impact on helping some of the most vulnerable people across the world. In the late 1990s his research helped assist the Mexican government with a state aid programme which still benefits millions of children.
He is also leading one of five strands of work – on nutrition – for a United Nations food systems summit, due to be held in September 2021.
He explained:
"Our role is to come up with game-changing solutions that governments and businesses could adopt. We want to ensure this is not just another summit – and that there are actions with operational plans behind them."
Finding opportunity in a crisis
Closer to home – amid the COVID-19 crisis – Dr Haddad admitted "huge admiration" for Premier League footballer Marcus Rashford, who recently called for children receiving free school meals to have this support extended throughout half-term. Dr Haddad chairs a UK charity called BiteBack 2030, one of the foundations supporting Marcus with evidence for his campaign.
He said: "I think there will be change resulting from Marcus' actions. He has stepped up because of his experience and personal courage.
"More widely, although COVID-19 is a terrible thing it has also been an opportunity – people are now more aware of where food is coming from and the fact that obesity and diabetes makes the disease more life-threatening."
Despite the challenges posed by the pandemic and other world issues, Dr Haddad remains steadfast in his commitment to finding solutions to malnutrition, stressing that it need not be an issue for future generations.
Alumni lecture
Dr Haddad is committed to passing on his experience to the hunger and malnutrition fighters of tomorrow – ensuring they are equipped for any challenge as they embark on their careers.
He pointed out that he has been taking a keen interest in the work of his former university – and is happy to help assist students where possible.
He concluded:
"For me, the life I have now started at Reading. And I think it is important to connect with places that have done a lot for you in the past."
Dr Haddad will be speaking at the University of Reading's next online Alumni Lecture, as he seeks to answer the question 'The Private Sector and Global Nutrition: Are Businesses Heroes or Villains?'
Join us online on Wednesday 18 November, 6:30pm (GMT), and put your questions to Dr Haddad at the end of the lecture.