Undergraduate student, April Davis, began her studies at the University of Reading in September 2020 – in the middle of the pandemic. This week, April tells CONNECTED how she was only able to take up her place at Reading due to the generosity of our donors.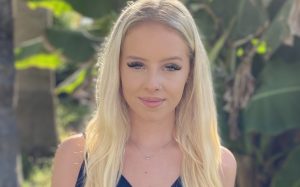 April, who comes from London, is studying a Business Management degree at Reading. One of the reasons she chose to study here was because of family ties:
"My grandfather went to Henley Business School, so I'm following in his footsteps. My cousin is also studying here, which is brilliant. It's so important to have that family support nearby, especially since I can't go home now that London is under tier two restrictions and a new lockdown has begun."
April is from a low-income, single-wage family and the money she was awarded when she started at Reading has already made a massive impact on her life at university. She explained:
"Textbooks can be very expensive, and at the start of term I had to borrow £75 from my mum for two books that are essential for my course. That might not sound like much, but it is to us.
"My student loan covers my accommodation fees but nothing else, so I've recently started a part-time role as a lifeguard. But work is 30 minutes away and I have to pay to travel there which isn't ideal. I also have the overshadowing worry that the pool might have to close due to COVID-19 restrictions meaning I'll lose my income temporarily.
"Receiving this money from donors has removed all the stress I was feeling about my financial situation, enabling me to pay my mum back and buy other essentials."
Discover just how much this money means to April by watching the message she has recorded:
Supporting students
Students, like April, are facing financial challenges as a result of the pandemic which they could never have prepared for. Your support is needed now more than ever to help them complete their studies.
The Student Support Fund provides emergency grants to students in unexpected financial crisis; when they have run out of other options and dropping out of university is a very real possibility.
Find out more about our Student Hardship Appeal, or how you can get involved through the IMAGINE campaign.