CONNECTED speaks to Gurinder Singh – who leads the University's COVID-19 Case Management Team – to discover what motivated him to get involved with this important initiative.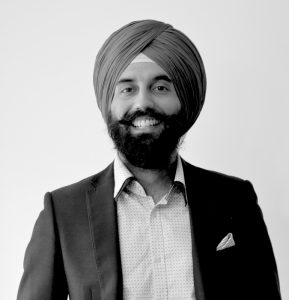 Gurinder – a Reading graduate and lecturer in Reading's School of Pharmacy – leads the University's dedicated contact tracing system run by the Case Management Team (CMT). The CMT is alerted when a student tests positive, who they then contact to provide reassurance and signpost pastoral support, as well as getting accurate and timely information on their close contacts.
Gurinder tells CONNECTED that, despite the challenges, he leapt at the chance to do his bit to stop the transmission of COVID-19.
He said: "I worked on the NHS Test and Trace for six months from when it first launched in May, and this was part of the reason why I was asked to lead the University's system. I was inspired to join the NHS Test and Trace because whilst working on the frontline in community pharmacies during the first lockdown, I saw how detrimental this virus was and how many people it was affecting.
"When the call came to help keep our University community safe, it was impossible to say no.
"Having been a student here myself, I know how valuable the experience of studying and living on campus is, and this system is a practical way to keep that going. I dropped everything else in my diary, increased my childcare hours at the nursery and arranged teaching cover. I then spent the next seven days recruiting volunteers, setting up our processes and training people. We worked some very late nights during that first week."
An inspiring commitment
Gurinder's efforts in making the University's contact tracing system a success are commendable. Despite temporarily stopping his teaching duties, Gurinder still splits his time between running the CMT and his work as a pharmacist.
He explained: "I now work four days a week at the University, two days at a GP surgery, and one day every other week in a community pharmacy. I also make the effort to stay up-to-date with the NHS Test and Trace as I've been able to use learnings from there to influence our work at the University and so that is done out of hours in the evenings and weekends.
"I haven't had a proper day off for the last two months, but knowing how the work is benefitting my Reading family makes it all worth it. My wife and two young children have been really supportive of my increased working hours as they know how important this work is.
"I'm also fortunate to have the support of Agnes Gibson, Head of Campaign and Supporter Engagement in the Alumni Team, as well as all the other CMT volunteers. Agnes helps me to run the team and deal with any cases that have been escalated when I'm not on shift. Her calmness is a blessing when I'm rushed off my feet, and it helps knowing that the CMT is in safe hands with Agnes when I'm not there."
Protecting our community
Despite the exhaustion that can come with juggling two demanding jobs and a young family, Gurinder says that this crucial work is "absolutely worth it".
He explained: "The University's decision to setup its own system stemmed from the realisation that we have access to data and knowledge about our students that NHS Test and Trace don't. We have access to each student's timetable and we've established seating plans which enables us to be very thorough in capturing as many close contacts as possible. Yes, it's been hard work, but it's made such a difference in helping reduce the number of positive cases at the University.
"Every time I've spoken to Public Health England they've commended how we've gone above and beyond what's expected, and our hard work is reflected in our low figures of positive cases.
"Since we began every single one of the 642 close contacts identified has been asked to self-isolate representing a 100% success rate."
"Individuals across the world have made sacrifices in one way or another and I want to be able to do my bit for our nation in this time of crisis which has never been seen before in our generation.
"Speaking to patients and hearing first-hand the effects Long Covid is having keeps me motivated to do more and ensure we don't leave any stone unturned when trying to break chains of transmission.
When asked about the upcoming Christmas holidays and what that means for the CMT, Gurinder is firm in his decision-making.
He said: "We will still be monitoring and running this system over Christmas – we have to keep our efforts going. We can't get complacent, COVID-19 won't be taking a holiday over Christmas so neither can we. It's really important that we encourage people to look after themselves over Christmas and do their best to stay COVID-safe by following the most up-to-date guidance."
A team effort
Gurinder is the first to stress that none of this would be possible without the amazing support of both staff volunteering for the CMT, or the incredible cooperation of students:
"It's been amazing how at such short notice staff changed their working pattern, and added in extra time to their working day to allow them to support this great initiative. I think we all realise we are working in times never seen before and people want to do their bit.
"The student response to the contact tracing system has also been remarkable. Students have been given a negative reputation among some people for how they've acted during the pandemic, but I don't think that's a fair assessment. The students I speak to on the phone who had had a positive test sometimes get quite emotional; they want to do everything they can to stop the spread.
"The majority of our students are doing their bit to protect the community, and it's as much them as the staff running the CMT who have made this a success."
Find out more about how the University of Reading has been managing COVID-19 on campus.