After she delivered Reading's first ever online Alumni Lecture, CONNECTED interviewed former Olympic rower, senior diplomat and now leadership speaker, business coach and consultant, Dr Cath Bishop. Cath shares with us how she got into rowing, how her time at Reading influenced her career path, and how her experience has shaped some of the themes of her new book, The Long Win: The search for a better way to succeed.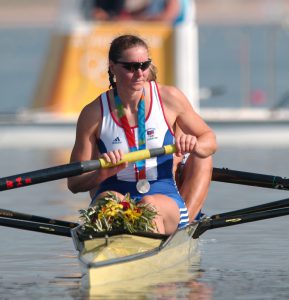 While some athletes dream of becoming an Olympian from a young age, this wasn't something that Cath had aspired to be. She told CONNECTED that she hadn't been very sporty at school and didn't intend to take up rowing when she got to Cambridge.
She said: "Initially I didn't sign up to rowing because it looked like really hard work and involved early mornings. But a few weeks into the first term, some of my friends asked me join when one of their team members got injured. They said 'We're all learning, just come and have some fun'. And so I did. And I had a lot of fun and really fell in love with rowing, without any aspirations to be an Olympian at all.
"Life isn't linear. I think a lot of people probably dream of being an Olympian and then don't get there because they go off in another direction. It's all about finding things at the right time and really connecting with something that you love more than anything.
"For me, rowing is the ultimate team sport. Once you're in a boat you can't opt out and you have to make the best of it. You all need each other – you don't need one person more than another – it's lovely being part of a team that's balanced and equal. I love that about being in a boat."
The Berlin Wall
Cath's passion for German studies started when she was an undergraduate student at Cambridge at the time the Berlin Wall came down. Cath then decided to apply to do a PhD at Reading because of the Centre for East German Studies, and also because the national rowing squad was based in Reading.
She said: "My PhD was about German authors who had written about the Berlin Wall coming down in their literature. I was so delighted that I had found lecturers and a dedicated centre that was looking at how literary, sociology and politics are all combined, and how this political event and very personal experience for so many people was expressed through fiction. I absolutely loved it."
While at Reading, Cath was selected to represent the GB Rowing Team. She said: "The German department and my supervisor were really supportive of my Olympic commitments and gave me a lot of flexibility.
"I did my PhD part-time over five years, and during that time, I went to the Atlanta Olympics in 1996 and finished my PhD just ahead of the Sydney Olympics in 2000."
A balancing act
Cath felt very lucky that she was able to pursue both of her passions at the same time. Although she didn't have much time for anything else, having another identity outside of rowing was really important.
She said: "Rowing was very demanding and so it was helpful for me to have another project that was my own – that the coaches and sports scientists didn't control – and that could be part of my life after rowing."
She explained that balancing her passions side-by-side was really helpful: "In rowing you're under a lot of pressure all of the time – constantly being monitored and measured – so when the rowing wasn't going so well, I still had my PhD and the career that might come from that in the future. And vice versa – when you're doing a PhD you can become overly consumed by it and feel quite isolated, but rowing gave me a break and helped me to come back to it with fresh ideas."
"Sometimes when you're doing something really obsessively like rowing, you can lose your identity. When you don't have anything else to offset that, then it can become a real crisis as opposed to just a moment where you can stop, reflect, adapt and keep going again."
Life beyond the medal
After becoming an Olympic medal winner, Cath went on to work as a diplomat for the Foreign Office for 12 years. She attests it was her PhD at Reading that helped set her up for life beyond the medal.
She said: "Diplomacy works around a deeper connection with the people you are negotiating with, trying to build relationships with, or trying to build new partnerships or alliances with.
"My PhD helped me to connect with culture at a deeper level, and to understand how politics and cultural behaviours are part of that complex picture that people bring to a political negotiation."
Cath is now a renowned and respected leadership speaker, business coach and consultant, supporting organisations who want to build effective teams, enable cultural transformation and develop effective leaders. In October she published her first book, The Long Win: The search for a better way to succeed, and Cath explained how winning is engrained in today's society: "It comes up as we go to school, in our family life, in the workplace, in sport, and we often see it in the political systems that run our society.
"History has traditionally been written by 'the winners' – the strong, almighty, powerful ones – and we have centuries of books that tell us about all the wars that were fought and who won. This is how we used to measure success, but now I think it's a very narrow measure. Historians have actually started to tell a much richer picture of what's also happening in society – which is not just a game of winning or losing.
"In the twenty-first century we are facing complex issues of climate change, inequality and global health. These aren't things that you win or lose, they're ongoing things for us to manage and to think about in a different way."
Doing things differently
Reflecting on what society should be doing differently to make changes for the better, Cath told CONNECTED that there were three areas that needed to change: the education system, the political system and the underpinning purpose of business.
She explained that education shouldn't just be about assessing people individually, because life is about how you work with others: "None of the problems we face as a society can be solved alone, and we need more of a collaborative focus in education from the start, so that we're actually learning the sort of skills we need later on in life.
"Team-working skills, creativity, innovation and resilience should all be incorporated into education, to ensure we're developing citizens capable of contributing to society."
Cath also explained about how the political system was setup for the short-term, and that it was therefore difficult to get the best minds to come up with the best approach for tackling global issues. She said: "It shouldn't be about choosing the path on the right or on the left; neither of them hold the answer, we need the best people from all sides to come up with the best policies to solve our biggest global challenges."
And lastly she explained that she would like to see a shift with some of the incentives in business. She said:
"We need to radically overhaul the system of metrics that we use to measure success, for example measuring success based on the impact on communities and the environment, and focusing on delivering to a longer-term purpose rather than short-term returns."
Better people make better players
When asked what words of advice she would like to share with the aspiring student athletes of today, Cath responded that people should enjoy sport and in order to perform at our best, we need to be operating at our best as an individual with multiple identities.
She said: "The All Blacks talk about how better people make better players – think about how you can become a better person. It will give you a better basis on which to perform and how to manage the challenges along the way.
"Be clear about why you're on this high performance journey beyond the medal or result – what else are you gaining? What are the other things that make this journey worthwhile? It's really important that you understand the other things that you're learning and gaining. This will not only give you the best chances of winning the medal, but ensure that whatever result you get has meaning and relevance for what you go onto do afterwards. 
"Think about the responsibility that comes from the elite sporting journey – you're a role model for lots of other people once you take on the mantle of being a top athlete. There's an opportunity to think more widely about how you can use that now and in the future."
Discover more about postgraduate research in German studies at Reading, or order a copy of Cath's new book, The Long Win: The search for a better way to succeed.