This year, Reading graduate, Connie Worthington, helped to create a heart-warming Christmas ad for local business, Blossom & Easel, who support young artists to kick-start their career.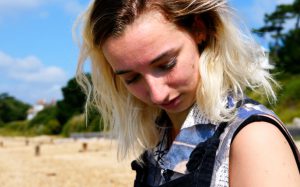 Connie graduated from Reading last summer with a first-class degree in Graphic Communication from the renowned Department of Typography. From the opportunity to study abroad in Ravensburg, Germany, to the support she received whilst at university, Connie attests that her time at Reading was invaluable as she embarks on her creative career.
She said: "The course at Reading was wonderful – it focussed on history, theory and practice – and the course in Ravensburg focussed on video production and design.
"Studying abroad opened up new opportunities for me to study something completely different. I learnt lots of new skills which I still incorporate into my design practice today.
"I received a lot of support from the Department of Typography during my time at Reading. One of my parents sadly passed away in my first year and the department were very accommodating and incredibly supportive during this difficult time.
"During my final year my supervisor, Professor Gerry Leonidas, together with the other tutors who coached and mentored me through my dissertation, were amazing.
"I always knew their office door was open and they were there for me if I needed them."
Since graduating from Reading, Connie secured an internship through the University's Careers team with Inquisitive Type. Connie spent four weeks working with the Reading-based communications agency, which is led by journalists who provide copywriting, marketing and design services.  Following her internship, Connie has been working as an artist and graphic designer for Blossom & Easel, a Hampshire-based company founded last year to support local, young artists to kick-start their career.
Supporting young artists
Blossom & Easel sell a wide range of products, including placemats, tote bags and face masks, adorned by unique designs which are all the original work of local, young artists who have not sold their work professionally before.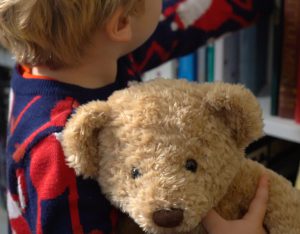 This year, Blossom & Easel decided to make their own Christmas advert with the aim of creating a sense of warmth and happiness at the end of such a difficult and unsettling year. The advert tells the story of a lost teddy bear who battles his way home to his best friend in time for Christmas. Filmed in Hampshire just before the second national lockdown began, it ends with a timely message for 2020: "Home is the best place this Christmas."  
Founder of Blossom & Easel, Christopher Johnson, said: "I've always loved the Christmas adverts made by the big stores like John Lewis. It's very ambitious for such a new, small business to try to compete, but after everything that has happened this year we thought, why not?
"People all over the country are trying to support independent businesses this year, and we hope our advert will encourage people to do just that and also bring them some happiness.
"These are tough times for anyone who works in creative industries, and we wanted to give the artists we work with the chance to apply their creative skills. I hope this advert and their eye-catching designs will win them some of the recognition they deserve.
"Connie has put immense effort into the advert and I've been overwhelmed by her talent and creativity despite all the extra challenges the pandemic has thrown up. I'm thrilled with how the advert has turned out."
The importance of a good education
Reflecting on her own time at Reading and turning her thoughts to those students who have recently graduated, Connie said:
"I think a good design education is really important. I wouldn't have had the knowledge or the confidence to do what I've done for Inquisitive Type or Blossom & Easel without my degree behind me.
"Follow all your interests even if you don't know where they are going to lead, and don't worry too much about what other people think."
Find out more about studying Graphic Communication at Reading.