Last year, CONNECTED shared the news that the University of Reading was in talks to lease space at its Thames Valley Science Park to develop a major film studio and creative media campus. Now, we're excited to announce that the University has agreed a deal to make this a reality.
The University – which is already home to the Department of Film, Theatre & Television – has entered into an agreement with affiliates of Commonwealth Real Estate LP, a film studios investor based in Los Angeles. This deal is for a long lease of land at the University's Thames Valley Science Park on which a major film studio and creative media campus will be developed.
Following consultation with the local community, the campus will be known as Shinfield Studios and is expected to open, subject to planning approval, in late 2022.
Creating opportunities
The studios will bring major Hollywood film productions to the UK, creating around 1,500 new jobs and supporting up to 1,500 further indirect jobs.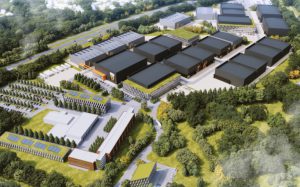 The scheme represents a significant investment in the British film and creative industries and is expected to create £500 million of annual inward investment to the UK.
The studios and associated creative and digital hub will provide new opportunities for people and businesses in the region, as well as for young people from a wide range of backgrounds; including students and graduates of the University of Reading looking for opportunities in the growing creative and entertainment industries.
Professor Robert Van de Noort, Vice-Chancellor of the University of Reading, said:
"We are delighted that this agreement has been reached, which will bring significant Hollywood investment, creativity and job opportunities to Reading, Wokingham and the wider Thames Valley.
"It is a credit to the hard work and determination of everyone involved to have concluded a transaction while negotiating through challenging restrictions on movement and travel. This lease presents a superb opportunity for the University and facilitates an exciting development for the wider community, and we look forward to Commonwealth bringing their vision to life."
Nick Smith, Managing Director of Shinfield Studios, said:
"Britain has an enviable array of filmmaking talent, but the industry is short of high-quality studio facilities capable of catering for the new and emerging technologies that will form the core of television and film production in the future.
"This development costing over £200 million will create a new powerhouse of creative production and new talent, as well as generating up to 3,000 new jobs.
"Completing this exciting transaction is a big step forward, and we look forward to ongoing consultation and engagement with all local stakeholders as this project advances."
Adam Fisher, Commonwealth Founder and Chief Investment Officer (CIO), said:
"We are very excited about the prospect of investing in UK creative industries – one of the most vibrant markets in the world. We look forward to building partnerships across Wokingham and Reading to make this project a resounding success.
"Our ambitions for the new studio will be of real benefit to the local economy and the UK as a whole."
Keeping community at the heart
The new development is being planned in keeping with the core principles of the University – community, engagement, sustainability and excellence.
A range of initiatives are being discussed to encourage engagement with our community, such as outreach schemes with schools and young people, and giving the local community new opportunities for work and entertainment. The development will also uphold values of environmental sustainability, supporting the University's aim to become carbon neutral by 2030.
Discover more about the studio's development.