CONNECTED speaks to Reading graduate, Dr David Sykes, to discover what it's like to shield for over 100 days and how he has been applying his expertise in microbiology to the fight against COVID-19.
Rewind three-and-a-half decades and Dr Sykes was packing his bags for the University of Reading, eager to start his four-year degree in biotechnology. He had modest aspirations for his time at Reading – enjoying his new-found independence and joining the University's cycling club.
The reality, however, exceeded all expectations:
"I'll admit the bike went by the wayside when I got to university. I had a job at the Hexagon theatre and there you could see rock groups one weekend, classical music the next and catch The Rocky Horror Show later in the month.
"Being at Reading was, put simply, a wonderful experience. I loved my studies as well; I was working hard and playing hard."
They are cherished memories that Dr Sykes is acutely aware will be drastically different to those being made by students in today's virus-stricken world.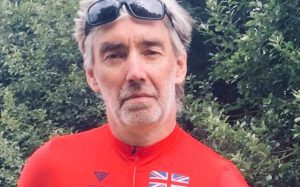 He said: "I really can't imagine what life is like for students across the country at the moment as a result of the pandemic."
However, Dr Sykes' sympathy for current students extends beyond just words. The knowledge he began to forge in the lecture theatres and labs of Reading have led him on an impressive career journey – including working with private sector companies such as Dyson and climate change consultancy Ricardo, as well as serving as a forensic scientist for the UK Government – and has now led him to join the fight against COVID-19, whilst shielding from the virus himself.
A solitary existence
 The pandemic has been deeply personal for Dr Sykes. Having had a kidney transplant during the 1990s, he was forced to shield for much of 2020 in an effort to avoid infection.
Now living on the Isle of Bute, two hours west of Glasgow, his days are largely spent indoors, challenging online conspiracy theorists – who make leftfield claims about the origins of the virus – during breaks in his research.
He said: "I had the renal disease nephritis when I was about 11, but it didn't take hold until much later and when I was 25 I needed to have major surgery. I started getting sick towards the end of my PhD in Manchester.
"I received a letter from the NHS telling me to stay home and shield just before lockdown in March 2020. Little did I know that I would go on to remain in my home for the next 135 days. I spent the time learning to bake again and went cycling virtually with my friends from around the world.
"Since official shielding ended, only a few people have come to my house, among them a nurse to take bloods, an electrician and a hairdresser for my wife, but visits have only been occasional."
Dr Sykes has chronicled his experiences of an extraordinary year in a recently-published book, One Hundred Days of Shielding: The Lockdown Blog – Baking, Biking and Banter from a Glasgow Tenement Flat.
Researching COVID-19
Since finding himself spending more time at home, Dr Sykes – an experienced microbiologist – has been supporting The Royal Society's efforts to disrupt the march of coronavirus, as part of the Rapid Assistance in Modelling the Pandemic (RAMP) team.
He explained:
"We have been looking at different projects focusing on how COVID-19 is spread, for example, in the air and on surfaces. More recently we have been trying to put together a grant application to look at how it is inhaled, as well as the part of the lungs or the respiratory tract it enters.
"All of this is very advanced – even for somebody like me – but I have been leading the team so I had to get up to speed really quickly."
Dr Sykes is better versed than most about the risks of COVID-19 in indoor settings with poor ventilation, and expressed particular concern that closed doors and windows might increase transmission in the winter months.
Maintaining that countering the threat of particles left by infected individuals must be a priority, he continued: "Inside we need to mitigate risks by using ventilation and wearing masks – we should be opening windows.
"This obviously becomes more of a problem during the colder period of the winter months, which is partly why we are now, unfortunately, in a second wave."
The long-term solution
 Although accepting that taking precautions such as shielding and ventilation can slow the spread of the virus, Dr Sykes is adamant that vaccination is the only long-term solution to the pandemic.
He said: "As academics, we are working on many different projects but, in reality, inoculating people is the only way forward. It is not possible for us to have herd immunity from the situation in which we find ourselves.
"I'm really pleased to see the progress that is being made with the vaccination programme so far."
Dr Sykes is optimistic – pointing out that professionals are constantly learning, consolidating research and understanding the virus better.
"From my perspective, I have already learnt so much that I didn't know about aerosol science and biotechnology as a result of COVID-19," he concluded. "I have become an expert on facemasks and coverings in a very short time. It's exciting to see the most experienced scientists and academics focused on the problem.
"I'm thrilled to be able to do my bit through my research, and I hope that by sharing my experience of shielding I will inspire other people during this latest lockdown."
Discover what our other inspirational alumni have been up to during lockdown.