As the first UK lockdown forced schools to adapt to remote ways of teaching, Reading graduate, Marty Sweet, realised there was an urgent need for a virtual learning platform that could provide a safe and secure environment for students.
Marty – a Computer Science graduate and founder of cloud consulting company, Omnistratus – used his expertise and contacts to deliver an ambitious solution; launching his education tailored platform – Teach Stream – to help schools deliver online learning throughout the pandemic.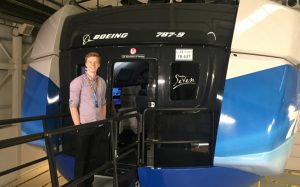 Marty's inspiration for Teach Stream came from his Grandad. When the pandemic hit, it occurred to his Grandad that some schools might not be quite set up for remote learning and Marty realised he was right.
He said: "I did some research with schools who I already had existing connections with, and it turned out there was a lack of product that could deliver virtual lessons whilst meeting safeguarding requirements.
"I decided to create a safe learning platform that was capable of handling a classful of students, and was simple to use."
Safe, blended learning
The pandemic has led to the introduction of blended learning, but Marty stresses the need for safety and privacy when it comes to online teaching platforms.
He said: "Teach Stream is specifically designed for secondary schools and is built with simplicity in mind – there are minimal training requirements and all teachers need to do is schedule the lesson from their web browser, invite their students and start teaching.
"Teach Stream puts students' privacy and safety first. Students don't have the option to send their webcam like other virtual meeting platforms, but their audio can still be requested by the teacher for enhanced interaction.
"It gives the power back to the teacher, enabling the clearing of the chat discussion, along with muting and removal of selected students should the need arise.
"Students don't need to sign up to the platform, instead when they join a lesson they must verify their school email address via a confirmation code helping ensure traceability and preventing unauthorised access to lessons. You can also record lessons and have other teachers join as moderators."
The platform has been embraced by schools and teachers, with thousands of users on the platform each day.
One user of Teach Stream – Peter Woodman, Headteacher at The Weald School – said:
"We have been using Teach Stream at The Weald with all year groups with great success. It allows us to deliver lessons and interact remotely with students in a highly effective manner. It just works – which is critical – students and staff love the simplicity."
Looking forward
Marty is unsurprised that blended learning is a requirement that has come into the new year with us, and believes that this new approach could be with us in some form for years to come.
He said: "Teach Stream enables schools to use the system alongside existing classroom technology to deliver a blended approach if some of the pupils are present, but some are working remotely.
"I expect we will see schools throughout the country using a hybrid model of physical and remote learning for some time.
"I hope that Teach Stream can help make this task easier for the teaching profession who are already under a lot of strain to deliver high-quality teaching in difficult circumstances."
A positive impact
Marty is thrilled to have developed a system which is helping so many people to continue to access education during the pandemic. With the UK now in lockdown again, Teach Stream is currently supporting 10,000 students and teachers online.
He said: "It's great to see so many people using the platform and being able to continue learning despite the challenges of the pandemic.
"During my time working in IT, I have developed countless products and projects of which some gain traction and some don't.
"The best thing is when lots of people start using your solution and have positive experiences with it. It's been wonderful helping and supporting schools throughout the pandemic.
"I hope that Teach Stream has had a positive impact on the students and staff who have used it so far. I'm proud to have done something to help others during this time."
Read more about how our other inspirational alumni have been making a difference during the pandemic.