Reading graduate, James Buckley, speaks to CONNECTED about his new e-book – Workout At Home – designed to help people keep fit within their own four walls during lockdown.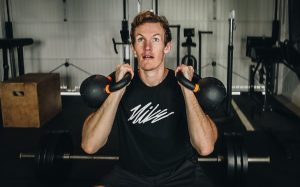 On the surface it may seem that James – who studied fine art and history of art at the University Reading – overhauled his career path when he became a personal trainer. However, his change of heart will come as little surprise to those who knew him at Reading.
During his four years at university, James immersed himself in campus life – taking part in activities ranging from art exhibitions to competing in clay pigeon shooting at national championships – but it was on the rugby field that he truly found his feet.
He explained: "I started playing rugby, but I was 21 stone and it held me back, so I began going to the gym during my first year of university and really got into fitness. By the end of the year I had lost a third of my weight – I was 14 stone – and had loved every minute of it.
"My personal fitness journey sparked my interest in keeping fit and training practices, and since then it has become my passion."
CONNECTED finds out more about James' e-book which he hopes will help people to keep exercising while gyms are closed as a result of COVID-19, and discovers his plans for the future of fitness.
Art or athleticism?
Despite discovering his love for fitness at Reading, art rather than athleticism remained James' first thought on graduation.
He began actively pursuing work in creative advertising as a freelance designer, which led him, via a stint training at the University of Bath Spa, to teaching Art and Photography at King Edward's School in Bath. Back in an educational setting, James' passion for physical progression was reignited by a return to rugby in a coaching capacity.
He explained: "I wanted to run strength and conditioning sessions in the gym for some of the older students, and the school offered to subsidise a Level 3 Personal Training Course so that I could do so fully qualified.
"The experience reminded me of what I had discovered at Reading; of my passion for training and getting people fit."
Re-energised, James converted the garage of his home into a gym where – COVID-19 restrictions allowing – he coaches clients in the evenings and at weekends.
Working out at home
 With home workouts increasingly the new normal for many during the COVID-19 pandemic, James was inspired to help those forced to work out within their own four walls.
He said: "I like to try and make the best out of bad situations and I saw lockdown as an opportunity. I was still teaching online, but I had a lot more spare time than I normally would have.
"I had wanted to write a book for a while, to share the knowledge of fitness and training that I have built up over the years."
Workout At Home, the product of that ambition, features 25 activities that can be completed in a small space, with more than half requiring no equipment and the remainder just a dumbbell or kettlebell.
The book also includes a warm-up routine of stretches to help avoid injury and tips on how to maximise the benefits of training.
James said:
"It is designed for everyone, so if you have never worked out before it should be perfect as it is easy to understand. There are enough workouts to get a reader through a whole month."
The future of fitness
 James is now focused on shaking up the fitness sector on behalf of fellow art aficionados. He said: "I want to establish a new workout culture which moves away from the idea of bicep curls and heavy lifting.
"I think people are often put off going to the gym by the traditional stereotype of men lifting heavy weights. I want to change that and open a gym that would appeal to my friends in the arts.
"I want to make a difference to people's fitness and everyday health – just like the University of Reading did for me.
"To support the new approach I am looking at a clothing line; using my arts background and collaborating with a number of artists from around the world to produce unique designs for fitness.
"I love art and my time at Reading cemented that interest. Over the last 12 years I have maintained my passion for both art and fitness, and I am now looking to combine the two in my future career."
Find out more about James or purchase his Workout At Home e-book.