Volunteers have been crucial in helping many people through the challenges caused by COVID-19. One volunteer – Matthew Gooch – tells CONNECTED why he believes volunteering is a two-way street and what impact the pandemic has had on those relying on charitable services.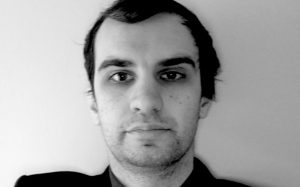 Matthew studied a four-year mathematics degree at Reading and tells CONNECTED how much he loved his time here:
"I was attracted to the University as soon as I visited on an Open Day. The atmosphere suited me much better than a university in a big city, and I knew that Reading was a leader in meteorology which was important to me as I hoped to integrate that into my fourth-year project.
"I did some really great subjects there and made a lot of friends. My time at Reading definitely helped me grow and develop as a person."
Since graduating, Matthew has been dedicating his spare time to volunteering at Cannock Chase Advice Centre which supports people with a wide range of problems – from unemployment to debt management. Matthew shares with CONNECTED what motivated him to volunteer at the charity, and provides an insight into how their work has been impacted by the pandemic.
Boosting mental wellbeing
Matthew has a rare metabolic condition, and after graduating, found he struggled with job interviews. He started volunteering as a way to improve his wellbeing during his job hunt.
He said: "My doctor suggested I took up something in my spare time to keep me motivated, so I looked for local volunteering opportunities which led me to the Cannock Chase Advice Centre. After volunteering there for two years, they promoted me to deputy team manager and I've now been with them for five years.
"The Centre supports people with a wide range of problems – providing information and confidential advice for those who are unemployed, homeless, on benefits, or those needing advice about council tax, consumer matters and personal issues, such as debt management. We try to support everyone who comes through our door, or to signpost them elsewhere if we're unable to help.
"I believe that volunteering is a two-way street. I get to help the vulnerable who need assistance, but I also benefit because it gives me something different to focus my mind on and has provided a boost to my mental wellbeing."
The challenges of COVID-19
Matthew shares how the pandemic led to big changes in how the charity now operates as its volunteers endeavoured to continue helping people in need. He said:
"We had to close at the start of the first lockdown in March 2020, but we received so many messages from people needing help with things like the furlough scheme that we had to try and reopen as soon as possible.
"Since then, we've been having to regulate how many people can come into the office at one time and because of that we've shortened our working hours each day. It's important that we get in as much as possible because the confidential nature of our work means we cannot operate outside the office.
"A lot of our work needs to be face-to-face rather than over the phone, such as helping people who cannot write to fill in application forms. Initially we met people outdoors to keep this service going, but since then we have been deemed an essential service and have restarted 1:1 meetings in the office. We're only allowed one member of the public in the building at a time and we have to wear masks and gloves to protect everyone."
As well as the operational challenges created by the pandemic, it also increased the variety of problems people have needed Matthew's help with:
"We've seen an increase in the type of challenges people are facing. For example, some people have been unable to enter shops since face masks were made compulsory and this has led to more requests for food vouchers.
"In December, we ran a 'Winter Warmer' initiative sending out food parcels to those who had used our services who we felt were the most vulnerable. Our local community have been really supportive and provided fresh food and produce for these parcels."
Proud to volunteer
Matthew's enthusiasm for his voluntary role with the Centre comes across clearly and he tells us that he hopes to maintain his links with volunteering far beyond the pandemic.
He reflected: "I really enjoy the role – I contacted our local MP to tell her about the work we're doing and she's coming to have a look around the Centre this month. I'm really proud that she agrees this is a worthwhile cause.
"Whichever path my career follows in the future, I'd love to continue my volunteering.
"The University of Reading once told me 'you can do anything with a maths degree' – it truly is transferable to many different areas, including my volunteering."
Read more about how our alumni have been volunteering to help others during the pandemic.