During the global pandemic, the kindness of neighbours and communities have shone through brightly. CONNECTED speaks to Reading graduate, Marian Wernham, to find out how her acts of kindness have helped others during this difficult time.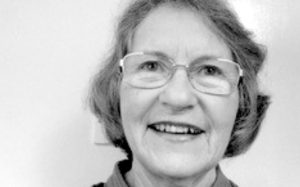 Marian is keen to impress that her actions during the pandemic have been "small contributions". However, whether you help one person or 100 you have made a difference; it's the small things that add up to make a big impact.
Marian studied a general arts degree – studying French, Latin and ancient history – followed by a postgraduate degree in teacher training at the University of Reading. Following graduation, Marian went overseas to Uganda to teach with the Voluntary Service Overseas, and spent the next few years between the UK and Uganda until she took a break from teaching to start a family.
She said: "My undergraduate degree was perfect for a teaching career because it gave me three strings to my bow.
"I stayed at Reading for my postgraduate teacher training course and thoroughly enjoyed my time at the University. My leisure time was spent as a member of several choirs and of the Student Christian Movement."
Now 78 years old, Marian has been spending most of her time at home during the COVID-19 pandemic. Normally an active volunteer in her local community, Marian has found ways to use her new-found free time to support others from her home.
Combatting loneliness
One of the first initiatives Marian got involved in was supporting individuals in her community who were living alone during the first lockdown of 2020.
She said: "The pastoral care coordinator at my church identified those who lived alone and might be vulnerable and not able to see anyone during the pandemic. I responded to the request for volunteers to keep in contact with these individuals.
"I was responsible for keeping in touch with two ladies – phoning them at least once a week to check on their wellbeing. With church services cancelled, we received service sheets online and I would print off and take these round each week to one lady who didn't have a computer.
"Both ladies told me they were glad to be kept up-to-date and to have some extra contact. They told me they looked forward to our chats – as did I – and I've made two new friends in the process."
Preventing the spread
Next, Marian started making face masks to raise money for charity to replace the normal fundraising activity she would have been doing if not for the virus.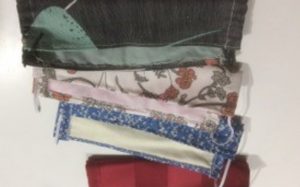 She said: "At the beginning of May 2020, I made two face masks for myself and two for my husband. The week after that was Christian Aid Week, where I would normally be involved in the door-to-door collection but obviously that couldn't happen this year.
"So instead I decided to offer face masks to people in the parish and to my friends to raise money for the charity.
"I made face coverings out of whatever material I had at home, such as dressmaking offcuts, sheeting and pillowcases, according to Public Health England regulations – I made nearly 90 masks in total.
"I asked people to make an online donation to the charity in return for the masks and left it completely up to the individuals as to how much they were able to give."
Protecting healthcare workers
With her sewing machine already out, Marian soon got stuck into her next project: making scrubs for the NHS. She explained:
"There were lots of groups of people around the UK making scrubs, so with my previous sewing experience I decided to offer my services.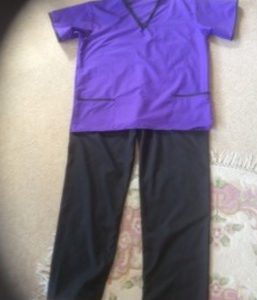 "I was given a set pattern to follow – it was like making a pair of big pyjamas – and I have made nine sets to date. The material was brought to me; sometimes it was things like old sheets donated by individuals, and sometimes firms donated new material. This meant we made scrubs in all sorts of colours and combinations which was great fun!
"The scrubs were then collected from my doorstep and washed at 60 degrees before going to healthcare workers to wear on the frontline. It was a time-consuming task, but very rewarding and I was delighted to be able to do my bit."
A simple motivation
Marian has contributed more than just her time in her bid to help out during the pandemic; she also donated to the University of Reading's fundraising campaign to improve the effectiveness of COVID-19 antibody testing.
She said: "I think an antibody test is going to be really important in the fight against COVID-19.
"We need to know whether people are likely to get the virus or not, and what the risk factor is, and to achieve that we need a reliable antibody test – no ifs or buts. I chose to donate because I had the means and I believed in this research."
It's clear to see that this sentiment is a driving factor for Marian – she believes that if she's able to do something then why not do it?
She explained: "I honestly stepped up to help with these various initiatives simply because they were all useful things I could safely do, while complying with the government's instructions for my age group to stay at home.
"Lots of people have told me they've appreciated my efforts, so I'm pleased to have helped in a small way during these difficult times.
"Although I still have two part-time jobs – as an online Latin tutor and as membership secretary to the Guildford Classical Association – I'm not working in the physical classroom anymore and the family have long since left home. It made sense to use my time to help in the fight against COVID-19."
Discover more about our alumni who volunteer.