As part of LGBT+ History Month, CONNECTED talks to Professor Alina Tryfonidou and Dr Ruvi Ziegler – co-chairs of the University of Reading's LGBT+ network – to find out more about the support offered at Reading and the ongoing challenges faced by the Lesbian, Gay, Bisexual and Transgender community.
Alina and Ruvi both teach in Reading's School of Law and are passionate about their research areas – Alina on EU law and the protection of LGBT+ rights in Europe, and Ruvi on international refugee law and political participation. They also both identify as LGBT+ and are working towards a fairer and more inclusive world for all.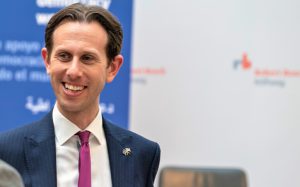 Founded in 1994 by a history teacher in America, LGBT+ History Month is now well-established. CONNECTED asks Ruvi what the month-long celebration of LGBT+ people means to him:
"In principle, events and attention should be held around LGBT+ issues all year long, but the reality is that having specific days, weeks or months helps to focus the collective mind.
"The meaning of this month is now about educating people on the struggles, the challenges, the developments and where we still have to go – because we're not there yet."
The University of Reading's LGBT+ network exists for members of the University community who identify as Lesbian, Gay, Bi, Trans and/or other sexual and gender identities, such as asexual, non-binary, intersex or any others, as well as allies.
As co-chairs, Alina and Ruvi help further the network's aims of providing a social, supportive and representative function, with the aim of raising the visibility of the LGBT+ community and issues at the University.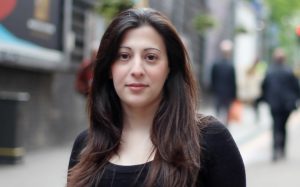 Alina said: "We are consulted by the University to input into new policies, or to consider older policies to ensure they are LGBT+ inclusive. For example, we help with the University's Stonewall submission which reflects Reading's priorities as an inclusive employer – and in 2019 we were proud to become a Stonewall Top 100 Employer.
"We also organise social events, such as lectures which aim to educate and are of interest to members of the network, but also to allies who wish to support and be educated on LGBT+ issues."
Ruvi added: "In addition, we take part in public LGBT+ events on campus and in the wider community such as Reading Pride. Due to the pandemic we have moved our activities online – sharing events, information and ideas, including a virtual book club – it is even more important in COVID times to create a virtual space alongside a physical space."
Be part of the change
Alina and Ruvi share how their personal and professional lives motivated them to step up and take on the roles as co-chairs of the network.
Ruvi said: "Developments in my personal life have driven me to become more publicly active on LGBT+ issues. In February 2020 – just before lockdown – I had the great fortune of getting married. It was a progressive egalitarian [vegan] Jewish wedding in South Africa, but for many people across the world marriage remains unattainable.
"Even for me and my husband, life as a gay couple invites challenges: given that 70 countries still criminalise homosexuality, when travelling together a request for a double room at a hotel could result in vigorous questioning, as would any expression of public affection.
"One of the joys of lockdown is going out for walks – yet on a few occasions whilst walking and holding hands with my husband – we have been subject to homophobic remarks. This sort of experience undermines you and makes you feel less safe even in your hometown. We know that homophobia can manifest itself in far worse ways, yet such behaviour could cause other same-sex couples to avoid holding hands, reflecting silent internalisation of homophobia.
"So when I saw the opening for the co-chair position, I thought this would be a great platform for LGBT+ visibility, inclusion and equality. I felt it was a bit of a public responsibility and it struck me that taking on this role was likely to be an enjoyable experience, as I knew the University would be supportive."
Alina also explained what inspired her to step up: "I have both a personal and a research interest in LGBT+ issues. There has definitely been a lot of progress made in the western world, but there is still more that needs to be done.
"For example, you'd expect same-sex couples to be able to move between countries with no problems. However, if Ruvi and his husband moved to Bulgaria they would not be recognised as a married couple. Or if same-sex parents moved to Romania they would not be recognised as parents of the child.
"These are all things heterosexual people can take for granted, but as LGBT+ we're still striving for the same rights around the world.
"I decided to apply to become co-chair of the network at Reading because I believe we still have progress to make – both at Reading and around the world – and I wanted to do my bit to be a part of that change."
A better future
Alina and Ruvi cast their eyes to the future and share their hopes and aspirations for a better world.
Alina said: "In terms of the LGBT+ network at Reading, we are really pleased with the University's commitment to inclusivity and tackling challenges.
"We receive fantastic support from the central University – and particularly from Professor Parveen Yaqoob – who is the champion of LGBT+ issues on the University's Executive Board.
"Nevertheless, there are areas where there is scope for improvement. For example, it would be great to see reverse mentoring offered, because it's important that senior colleagues who don't identify as LGBT+ can be educated about what it means to be LGBT+. Homophobia stems from a lack of knowledge, so education can be a solution to this."
Ruvi said: "I agree with Alina; I would also love to see further cooperation and joint events across the different diversity and inclusion networks that exist at Reading, and I am proud that our recent Wolfenden Seminar focused on LGBT+ intersectionality.
"On a global level, we need to keep pushing countries to change their legislation around sexuality and to condemn violations. Unfortunately, progression doesn't always happen in a linear way – there are blips that move us backwards.
"The UK itself has a chequered history, not least in respect of its colonial legacy which included criminalisation of homosexuality in its colonies. And while today British legislation relating to LGBT+ rights is relatively sound compared to the rest of the world, over 20% of the population here still say in surveys that they would be ashamed to have a gay child. We are not out of the woods yet."
Get involved
If you wish to get involved in the LBGT+ community – whether as someone who identifies as LGBT+ or as an ally – then Alina and Ruvi advise joining a network and stepping up as a role model.
Ruvi said: "The first step is to tap into existing networks. If there are none where you work then try and set one up yourself, modelled on existing networks. All the current networks have been created by people just like you."
Alina added: "It's also important to act as role models if you do identify as LGBT+.
"Growing up as an LGBT+ teenager can be a confusing time, especially if you don't have access to role models or information. It helps to see other people who are successful and respected, who also identify as LGBT+."
If you wish to get involved with the University of Reading's LGBT+ network then please attend our online events, or get in touch and share your own experiences with us.