The past year has been a unique and extraordinary time for everybody, including journalists. COVID-19 has not only thrust them into the middle of a fast-moving, constantly changing story, but the pandemic has also completely transformed the way they work.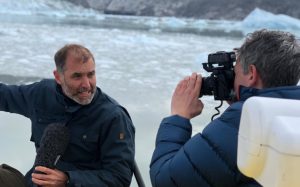 The first event in our online Alumni Lecture Series entitled 'COVID – Stories from the Frontline' will feature Reading graduate and Science Editor for ITV News, Tom Clarke (BSc Zoology, 1994). Chaired by Paul Inman, Pro-Vice Chancellor (International) this online event will take place on 25 March at 18.30 (UK time).
In this lecture Tom will share how the pandemic has impacted his working life, and will reveal the challenges he's faced in seeking out the answers to the difficult questions directly from Number 10 Downing Street.  
CONNECTED spoke to Tom ahead of his lecture to find out more about his experience of co-leading ITV's coverage of COVID-19, and he also shares with us how he went from pretending to be a mosquito at Reading, to reporting on a worldwide pandemic.
A fascination brought to life
Tom's fascination with the natural world led him to study Zoology at Reading, before embarking on his career in science reporting. He tells CONNECTED: "I was one of those kids who collected skulls and dead things on the beach and tried to smuggle them home. Zoology was a natural choice for me and the course at Reading was fascinating.
"One of my long-lasting memories was a field trip where I tried to disguise some dodgy data we had collected on mosquitoes by giving a performance presentation, which involved dressing up as a mosquito. I certainly made some great memories during my time at Reading.
"Like most of my smartest moves my route into TV was completely unplanned and chaotic. After graduating from Reading I embarked on a PhD in entomology at Louisiana State University in the US, where I realised I preferred writing about science rather than doing it. I then secured a place studying science journalism at New York University, before a couple of internships led me to the science journal, Nature, in London, and after three years there I became a science reporter at Channel 4 News, until 2018 when I moved to my current job."
While Tom didn't initially plan for a career in TV, he's grateful to Reading for the springboard it provided him with: "I love my job and my science background from Reading has been enormously important in helping me to achieve what has turned out to be an exciting, fulfilling, and surprising career.
"In normal times, my reporting covers everything from particle physics to climate change – a range of topics I have no specific expertise in.
"But what I've learned, is that it's not actually my job to be the expert – it's to know what questions to ask the experts on behalf of the public."
Asking the difficult questions
Tom's role as ITV News Science Editor has thrust him into the centre of reporting on the pandemic, which is like nothing he's experienced before.
He said: "In 2014 I travelled to West Africa to cover the Ebola outbreak – the danger of that virus was staggeringly different to COVID-19. Ebola is spread by contact, making it easy to avoid, and we knew that it likely wouldn't reach our shores.
"Watching COVID-19 approach the UK, and then reporting on how it has turned all our lives upside down, has been strange and disturbing – and like nothing I've ever reported on before.
"I'm really pleased that my editors put their specialist journalists at the forefront of this really complex and fast-moving story. Number 10 is normally the fiercely guarded domain of the political journalists, but ITV News Health Editor, Emily Morgan, and I have been put in front of the politicians and it's been gratifying to use my science background to get to the heart of the issues."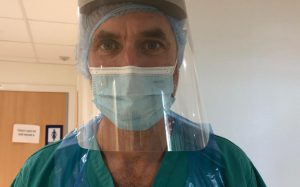 The pandemic has also transformed the way Tom and the rest of the media work. He explained: "COVID-19 has prevented us from getting to where the story is in person, and we're now more reliant on video call platforms to speak to the people we need to. When we do interviews in person, social distancing means using an awkward array of tripods, poles and longer lenses to capture footage that used to be incredibly easy to achieve."
Keeping the public informed
Tom feels the responsibility that comes with his job – to keep the public up-to-date and to hold politicians to account – and he is proud to do so. He said:
"I am very aware of my responsibility to keep everyone informed about what's going on in these uncertain times, and it's been an honour to be part of the team of people doing this.
"It's also a massive responsibility to hold government and various agencies to account, by asking the difficult questions they'd rather we didn't. And it's been a real privilege to be one of the few groups of people permitted to travel during lockdowns – to see different parts of the country in this strange and eerie time.
"But I'd give it all up in an instant to put this disease behind us and get on with reporting on all the other fascinating, inspiring and important stories that science and our natural world have to offer!"