When aspiring artist, Tanya Harrison, discovered she was set for her first significant brush with fame, the Reading graduate wanted her former tutors to be the first to know of her breakthrough.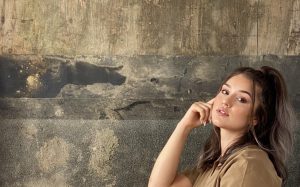 Tanya, who studied primary education and art at the University of Reading, is currently starring on Next Big Thing – a six-part series on London Live showcasing some of the capital's creative prospects – having secured her place on the show by beating hundreds of entrants to claim its People's Choice award.
"As soon as I found out I had won, I couldn't wait to tell my mentors – Suzy Tutchell and Gill Hopper – from Reading," she told CONNECTED.
"The staff at Reading were amazing; every step of the way they were supportive and nurturing. They always told me never to give up on my art and are a big reason that I didn't. I ended up getting a first-class degree which wouldn't have happened without their mentoring."
The course at Reading enabled Tanya to qualify as a teacher and pursue her childhood passion for art and, after graduating in 2017, Tanya began work at George Carey Primary School in Barking.
The people's choice
Although Tanya heeded her lecturers' advice – to persevere with her ambition of painting and drawing professionally – she had, until recently, shied away from entering her endeavours in competitions out of a fear of rejection.
Explaining her transition from the classroom to being on camera, she said: "I saw a post on Instagram advertising the Next Big Thing competition and thought I had nothing to lose. You had to submit three pieces of your work with a description on each, simply explaining your medium."
Tanya found success in the People's Choice category which attracted more than 40,000 votes: "I didn't realise how big the competition was when I entered," she reflected.
"It's amazing because my first dream was to be an artist, and this has hopefully given me a chance to start down that career path. It was very rewarding that not only did the judges like my work, but that it moved the general public enough for them to support me."
Each of the young artists appearing on the Next Big Thing, which is hosted by art critic James Nicholls, is being guided through the series by a professional mentor and Tanya once again believes she has been blessed with an exceptional tutor.
Assigned Miriam Escofet, who was commissioned to paint the Queen's portrait in 2020, Tanya is relishing working alongside the experienced artist: "Getting to film with someone as talented as her is something I never thought I would do. I have been to her studio and we have had a lot of conversations about my work."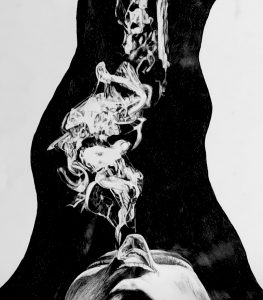 Most of Miriam's advice has been centred on the contribution Tanya will make to an exhibition at the end of filming; a piece Tanya says will combine her artistic styles.
She said: "I have got two sides to my work. There are abstract pieces I do, and then my detailed, intricate pen drawings. At the moment, I am working on bringing those different types of work together for the show.
"The inspiration for this piece is my grandma, and the story about how she came to the UK from Turkey. My culturally diverse background – which also includes the Czech and Indian influences of my step-parents – has always guided my artistic projects and I wanted that to come across in the series. I am immensely proud of my heritage."
Shaping the artists of tomorrow
Tanya is hoping her artistic future will be as rich in experiences as her family's past, so that she can help create a lasting legacy.
She said: "It is so hard to get into the world of art and this show is my door to get there. I am so grateful for the opportunity.
"I want to exhibit my work around the world, but my biggest goal is to get the UK Government to change the National Curriculum for art.
"Maths and English have hundreds of pages of information, but when it comes to art there is very little guidance. I feel children can really find themselves with the subject, especially those who aren't very academic.
"I would also love to create some government-funded workshops for children. These visions won't happen until I get to a certain level with my own work, so that is my main driving force."
The plans Tanya has sketched for her future continue to blend the skills she honed during her three years at Reading, and Tanya is eager to express her gratitude for her experiences at university.
She concluded: "I am at a stage where I have a secure job and I'm following my ambition simultaneously, and I am in that position thanks to Reading.
"Going to university isn't just about studying but the whole experience. It changes your life massively. I gained independence and became more comfortable in myself. It made me who I am, shaped my adult personality and gave me the boost I needed to pursue my professional career."
Visit Tanya's Instagram account to see more of her artwork, or find out more about the Next Big Thing competition and TV show.