Reading graduate, Sam Warrior, shares with CONNECTED what life as a Physician Associate at the Royal Berkshire Hospital has been like during the COVID-19 pandemic.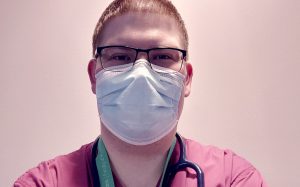 Sam currently works as a Physician Associate (PA) in the surgical liaison team at the Royal Berkshire Hospital (RBH). As the PA profession is still considered to be relatively new in the UK, Sam tells CONNECTED more about what his job involves.
He said: "A PA works in a similar manner to a junior doctor – I can see patients and diagnose conditions, and I can conduct most of the day-to-day responsibilities required on a hospital ward or in a GP surgery. We're not allowed to prescribe medications or order X-rays as our profession isn't regulated yet, though this is in the pipeline.
"I work in elderly care medicine at RBH, supporting general surgical teams with their patients. My role is to work alongside senior doctors to support them which ranges from conducting ward rounds, to reviewing patients."
Sam tells CONNECTED how he came full circle at the University of Reading – from student to part-time lecturer – and provides an insight into life on the frontline at a hospital during the COVID-19 pandemic.
Full circle
Sam studied an undergraduate degree in biomedical science at Reading, before returning a few years later to join the Physician Associate course. After qualifying as a PA, Sam then joined the course as a lecturer.
He said: "I was sold on coming to Reading as soon as I arrived on campus for an Open Day; it just felt like home and I think this is what's kept pulling me back here.
"My undergraduate degree was really fun – I met lots of interesting people and loved spending time on campus. In comparison, the two-year postgraduate PA course was really intense, but I thoroughly enjoyed both of my degrees.
"After I graduated from Reading the first time, I wanted to put my biomedical degree to good use. I worked as a Healthcare Assistant [HCA] and then as a lab technician for a few years, before deciding that I needed something more challenging but still people-focused. When I found out about the PA course at Reading it seemed like the perfect opportunity.
"After starting work at the RBH, I saw a lecturer position come up on the course at Reading, so I applied for it.
"I'd never considered teaching as a career, but as the eldest of three siblings I was always teaching somebody something growing up, and I found it really helpful having a PA lecturer on the course when I was studying.
"I now lecture one day a week for the University, mostly teaching the second-year PA students and I absolutely love it."
Pulling together
Sam tells us what impact the pandemic has had on hospitals and his work as a PA on the frontline.
He said: "At the start of the pandemic there was a lot of confusion nationally about the guidance from the government, the level of Personal Protective Equipment we were expected to be wearing for different tasks, and how much of an impact the virus was going to have on the NHS.
"The hospital implemented changes to enable us to best prepare for the expected influx of COVID patients. All the ward teams were moved around and some services, such as elective surgeries, were closed.
"I was reallocated to another ward, and everyone is now wearing surgical masks on the wards at all times. It feels like a coordinated response and that everybody at RBH has pulled together to make this happen."
By June 2020, the hospital was gradually able to open some elective surgeries again. But with the rising cases of COVID-19 leading to the current lockdown, the pressure started to rise once more.
Sam said: "My team were initially moved to other wards for a few weeks after Christmas and the hospital has remained busy through the winter. However, we have now managed to get back to our normal way of working, despite remaining busy both in terms of the number and the complexity of patients we have been seeing alongside the general surgical teams."
Sam also tells us about the impact on his lecturing role at Reading: "The PA course is one that has been allowed to continue with a blended teaching approach during the 2021 lockdown. We have varied our approach based on the current guidance – from entirely online sessions, mostly focusing on communication and practising taking a medical history, to practical sessions with mannequins.
"The University has been really supportive throughout the pandemic, for example providing workshops to help lecturers adjust to online teaching tools. The hardest impact was the restriction of students' placements.
"Every student needs to do a minimum number of hours of placement and lockdown had prevented students from going into hospital for their placements. Fortunately, as things have progressed and our understanding of the virus grew, we have been able to get our students safely back onto their hospital placements."
Proud to provide healthcare
Sam is enthusiastic and passionate about the NHS, his work as a PA, and his role supporting the PAs of the future at Reading. Sam said:
"The NHS is a fantastic institution. The idea of it being free at the point of need is just brilliant. Healthcare is an amazing thing to be able to provide and we have one of the best healthcare systems in the world. I am really proud to be working for them.
"My time at Reading has definitely had a big impact on shaping my life today. I met my wife at Reading through The Archery Society.
"The PA team are fantastic – really supportive and dedicated to the students. Reading has been good to me as both a student and a colleague, and I'm very grateful for my time there."
Discover how other members of the University of Reading community are fighting the pandemic on the frontline.