CONNECTED is pleased to announce the launch of Reading's School of Art's new collection of work, made possible by the generosity of talented artists from our alumni community.
Permanently on display in the University's state-of-the-art Library on Whiteknights campus, this collection aims to enable the Reading community to engage with the University's artistic legacy across campus; to represent the strength of talent in our community; and to develop a collection which represents both modern and contemporary art.
Despite each artwork being as unique as a fingerprint, this collection comes together to weave an overall narrative that bridges these distinctive styles and tells the story of the artistic culture of the University.
The collection has been led by Dr Naomi Lebens, Curator of the University of Reading Art Collections, who – along with the Alumni and Supporter Engagement Office – worked closely with artists from our alumni community who have remarkable portfolios of work.
Dr Lebens said:
"Art is at the heart of the University of Reading, which was the first university in the UK to offer a fine art course. I am excited to have the opportunity to shine a spotlight on the University's artistic community."
CONNECTED is delighted to introduce you to each artist – whose support is enabling our students, staff, community and fellow alumni, to explore the University's artistic history and deepen their understanding of the beauty in the world around them. We are very grateful to those who have contributed their time, donations or skills to these projects. Thank you for your support.
Marilyn Hallam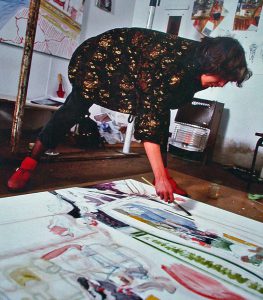 Marilyn was born in Yorkshire in 1947 and studied fine art at Reading where she met and married the painter Clyde Hopkins. Marilyn now lives and works between south east London and St Leonards-on-­Sea and has a space in the APT Studios in Deptford. Marilyn has work displayed in public, private and corporate collections in the UK, Europe, and the USA, and in 1969 she was awarded the Boise Travelling Scholarship. Marilyn has taught as a part-time and visiting lecturer on many UK art school and university undergraduate and postgraduate courses.
Fellow artist, Cuillin Bantock, said of Marilyn: "I have always admired and been fascinated by the intricate way that Marilyn builds her paintings. Looking in on her various studios over the years, I marvel at the layers of drawing, tracing and photocopying, and the collaging and reconstruction that goes on. This exploratory work accumulates and is sifted through before she begins to paint on canvas.
"That is what intrigues me – how her search leads to resolution, and her preparation to realisation. The completed paintings are airy, with light flowing through them, and for all their complexity they are vividly direct and immediately radiant."
Clyde Hopkins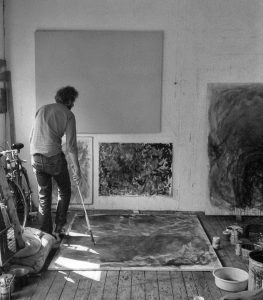 Clyde was born in East Sussex in 1946 and moved with his family to Cumbria when he was 11, before studying fine art at Reading in the 1960s where he met his future wife, Marilyn. He exhibited work for over 40 years, produced in studios in Greenwich, Deptford and St Leonards-on­-Sea.
During his life, Clyde was awarded the Mark Rothko Memorial Fellowship (USA) in 1990-91 and the 1999 Lorne Award. He taught at numerous universities and art colleges and in 1982 was appointed Head of Painting at Winchester School of Art. He moved to Chelsea College of Art in 1990 and was made Emeritus Professor after leaving in 2006. After his death in 2018, some of his works were acquired by the Tate.
During his time as a teacher, Clyde was celebrated by his students, who are said to have adored him. A fellow art professor, Mali Morris, said:
"His students sensed his deep appreciation of the absurd, and in his company, they heard wit, wisdom and piercingly perceptive advice, usually offered with a grin."
Martin Froy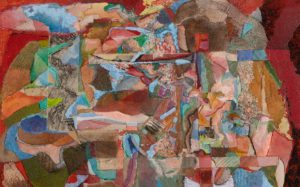 Born in London in 1926, Martin was educated at the University of Cambridge and served in the RAF during WWII, before later attending the Slade School of Fine Art. He went on to become the Head of Fine Art at the Bath Academy of Art, and the Head of Painting at Chelsea School of Art, before joining the University of Reading as Professor of Fine Art in 1972 and Emeritus Professor in 1992.
A major contributor to British post-war figurative painting alongside contemporaries such as Leon Kossoff, Martin was interested in developments in contemporary art and experimenting with how they could be applied to, and combined with, traditional life room practice, painting, and lessons from art history.
Martin's contributions to the arts were immeasurable. His work Young Man Doing Up His Shoe is now on display at the Tate with a commemorative plaque, in recognition of his impact on abstract art.
Diane Ibbotson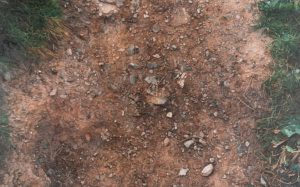 Diane studied fine art at the University of Reading from 1964 to 1968, before moving onto the Royal Academy Schools. She taught at Blackpool College of Art in 1971, and at the Falmouth School of Arts between 1974 and 1981. Diane still lives and works in Falmouth.
Her work is highly autobiographical, based on meticulous observations of scenes charged with personal meaning, and her paintings function as records of physical experience. Diane works slowly, making sure to finish one artwork before starting another piece. She often works directly from life whilst questioning the illusory nature of both representation and experience.
In August 2020, Diane donated the series Earth, Water, Fire, Air to the University Art Collection, and an example of her student work View from Wessex Hall is also represented in the collection.
Opening doors for the community
As part of Dr Lebens' work to highlight the University's success as a leading art school, she has also curated an exhibition with the Reading Museum, called Rubens to Sickert: The Study of Drawing.
Originally planned for 2020, the exhibition is currently available online, with hopes to open in the Madejski Gallery at Reading Museum from 18 May until 7 August.
This exhibition celebrates the simple beauty of drawing, bringing together works from the University and the British Museum. These are accompanied by a range of other works that demonstrate how drawing in art schools across Britain has changed and evolved with the times.
In the accompanying blog, Dr Lebens also explores the historic connection between the teaching of drawing and the University of Reading, and reflects on the life of the collection and collector at its heart – J. Anthony Betts, former Head of the University's School of Art.
The University's generous and talented alumni contributions towards the creation, exhibition and cataloguing of the artworks currently on display at the Reading Museum are deeply appreciated. Special thanks to University donors, Clive Ashwin and Nigel Pilkington, whose generosity enabled this exhibition to be adapted for online viewing and opened to the public.