Applications are now open for the Henley Summer Start-Up Boot Camp – a week-long course to help students, alumni and local budding entrepreneurs learn how to set up a business from scratch. 
This annual workshop event, run by the Henley Centre for Entrepreneurship (HCfE), aims to give participants the confidence and skills to start their own business and make money doing what they love.
The Boot Camp will be held online, 10:00am to 4:00pm between 21 – 25 June 2021. It is led by the Rebel Business School (formerly known as the PopUp Business School) – who explain how to set up a business without investing huge sums of money and cover everything from building a website to generating sales.
Reading graduate, Rieke Sproten, who attended the 2020 Boot Camp said:
"What I learned absolutely blew my mind. The techniques, entrepreueurial mindset, and advice that was given to us are priceless. I feel confident and full of energy now to take my business idea to the next level."
Places on the Boot Camp are very competitive – discover more or register your interest by 17 June.
The HCfE also leads IDEAFEST – a competition seeking to find a University of Reading or Henley Business School student with the best idea for a business, with the prize including a space on the Boot Camp. CONNECTED finds out more about this year's winner and the other finalists who have secured their places on the Boot Camp.
IDEAFEST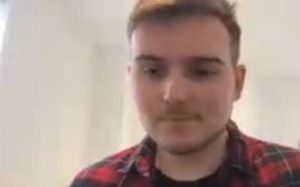 Josh Moden, a BA Entrepreneurship and Management student, was chosen as the winner of the IDEAFEST Student Business Idea Competition 2021 and awarded £1,000 for his business idea CryptoBusy, a start-up that teaches people how to trade and invest in cryptocurrency.
The IDEAFEST Final was held online on 28 April 2021. Six student teams pitched their business idea to over 30 attendees and a judging panel of entrepreneurs, academics and past IDEAFEST winners, who unanimously selected CryptoBusy as the winner.
Josh said:
"I entered IDEAFEST as I felt it was a way to show what I had accomplished through my entrepreneurial business ventures, as well as giving me a chance to test out my presentation skills in front of an expert audience."
The second place award of £500 went to MSc Real Estate student, Charlotte Beswick, for her business idea Mochi Pops – an ice-cream business that specialises in vegan gelato.
The £250 third place prize was jointly awarded to BA Entrepreneurship and Management student, Kevin Hayes, and MSc Management student, Daniel Rickards, for their business ideas ProppedUp – which allows customers to invest in shares of buy-to-let student properties – and Alva Power – which aims to repurpose electric vehicle batteries into green energy systems.
Alva Power was also selected as the winner of two additional categories: the Most Innovative Business Idea prize of £1,000, and the Best Business Idea for China award of £3,000.
On top of the prize money, the teams will be granted professional mentoring to help them progress their business ideas and a place on the Henley Summer Start-Up Boot Camp 2021.
Discover more or register your interest for the Boot Camp.