Reading graduate, Ross Jarvie, shares an insight into the UK's residential property market during the pandemic – a sector that has done surprisingly well against a backdrop of general economic unease and concerns over employment.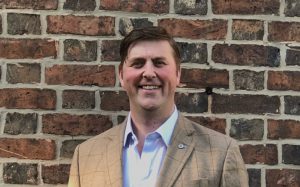 Ross graduated from the University in 2003 with a degree in estate management. Now an experienced property surveyor and partner/director of a number of surveying firms – including  high-end property specialists Fine & Country in South Yorkshire – Ross is well placed to explain how the property market has fared during the pandemic.
He told CONNECTED that house prices are rising at their fastest rate in almost six years, a clear indicator that the sector was only one of a few not left in desperate need as a result of COVID-19. Ross explains why the pandemic's reshaping of the property market isn't something he expects to disappear quickly.
Shifting trends
While business has been lively on the home buying front throughout the uncertainty of lockdowns, the pandemic has prompted changes in purchasing patterns that Ross believes could endure long beyond social distancing measures.
He explained: "I think the main trend is that people are looking to buy larger houses because they want to have more space. In recent years, we saw a decline in the desire for outdoor areas because of the associated upkeep, but as a consequence of pubs, restaurants and other social areas having been closed, gardens have become a priority for buyers.
He added:
"People are also much more aware of things like childcare and the need to perhaps have grandparents close by to help out. Similarly, those who found themselves having to work from home have realised they need more space."
And it is the rise of the remote desk – and need for a study or spare room to house it – that Ross argues could lead to a permanent change in home buying habits and a shift in preference from city to rural living.
"A lot of employers were worried that staff working from home would negatively impact on productivity, but generally speaking, the opposite has happened. People are working longer hours because they can start earlier and finish later, and this productivity has made companies question the rates they were paying to run offices that are not necessarily needed any more," he explained.
"It is a lot more cost-effective to pay for an employee's laptop and broadband than it is a physical office, and as organisations become more flexible, people now want to work from home more.
"Those who were thinking they couldn't afford to buy a house because they worked in London or other hotspots where the value of property is so high, are now looking at nice villages where you can buy for a lot less and still potentially have spare change."
Looking beyond COVID-19
Ross is confident the buoyant residential market is not just a knee-jerk reaction to COVID-19 and that imminent changes to stamp duty and future interest rate rises will do little to burst the bubble.
He said: "There may be a slight plateauing but I honestly don't think we will see a huge difference. Stamp duty always causes issues because people don't know what it will change to, unlike road and council tax. For first-time buyers it can be hard to find the extra few thousand pounds when they have got to furnish a house and pay the first bills.
"That said, there is a big drive for people to own a house. We haven't seen any signs that we are going to go to a continental model of long-term rentals, and the government are looking at schemes such as shared ownership. Ultimately, people in Britain want to buy because mortgages cost less than renting."
Residential and recreational property gains could, however, be commercial and retail's loss as the world readjusts to a 'new normal'. Ross suggests that landlords with large portfolios may need to adopt a more agile approach to building management.
"There have, of course, been some negatives of the pandemic for property, and the commercial sector has been massively affected because the high street is dying and retail parks are struggling."
"When it comes to commercial offices we are seeing a commitment to developing spaces into flats. I think that is going to be expedited because investors who own big office blocks are probably thinking they need to change the layout or use of buildings in order to rent them out," he explained.
A skills shortage
Those in Ross' profession have been kept busy throughout the pandemic trying to satisfy demand and – with no immediate let up in sight – Ross stressed the need for more to follow in his footsteps.
"We have a slight crisis looming as the average age of a valuation surveyor is in the late 50s, and that is a hangover from the financial crash of 2008," he said. "The issue is that soon all of those people will be retired and we've got to find a way of replacing them.
"There is a huge amount of work out there and we have a relatively young staff where I work, but a large number of companies don't. People will always be buying houses and lenders increasingly want people to have their own surveyors.
Ross reflected:
"Doing a degree at Reading is a great starting point and I still value my time there massively. The University is, of course, one of a number of places people can train – and while I am slightly biased – I always tell people to look at it as their first port of call."
Find out more about the Henley Business School's Pathways to Property programme, or discover how other alumni have been contributing to the fight against the pandemic by watching the recording of our alumni lecture 'Working On The Frontline: Treating COVID'.