Dr Blerta Mustafa – who studied her PhD in English and applied linguistics at Reading – is committed to using her personal experience to inform and inspire future generations. Her latest project offers her students the opportunity to reflect on living through the COVID-19 pandemic.
Dr Mustafa's determination to embed her teaching in first-hand experiences stems from living through the Kosovo War. Now a senior lecturer at Pristina University, she is well aware that her country's future is in the hands of its young people, some of whom she teaches.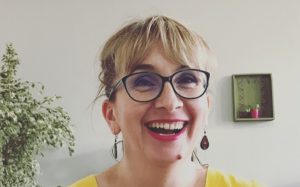 The first time Dr Mustafa journeyed outside of her homeland she was fleeing gunmen. Back then – in the late 1990s – thousands had already been killed and countless others left homeless as the ruling Serb regime exacted a dreadful retaliation for an uprising carried out by members of their province's ethnic Albanian majority.
As the crisis deepened – and amid international outrage – NATO (North Atlantic Treaty Organization) decisively intervened with a series of air strikes to stop an unfolding genocide. Since then, an international peacekeeping operation has brought stability and multinational troops remain in the state, now an independent nation, to this day.
Dr Mustafa recalled:
"I remember the paramilitaries coming into our neighbourhood in the capital, Pristina, and telling people to leave. My family were lucky because my father was already working in neighbouring Macedonia, so we headed there where we had citizenship. This meant we managed to avoid the refugee camps where conditions were really bad."
Dr Mustafa shares with CONNECTED how growing up during this crisis ignited a passion in her to use personal experience to inspire and shape the next generation – leading her to study at Reading and embark on her latest project on pandemic experiences.
Continuing education
A decade after the war, Dr Mustafa remained determined to pass on her experiences to young people, and to ensure that her 17-month-old daughter would be able to live a life free from violence and oppression – motivations which led her to pursue further studies at Reading.
She said: "The University caught my eye as the course offered a great deal of flexibility – although I had to attend for the first year, I could then return to Kosovo and continue studying part-time while I was still lecturing in Pristina. This was important as my employers only allowed for one full year of sabbatical – studying for any longer would have meant me giving up my job."
There were certainly no regrets in Dr Mustafa's decision. The opportunity surpassed all her expectations, both in course quality as well as new friendships.
"With all the support the staff in the department gave me, I was in no doubt that people really cared about me and my daughter.
"On my first birthday after arriving in the UK, my supervisor, Dr Clare Furneaux, and my fellow students surprised me with cake and drinks – they didn't want me to be alone," she continued.
"I returned to Reading many times after the first 12 months, and on each occasion, there was a warm welcome."
The power of words
During her time at Reading, Dr Mustafa rapidly converted all she was learning into content for lectures in Pristina, ensuring her students reaped the benefits of her studies. Her projects tackled topics including Kosovo's recent violent history, and causes such as promoting tolerance, social justice and women's rights.
With Kosovo being hit hard by the pandemic, Dr Mustafa decided her latest project should offer her students an opportunity to record their feelings, to write reflections on the crisis, and to draw parallels with the past. The students on her practical English course curated and displayed their personal experiences of the pandemic through journal entries, essays, poems, videos, pictures and more.
"Kosovo has been independent since 2008, but it has not been without its problems and life has been particularly difficult during the pandemic. Many people were unable to work as a result of the lockdowns and lost their income," Dr Mustafa explained.
"The COVID-19 outbreak also brought back bad memories for some people, for example my generation had already seen curfews when the Serbs were in power – and these were a feature of life as a result of COVID-19 restrictions. The aim of the project is to inform and inspire future generations to live through misfortune wisely and humanely, whenever it comes."
One of Dr Mustafa's students, Art Shala, said of the project:
"Reflecting on the pandemic was therapeutic, but being able to turn that reflection into a piece of legacy felt even more fulfilling. We were given the chance to show the world that even the most unprecedented times can teach us a lot."
Another student, Artiola Mamaj, said: "Having the chance to express my own stories and feel what other students felt during the pandemic was just what we needed in such unprecedented times.
"Dr Mustafa's passion was highly inspiring – her hard work and dedication has taught me that teaching goes beyond the classroom, and this will forever serve as a guide for me as a future teacher."
Empowering the next generation
More than 20 years have passed since the NATO campaign forced the Serb security forces to halt their violent onslaught. Now, with a new generation on the scene, Dr Mustafa is well aware of the responsibility that comes with the role she holds in teaching young people.
"The 1990s were a difficult time, but when I reflect on those years, they made me who I am – whatever challenge comes up, it will not be mission impossible," she concluded.
"Life is different in Kosovo now, but we need to keep moving forward and build on the progress – I am determined to use my experience to help this happen, and to help empower those I am teaching."
Explore Dr Mustafa's students' reflections on the COVID-19 pandemic.