The University of Reading's Sports Hall of Fame celebrates sporting ambition, dedication and success. With the 2020 Tokyo Olympics having drawn to a close, we share some of the Olympic success stories from Reading's alumni community – focusing on two inspirational rowers, Alex Gregory MBE and Anna Watkins MBE. 
Alex Gregory MBE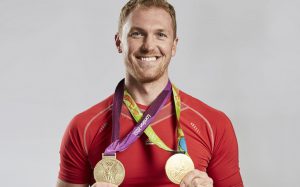 Alex represented Team GB in the Coxless Four and the Men's Eight, winning two Olympic gold medals – at London 2012 and Rio 2016 – and five World Championship gold medals, all whilst raising a young family. He is one of only three men to have won six consecutive international titles in rowing and was recognised with an MBE in the 2013 New Year's Honours. Alex is recognised as one of the leading rowers in the world.
Born in Cheltenham, Alex didn't learn to row until he began his A Levels and joined Evesham Rowing Club. On arrival at Reading to study BSc Geography, he joined and represented the Reading University Boat Club (RUBC) and progressed quickly into the British rowing system. However, success did not come easily at first, with a string of – in Alex's words – disappointing world rankings in sculling followed by an injury. In 2008, whilst watching teammates compete in the Beijing Olympics, Alex made the pivotal decision to change from sculling to sweep rowing.
12 months later he won his first World Championship title in the Men's Coxless Four alongside fellow Reading alumnus, Rick Egington. A second World title followed in 2011. In 2012, Alex and his crew forged their way to gold on the waters of Eton Dorney on so-called "Super Saturday" – a triumph that earned Alex an MBE.
In 2013 he changed boat classes and raced in the Men's Eight at the World Championships in South Korea, winning a historic first title for a British team in that class. He achieved two more titles – winning the Coxless Four in the World Championships in Amsterdam (2014) and the Eight in France (2015) – before successfully defending his Olympic title and winning a second gold in Rio de Janeiro in 2016.
Alex said:
"The University of Reading went above and beyond to support me in my studies and sporting ambitions, and for that I'm forever grateful."
He retired from professional competition after Rio but didn't leave his oars behind. In 2017 he joined an Arctic Expedition in which international athletes attempted to row across the Arctic Ocean. The group reached the Northern-most latitude ever visited by a rowing vessel, and successfully finished the expedition on the remote Arctic Island of Jan Mayen – with numerous world records achieved.
The University awarded Alex with a special Award of Exceptional Achievement in 2017. Alex said of the award:
"It's a huge honour to be recognised in this way by the university where I spent many happy years. Throughout my years at the University of Reading, and since, I have been shown never-ending support in my sporting endeavours. It means a lot to be receiving this honour."
In 2020, Alex supported members of the RUBC as they set themselves the challenge to virtually row across the planet within 80 days. Alex sent the team a good luck video message: "Good luck everyone at RUBC on your round the world challenge, every stroke counts!"
Anna Watkins MBE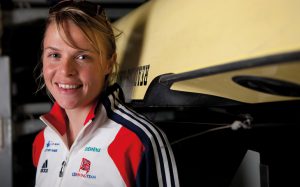 Anna is a double Olympic medallist who represented Great Britain in the Double Sculls. She won bronze in Beijing in 2008 before taking home both gold and an Olympic record from the London 2012 Games. She won World Championship titles in 2010 and 2011 in addition to setting an indoor rowing world record.
During her childhood in Leek, Staffordshire, Anna was more likely to be found at a maths competition than participating in sport. However, on her arrival at Newnham College, Cambridge – where she studied Natural Sciences – she began rowing and was later invited to join a national talent identification programme.
She made her international debut at the 2004 Under 23 World Championships, winning a gold in the Coxless Four. She joined the senior squad and decided to combine training with a PhD in mathematics at Reading, where she received a sports scholarship.
Anna competed with the RUBC in many events, joining mixed ability crews and winning the top university prize at the 2011 Women's Eights Head of the River race on the Thames.
Whilst a student, she represented Britain in the Double Sculls at two Olympics, winning a bronze medal at Beijing in 2008. At the London 2012 Games, she and partner, Katherine Grainger, set an Olympic record time in the semi-finals before taking the gold in front of an ecstatic crowd.
In addition to her Olympic medals, Anna also has two world titles – a rowing machine record and an MBE for services to rowing, which she was appointed in the 2013 New Year's Honours.
She is now retired from professional rowing. In addition to consulting on data analytics for sports teams, Anna is a mother of two boys and a patron of the Women's Sport Trust, which promotes women's sport and welfare.
She said:
"Reading had a can-do attitude, which enabled me to sustain both sport and academia. This meant my sporting career could last longer and academically I achieved things I never thought possible."
Discover the other alumni featured in Reading's Sports Hall of Fame.