An aspiring teacher-turned-author and Reading graduate, Charlotte Coster, has been using her gifts to change lives amid the COVID-19 crisis.
Charlotte cannot remember a time when books were not a part of her life – stories have been an ever-present feature since she learnt to read at an early age. Spending days on end turning pages, it was obvious to those around her that the written word would be a chapter of any future career.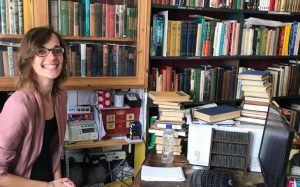 And although she had dreams of one day becoming a novelist, Charlotte initially considered teaching as a vocation and enrolled on the University of Reading's BA Primary Education (QTS) course, selecting English as a specialism.
However, as she entered the final year of her degree, Charlotte's drive to try her hand as a full-time writer proved too powerful to resist.
"It had always been my dream to be an author – teaching was a means to this end," Charlotte explained.
"But realising the classroom was not my vocation when everyone else was finding jobs was daunting."
Charlotte still loves working with children and has embarked on a range of roles, including private tutoring and mentoring, to fund her author ambitions.
Connecting during lockdown
The mix of skills and experience Charlotte gained from her study put her in a unique position for a project that has ultimately helped thousands during the COVID-19 pandemic. In tandem with re-working her first book, she has been running an online forum – called The Roaming Reader – that now boasts a huge international following.
The Roaming Reader – set up on the Instagram-derived Bookstagram platform – has become a go-to hub for literature lovers in a world still coming to terms with the impact of the coronavirus outbreak.
"I had been focused on my creative writing since graduating in 2014 and originally wanted to establish a community where I could share my work," Charlotte shared.
"This is how I envisaged the forum when it started five years ago, but COVID changed everything – the site has now expanded to some 16,200 followers and I'm running several book-related activities."
Boosting mental resilience
As well as recommending her favourite books, Charlotte has used the digital forum to try and help people cope with the mental challenges of lockdown. Her projects have included writing inspirational poems tailored to individual members and sending postcards to followers with her verses – all aiming to boost mental resilience.
She said: "Like many people I didn't realise the lockdowns would last so long, but it was an opportunity to try different initiatives. Early on in the pandemic I challenged myself to write a poem each day.
"Words can have real power, and this was why I sent out my work to people who I felt might be feeling a bit low – it can be really comforting to know that there is somebody who understands, as well as appreciates you."
In turn, Charlotte has continually used the views and advice of followers to develop her writing. She has recently taken on a literary agent and her novel – which has a mental health theme – is developing rapidly.
"Many of us on the forum have been swapping writing tips – this has been useful for me because the writing field can be something of a lonely place," she said.
"I hope the forum has been as good for others – particularly those who have not been working during the pandemic and are trying something for the first time."
A pivotal experience
Charlotte highlights how she received steadfast support from her Reading lecturers, despite discounting full-time teaching as a career option. The flexibility of her course meant it remained both relevant and stimulating, while her lecturers helped tailor the programme to her aims – in particular, arranging a work placement normally held at a school to a different setting.
"I went to the Education Library Service in Reading," she explained. "It was quite a small team and I assisted the person who was responsible for the marketing.
"There were events with authors and we were involved with taking books out into communities. It was an experience that stood me in really good stead for both my writing and the setting up of The Roaming Reader."
Her time at Reading has certainly been pivotal in her life, and Charlotte continues to hold the University in deep affection, returning often to see old friends. She concluded:
"It was a great four years – the best. The course was as wonderful as the social scene, and the support throughout it all was outstanding.
"When the last lockdown was eased, Reading was the first place I travelled to. I visited a fellow graduate and we walked through the campus together. This alone probably tells you how much the University – and the town – still mean to me."
Find out more about The Roaming Reader.