Marie Nicholsby, Reading graduate and founder of Alkionides UK – a life-changing charity that supports Cypriot citizens undergoing critical medical treatment in the UK – talks to CONNECTED about what inspired her to set up the charity, and why she believes in supporting students at the University of Reading.
In 1996 a little girl in Cyprus called Stefania was born with a congenital heart condition, and she needed specialist treatment at Great Ormond Street Hospital to save her life.
The Cypriot government covered the costs of the private medical treatment, however the family were expected to pay for their accommodation and living costs whilst their daughter was undergoing treatment – sadly they were unable to afford this.
Marie said:
"This family were heartbroken and our community wanted to do something to help, so we decided to organise an afternoon tea to raise enough money to cover the accommodation and living costs while the family were in the UK."
It was this very moment that inspired Marie and her friends to set up her first charity, Alkionides Cyprus, which she launched in 1998. The charity not only supports patients and their families with their accommodation and living costs, but also provides other essential services such as transport, translators and moral support – which are delivered by an amazing team of volunteers.
Marie explains the meaning behind the charity's name: "According to Greek mythology 'Alkionides' are the Halcyon days – the calm, bright days in the midst of winter that the gods gave to the kingfishers to enable them to hatch their eggs on the rocks. Similarly, we hope to brighten the lives of families facing desperate times and bring them some relief."
A new direction
Marie's journey in the UK began at the University of Leeds where she studied chemical sciences and met her husband, Dr Alan Nicholsby, who later studied for a PhD at Reading in soil science.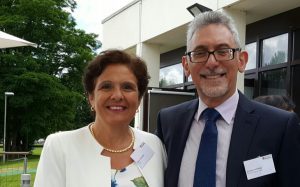 Marie said: "When we returned to Reading in 2005 I saw the Continuing Education courses advertised at the University. I decided I wanted to study something completely different so I signed up to the Postgraduate Diploma in History of Art and Architecture, which completely changed my life."
After graduating from Reading, Marie volunteered at the Ure Museum of Greek Archaeology and the Museum of English Rural Life (MERL), before securing a part-time job at the MERL where she enjoyed being a tour guide for the next seven years.
During this time Marie developed a passion for museums, and that, together with her determination to continue to help change people's lives inspired her to start offering tours of museums and art galleries across London and Oxford, in exchange for a donation to her charity – Alkionides UK – which was founded in 2008.
She said: "I kept in touch with all of the teachers and friends that I had made at Reading, and in 2010 I invited them on a heritage tour of all the museums and art galleries in Cyprus. Six more tours followed – these tours not only grew our friendships but they also raised a lot of money for my charity."
In 2014 the charity expanded and Alkionides UK Birmingham & Midlands was launched – who specifically support Cypriot patients at the Queen Elizabeth Hospital, and Cypriot families with children who have special needs.
Alkionides UK
Marie said: "The charity started with a promise – to make sure that as much money as possible goes towards the patients' needs and not into the charity's administration or staff costs.
"We rely entirely on volunteers who selflessly dedicate their time to help families in need.
"I'm also fortunate to have very generous Cypriot sponsors working at Capital Group. In 2015 I invited them to meet one of our patients – an 11-year-old boy who had osteosarcoma – a tumour in his leg. Sadly, he needed an amputation and ended up having a prosthetic leg fitted.
"The family stayed in London for a year and with the help of our sponsors, the charity provided him with support from two volunteers – a psychologist and a Greek teacher. We still help this family when they come over to the UK for follow-up appointments – our patients become like family to us.
"Our sponsors were shocked to see what the family had gone through. Their yearly donation covers a lot of our patients' costs. When we first started the charity we used to book hotel accommodation, but with their help we have been able to rent a four-bedroom house which we call 'The Nest' in Finsbury Park, London."
The charity's sponsors are now encouraging them to buy a house in London, and along with the help of their supporters the charity are currently fundraising to try and reach this target.
Helping others
When asked how it made her feel to help others, Marie said: "It gives you a great sense of purpose.
"We don't ever expect our patients to give back – we help them because we want to – it's the best feeling in the world when they get better and can return home.
"A lot of families can't afford to give us a donation, but they choose to help us in other ways – for example, some bring us homemade cakes and halloumi cheese, they make things for our patients like crafts, or volunteer to be translators.
"I'm incredibly proud of what we've managed to achieve but this wouldn't have been possible through the efforts of one, two or ten people. It's down to the dedication of all of our volunteers who put a huge amount of time and effort into making this charity a success."
Supporting students
Marie and her husband are both long-standing University donors and Friends of the University of Reading, who have supported our students for a number of years. Last year they supported a Reading student – through Marie's charity – who was in the final year of his PhD.
She explained: "This brilliant student had a scholarship from the University but his family were very poor and were struggling to help him with his accommodation costs.
"I approached the student and offered him support. Initially he refused, but I knew just how badly he needed it. In the end he accepted our support, completed his PhD and was recently offered a job at the University of Southampton.
"After receiving help he wanted to give something back, so he started to call one of our patients at 'The Nest' who has been waiting for a liver transplant for two years. Three of the family's four children inherited the genetic disease – amyloidosis – from their mother. They now speak every week and have become really good friends.
"It's difficult as we can't support many students financially through our charity, but if we could help more we would. Over the years the Cypriot and Hellenic Society at the University have arranged football matches, sold our merchandise and organised other fundraising activities for our charity.
"Fundamentally, we support students at Reading because we believe in them."
Continuing the legacy
When asked about her aspirations for the future, Marie said: "As much as I would love to do this forever, we want the future to be embraced by the younger generation and encourage them to continue to deliver our work to those in need.
"I hope one day my dynamic young team, including my son, will continue the legacy."
Find out more about Alkionides UK, or how you can get involved and support students at the University of Reading.