Blane Perrotton – Reading graduate, Quantity Surveyor and winner of the RICS 'UK Young Surveyor of the Year' award – shares his inspiration, his success in the industry and his passion for helping others.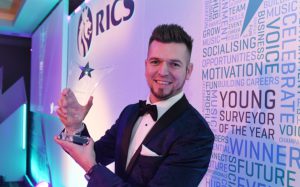 Blane is a chartered Fellow (FRICS) of The Royal Institution of Chartered Surveyors (RICS), and the Founder and Managing Director of his own chartered surveying practice Pride Consulting IMS (Independent Monitoring Surveying). Blane explains how his journey to success began as a teenager, when he used to help his dad, a carpenter, on building sites.
He explained: "I always had a passion for the industry and when I told my dad I wanted to follow in his footsteps he told me to be one of the 'cool guys in a suit' instead. It turned out he meant a surveyor, so I went to the library and looked up what they did. I loved the sound of it – part doctor and part detective.
"Part doctor in the sense that a surveyor checks the condition of a building and assesses if it can be kept alive by giving it another use or refurbishing it, rather than demolishing it. Part detective in the sense that a surveyor's role is to investigate if cost estimates are correct and if not, to make their own assessment."
Having decided on his career path, Blane began investigating universities – but it didn't take him long to settle on Reading for his BSc Hons Surveying degree.
He said: "I spoke to some surveyors and they all immediately recommended Reading. So I had a look around the campus and loved it – I didn't look at any other universities after that.
"Being accepted into Reading was a turning point for me. My course was fantastic, I had an incredible tutor, and I even met my wife there with whom I now have three children.
"Without Reading I wouldn't have my career, my beautiful wife and family, and I wouldn't have the memories and experiences it gave me. I'm incredibly grateful for my time there – it sounds cheesy, but it really does hold a special place in my heart.
"Reading is so highly regarded in my industry and if people know you've come from Reading it's a tick in the box straight away. None of my achievements would have been possible without Reading."
Taking the leap
In late 2019, shortly before the COVID-19 pandemic began, Blane took the leap to start his own business.
He said: "In my opinion, working for large corporate businesses is too focused on chasing profit and that can hinder quality.
"I always say 'if you don't like the playing field, create your own', so I decided to follow my own advice, leaving my position as Managing Director to start my own firm.
"My wife was really supportive despite it being a massive gamble. I actually wrote the business plan while in hospital waiting for my youngest son – now two – to be born."
Blane has followed through on his advice to create his own playing field, by making sure that his business isn't target-driven.
"I believe the measure of any business should be what good can you do in your community and for those around you? Therefore my business plan is based on confidence and quality, not targets," he explained.
"I'm also really proud of our Pride Pledge – every year we donate 1% of our profit to charity. I'd love to donate a higher percentage in the future and to see the wider industry make similar pledges – how fantastic would that be?"
However, Blane hadn't banked on launching a new business during a global pandemic. He said: "Luckily technology and video calling platforms made it possible to start the business despite lockdown – 18 months in, we now have seven surveyors in the company and I'm really pleased with the progress.
"I don't think technology can ever replace face-to-face interaction though. A big part of the role of a surveyor is communication and being able to sit down with clients to have difficult conversations and build relationships."
Award-winning
Blane's career has continued to go from strength-to-strength and in 2019 he won the RICS 'UK Young Surveyor of the Year' award. These awards recognise the most inspiring and influential surveyors – aged 35 or under – in the UK.
Those on the RICS judging panel said: "Blane was highly deserving of the top accolade for not only achieving a high level of success in the industry, but also actively helping to advance the construction market and routes in to the surveying profession."
Blane was selected out of thousands of surveyors in the UK and beat tough competition from a shortlist of 80 other surveyors. However, his win was so unexpected Blane wasn't planning to attend the awards.
"Luckily RICS got in touch and persuaded me to come and thank god I did," he laughed.
"It was incredible to win. What I love about these awards is that anyone can be nominated – all the previous winners have different stories and journeys, it doesn't matter what your age, gender, race, sexuality or job title is."
Inspiring others
Blane was also commended by the Head of the RICS judging panel for not being "afraid to challenge existing systems to ensure success, not only for his own business but for others in their careers."
Blane tells CONNECTED more about how he is committed to helping others: "I am working to establish a new APC [Assessment of Professional Competency] pathway, as there isn't currently a pathway for the niche area of Quantity Surveying I work in – bank surveying. So I've been working closely with RICS to enable graduates to qualify as banking Quantity Surveyors, to make the industry more accessible."
Blane is also passionate about inspiring others to consider surveying as a career:
"I want young kids to know about surveying and aspire to do it – it's such an incredible career with a great mix of opportunities and a diverse range of people doing it.
"It's a career I'm really proud of. I believe surveyors hold an important role in our economy and infrastructure, and we work on so much more than just houses – my first role was the 2012 Olympics. This career offers so many opportunities, yet not many young people know about it which is something I'd like to change," he concluded.
Find out more about the School of Construction Management and Engineering.